Doja Cat Apologizes for Threats to Quit Music
In what should be a celebratory week, Doja Cat instead apologizes to her fans. As she prepares for the Grammy Awards, this year's most-nominated hip-hop act is doing damage control after an ugly Twitter exchange with fans left her threatening to leave the music industry.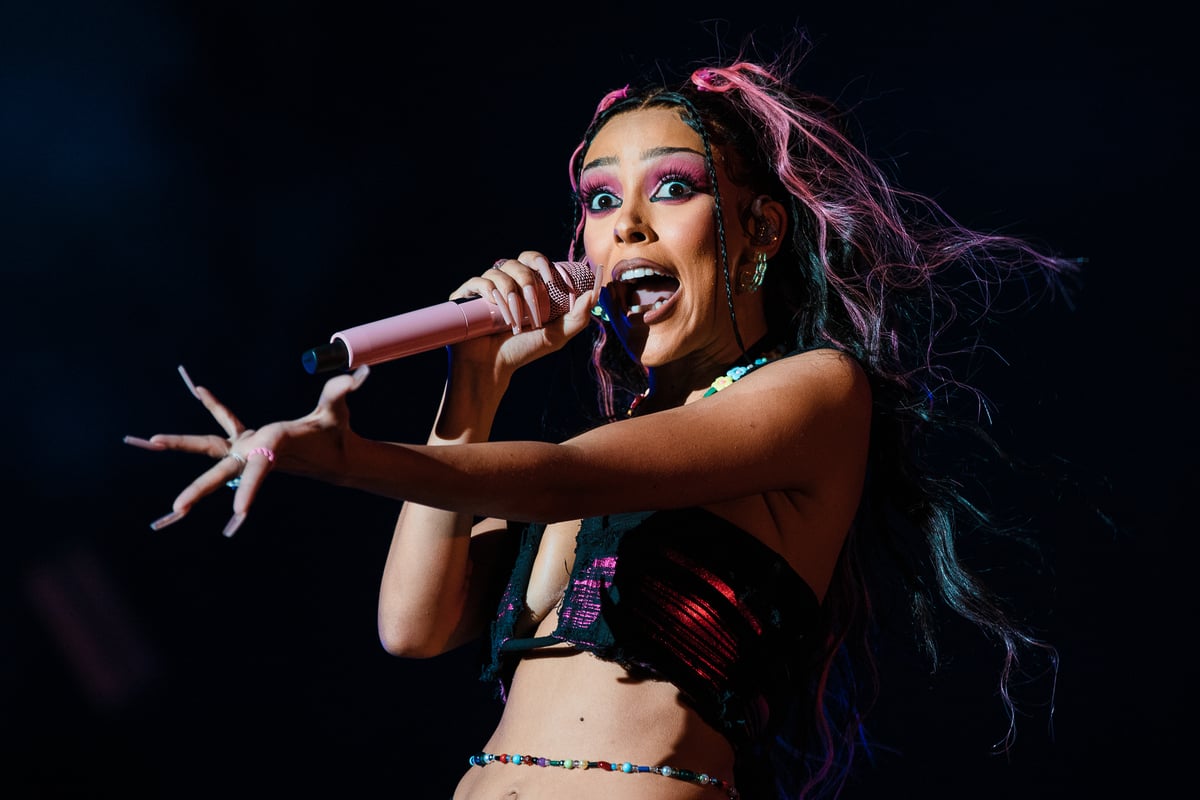 Stormy weather in Paraguay
Doja Cat was scheduled to play at the Asuncionico Festival in Paraguay on Mar. 22. Unfortunately, the opening day was canceled due to high winds and weather warnings.
Fans took to Twitter to express their disappointment that the "Kiss me More" singer didn't at least greet them outside of her hotel. They were also upset with her lack of communication on social media after the cancellation.
NME reported that it was at this point things turned ugly. Doja Cat responded to upset fans by tweeting, "I'm not sorry."
The pressure of global fame seems to have rattled the singer and rapper. When one fan asked, "What happened to your humility?" Doja said, "It's gone and I don't give a f*** anymore."
She continued, "I f***ing quit I can't wait to f***ing disappear and I dont need you to believe in me anymore. Everything is dead to me, music is dead, and i'm a f***ing fool for ever thinking I was made for this this is a f***ing nightmare unfollow me"
She even changed her Twitter name to "i quit still."
Doja Cat says 'I owe a lot' to fans
On Mar. 26, Doja Cat posted an apology on her Twitter account.
It read, "I can travel, I can eat good food, I can see new people, I can smile, I can make memories that I dreamed of having, I can laugh I can support my family and friends, I can learn about the world, and I can give back to everyone because of you."
She finished the statement with, "I do owe people s***. I owe a lot."
Instead of one long tweet, the apology was done in a string of thoughts.
Next, she shared "I owe myself a lot too. I owe myself the chance to open up and be good to people. I owe myself the death of my fears that don't allow me to expand my heart. I didn't come to another country to do something I can do everywhere else. That would be pointless in a way."
She finished her apology by sharing a retweet of her "I'm not sorry" post, saying "I am."
"I quit still" is no longer her Twitter name. Doja Cat has since updated it to "mike penis." It's unclear if this means she's not retiring from music, but it feels like things could be moving in that direction.
How will fans react to Doja Cat at the Grammys?
Doja Cat is nominated for eight Grammy Awards, including Album of the Year for Planet Her and multiple nominations for her collaboration with SZA, "Kiss Me More."
The LA native posted her excitement upon the nomination announcement, tweeting, "yo wtf 8!?!?!??"
These nominations shouldn't be a surprise. Doja Cat was on fire in 2021. According to HotNewHipHop, Doja passed Drake on Spotify to become the most listened to Hip-hop artist with 63.6 million listeners. She also became the first rapper to have three songs in the top 10 on Top 40 radio.
Viewers can catch The 64th Grammy Awards ceremony on Apr. 3, 2022. Trever Noah is hosting with performances from BTS, Billie Eilish, Lil Nas X, Jack Harlow, Jon Batiste, and Olivia Rodrigo.
RELATED: Grammys 2022: All of the Artists Featured in Doja Cat's 'Planet Her