Doja Cat Looks for This 1 Quality in an Ideal Partner
Finding love can be a challenge for anyone, and while it might seem like celebrities — who are often among the world's most eligible singles — should have an easier time, the headlines show us that navigating famous relationships is anything but easy. They know that anyone they meet is going to be thrust into the limelight, and it can be difficult to share a famous life with someone who doesn't know the pressure.
At the same time, dating another celebrity brings its own challenges with twice the headlines to contend with and competing schedules to align. All that to say, celebrities have to navigate relationship woes, too. Luckily for Doja Cat, she has some unique ways of finding the right partner.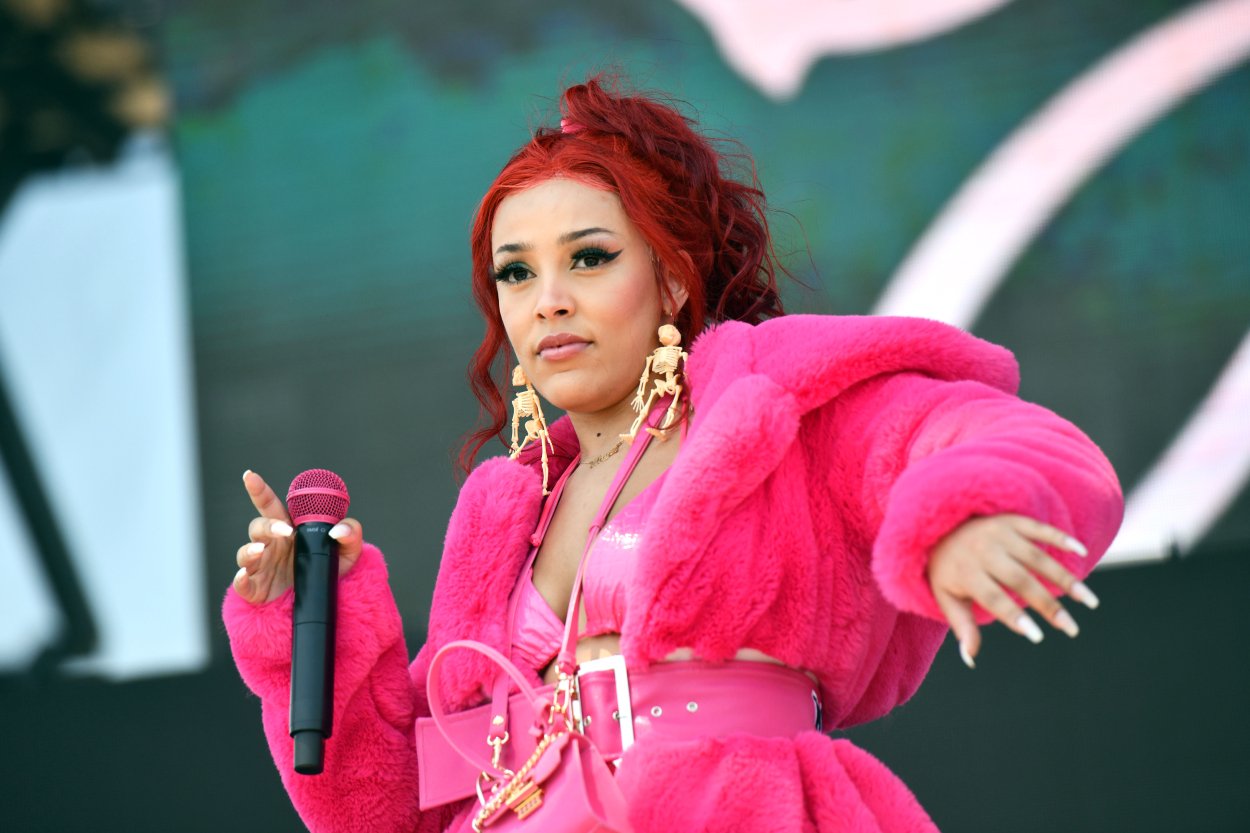 Doja Cat is a rising star
Born Amalaratna Zandile Dlamini, fans best know the rising social media musician by her stage name of Doja Cat. There's nothing particularly mysterious about the nickname — it's a combination of two of the singer's loves: cats and marijuana.
Fittingly, one of her first hits was titled "So High," and its success on social media platforms helped her land a record deal with RCA. Doja Cat's real fame, however, didn't come until the release of her single "Mooo!"
The singer suggested that her take on the rap genre — which features her singing about being a cow and is accompanied by a video of her in full bovine costume — is an upgrade to the "one dimensional" nature of the musical genre.
Those are some very serious words for a video that people shared mostly in jest, but it was enough to get her some legitimate name recognition and collaborations with major players in the music industry.
Keeping her name in the headlines
Since her star began to rise, Doja Cat has managed to keep her name in the headlines, but it hasn't always been for positive reasons. A bizarre social media meltdown had fans truly concerned about the singer's mental health earlier this year.
She's tangled with Nicki Minaj's fans on social media and was briefly "canceled" when some racist comments from her past were dug up and shared. Still, the controversies don't seem to stick.
Not long after the battle with Minaj's fans, Doja Cat collaborated with the singer on a project, and the theoretical cancellation hasn't really impacted her success.
Another thing that keeps Doja Cat in the news is her love life. She's known for being candid about her sex life, but she tends to keep her actual dating history pretty quiet. As The Things reports, Doja Cat was linked to fellow singer Johnny Utah after the pair flirted on social media.
As of February 2020, however, it looked like the duo had called it quits with Doja Cat explaining her strategy for avoiding stalking her ex on social media: "Everything is ok. I unfollowed my ex-boyfriend and everything is ok. We have been cool. Nothing weird going on."
This is what Doja Cat looks for in a partner
RELATED: The Worst Celebrity Couples of All Time
Related post url: 
Of course, a celebrity's love life is going to come up in just about any interview, and when Doja Cat answered 20 questions for Crack Magazine, she gave a response about her preferences. When the interviewer asked what she looks for in a romantic partner, she responded with "a really big nose."
Of course, the rest of the interview was peppered with irreverent answers right in line with the singer's quirky and hard-to-pin-down attitude. She also spent time talking about cow farts, Family Guy, and a meme about an avocado. Perhaps it wouldn't be prudent to read too much into Doja Cat's strange response about what she looks for in a lover.