Doja Cat Was Denied a Custom Outfit for Being 'Too Sexy' for the Brand
Doja Cat is a rapper and singer who first started getting national attention in 2018 after one of her music videos went viral. In the past several years, Doja Cat has worked hard on her music and although her latest concert tour has been postponed due to the pandemic, she is undoubtedly still hard at work. Although Doja Cat has many admirers, from celebrities to casual fans, there was one specific clothing brand that notoriously refused to work with the provocative rapper.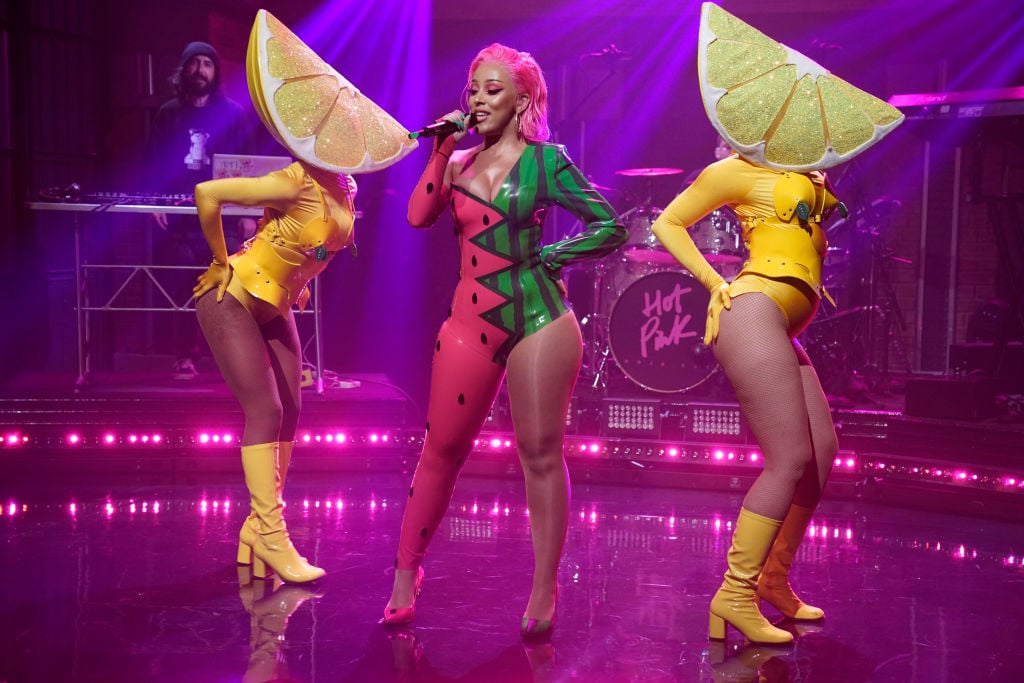 When was Doja Cat born?
Doja Cat was born Amalaratna Zandile Dlamini in 1995. Born and raised in Los Angeles, California, Doja Cat was raised in an artistic family, with her father working as a composer and her mother a well-known painter. Surrounded by artists, Doja Cat felt drawn to the same world of self-expression and began writing and rapping when she was still a young child. Before she even reached her teenage years, Doja Cat even competed in break dancing competitions around Los Angeles.
Doja Cat was also inspired by makeup and beauty tutorials and even spent a brief period creating and posting makeup videos to YouTube. However, as the rapper later revealed, her hardcore fans will never be able to find the videos and that they are lost to the YouTube algorithm. Still, out of her many passions, it was music that spoke to her the most, and she decided to pursue a career in the rap industry. She dropped out of high school before graduation in order to follow through with her musical interests.
How did she become famous?
After leaving high school, Doja Cat began writing and uploading songs to her SoundCloud account. She also chose her stage name. She later admitted that the name Doja Cat came from a somewhat random combination of interests – she thought that "Doja" sounded cute, and she has always had an affinity for cats. The young artist first started getting attention in 2013, after she released the song "So High" to her SoundCloud account. A few of her other early songs that gained traction include "Candy" and "Roll With Us."
Doja Cat spent a few years working hard to gain prominence – but in 2018, she broke through to national fame. The release of her viral music video "Mooo!" grabbed everyone's attention, from casual music aficionados to hardcore pop culture fans. Since then, she hasn't slowed down, and songs such as "Juicy" and "Say So" helped to solidify her status as a new music star. Doja Cat even got involved in a rumored feud with Cardi B, ensuring that her name ended up in the headlines on a regular basis. 
Dickies denied working with Doja Cat
Doja Cat has never shied away from her seductive image and embraces her status as a sultry rapper. Although most people love her for it and see her confidence as a sign of female empowerment, she has run into some resistance over the years due to her image. In fact, in a recent interview with Doja Cat's stylist, Brett Alan Nelson, he revealed that at one point, Doja Cat was planning on wearing an outfit custom designed by the clothing brand Dickies in one of her music videos. Dickies, according to Nelson, is a notoriously conservative brand and decided against having the rapper rep for their brand in her video. As Nelson stated, "they thought Doja was too sexy for their brand."
Although Dickies backed out, Doja Cat and her stylist found a work-around, ultimately selecting an outfit that was appropriately boundary-pushing. As the years go on, and as Doja Cat continues to become more famous, Dickies might eventually regret turning down the chance to work with the up and coming rapper.