Doja Cat's Music Inspiration Comes From These Stars
Doja Cat admits which stars she takes musical inspiration from.
Every day, talented musicians post videos to YouTube and TikTok in hopes of being discovered. Millions dream of becoming the next big thing. Somehow, Doja Cat managed to make it happen by posting a cow video.
Within a few short years, radio stations and award shows couldn't get enough of the controversial performer.
Doja Cat recently released her third full-length studio album, Planet Her. Many of the songs will undoubtedly become hits, inspired by some of the biggest stars in the music industry.
Doja Cat's early beginnings
Born Amalaratna Zandile Dlamini in 1995, the young performer dropped out of high school to concentrate on her music career. Her love of cats inspired her to create the stage name of Doja Cat.
The determined artist spent countless hours online perfecting her craft, releasing the EP "So High" in 2014. It took another four years before the music industry took notice of the rapping pop-star wannabe.
Fader recalled how the Grammy-nominated artist caught the internet's attention in 2018 after producing on Garage Band a novelty single titled "Mooo!" ("Bitch, I'm a Cow"), which quickly became a viral sensation. Doja Cat spent the day locked in her bedroom, hanging sheets to make a green screen, and pulling together a cow costume for effect. As she shoved French fries up her nose, fans ate it up, and suddenly the "Say So" singer was somebody.
That same year, Doja Cat released her first full-length studio album. Met with critical acclaim, Amala featured the hit song "Juicy," a collab with Tyga.
The Queen of Memes followed it up with her sophomore album Hot Pink that same year. According to E, Doja performed for the first time at the 2020 MTV Video Music Awards. Dressed as a "cat-like alien from planet Doja as she and her entourage moved across a fake pink planet with surprising prowess," Doja Cat won the MTV award for Best New Artist.
Doja Cat has reached the pinnacle of her career, now a highly respected artist, collaborating with performers such as Lil Wayne, Gucci Mane, and Saweetie.
Doja Cat reveals the biggest influences on her career in the music industry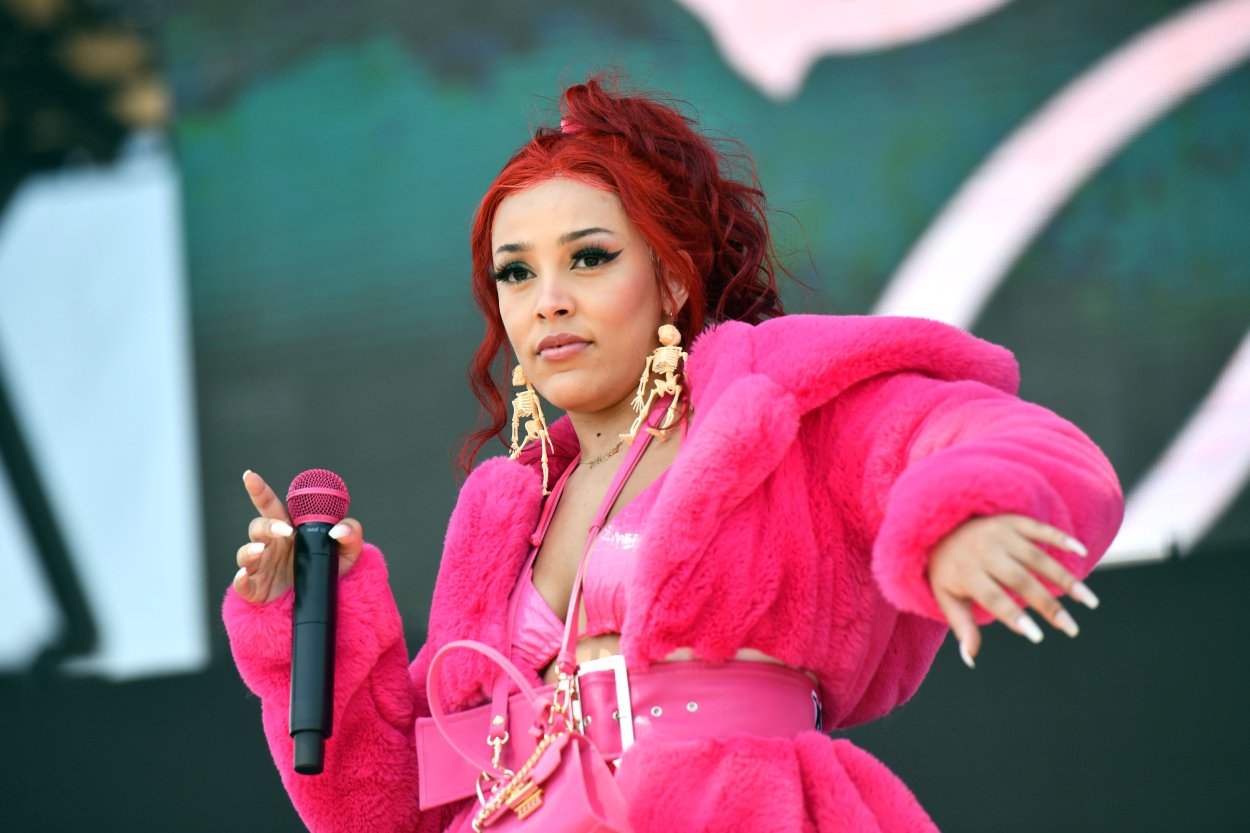 Doja Cat has been sampling music from popular artists since her early years as a teen living in Los Angeles. She produced SoundCloud demos, grabbing bits and pieces of music that she found all around her.
PopSugar said the 25-year-old artist, known for her sexually explicit lyrics, found inspiration from Nicki Minaj, Rihanna, and D'Angelo. She also credits Drake, Erykah Badu, and Pharrell for helping her become the performer she is today.
When Doja Cat was accused of mocking Beyonce on TikTok, Canoe reported the artist quickly responded, saying, "Beyonce is the reason why I believe that I can be who I am. Beyonce is one of the driving forces of who I am in my career."
'Planet Her'
Doja Cat's newest album, Planet Her, seems to be an extension of Nicki Minaj's mainstream hip-hop sound. The single, "Get Into It (Yuh)," is proof of the effect the "Trollz" performer has had on the accomplished artist. At the end of the song, Doja even shouts out Minaj's name.
The recently released third studio album includes a pop-rap collaboration with Ariana Grande titled "I Don't Do Drugs." 
Vulture refers to Doja Cat as "our new ice-cool pop-queen supreme." They were quick to point out that Doja Cat "knows she doesn't have to play by anyone else's rules." They noted, "It's almost as if she has internalized what did and didn't work for her predecessors and is now mixing and matching the parts that intrigue her most."