Doja Cat's Reaction to Having a Song on the 'Elvis' Soundtrack: 'Oh God, Help!'
Grammy-winning rapper Doja Cat has risen to fame in recent years as one of the hottest new names in music, in demand for major projects across the entertainment world. "Vegas," her latest single with Elvis actor Shonka Dukureh, interpolates Big Mama Thornton's song "Hound Dog" which Elvis Presley later made famous himself. For Doja, getting to be a part of such a big film's soundtrack was a big ask.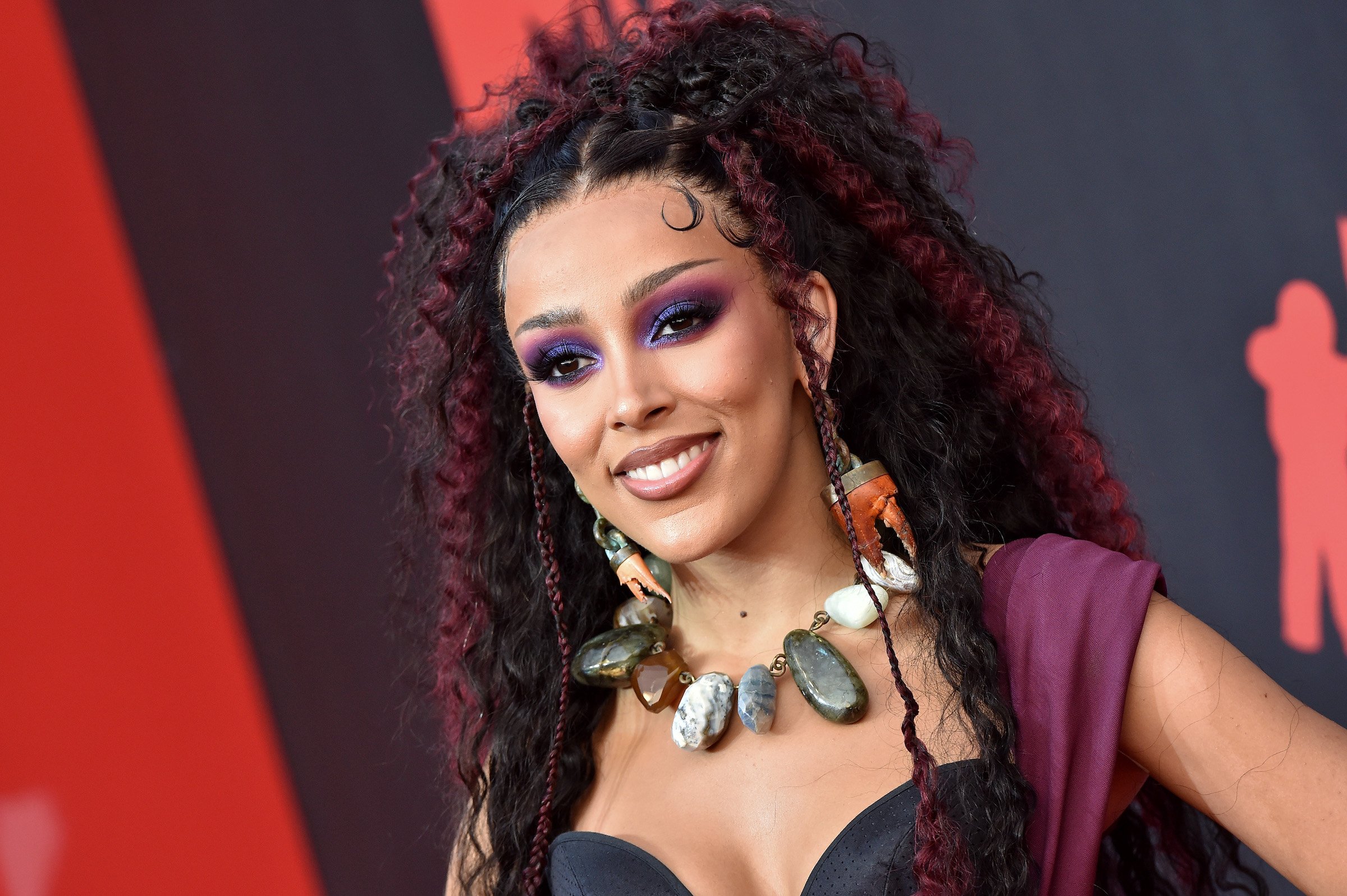 Elvis Presley is played by Austin Butler in the new biopic
Doja Cat may not be on screen in Elvis, but she's heard on the soundtrack with her "Hound Dog" reinvention, "Vegas." Presley was criticized in life and in death for his receiving credit as a rock 'n' roll pioneer, when in reality Black artists such as Little Richard were originators of the genre.
The Elvis biopic doesn't shy away from rock 'n' roll's forgotten history, as well as Presley's role in it. "Vegas," for example, features Dukureh singing the chorus of "Hound Dog" as her character Big Mama Thornton.
Having to bring the King of Rock 'n' Roll to life on screen is a mammoth task, and one that actor Austin Butler didn't take lightly.
"When you look at Elvis as this iconic superhuman figure, it's hard not to feel small. And so for me, my task was finding as much humanity and similarity and the realness as I could," he told CBS Sunday Morning.
Doja Cat was flustered when she got the 'Vegas' opportunity
Just being involved in a project as big as the Elvis biopic was an honor for Doja Cat. In an interview with Access Hollywood, she was frank about her reaction upon finding out that she'd be doing a song for the soundtrack.
"I felt like, 'Oh s***. Oh no. Oh God, help!" she said honestly. She admitted that the pressure of wanting to do well weighed heavy on her.
Big Mama Thornton is played by Shonka Dukureh in 'Elvis'
Shonka Dukureh, who brought Big Mama Thornton to the big screen in her role, also felt the gravity of the film. She spoke with Shadow and Act about the opportunity ahead of the movie's release.
"It's all amazing because I know I realize that there were a lot of people who could have played the role or they had a lot of choices out there that they could have gotten to play the role," she said. "And so I just knew how privileged I was to get the opportunity. And I just wanted to want it to pay the right respect to Big Mama Thornton and to do her justice in the film."
"I was very aware and wanting to really be intentional about making sure I was paying respect, respecting her, respecting her legacy, respecting her spirit, respecting everything about what she brought to music and understanding that I'm able to do it because she's done it and laid that foundation," she continued.