Dolly Parton Dragged Jennifer Aniston Out of Her Comfort Zone: 'It Was Terrifying'
Dolly Parton terrified Jennifer Aniston by pulling her far out of her comfort zone. She explained why she felt she should do this.
In 2018, Dolly Parton and Jennifer Aniston struck up a friendship after working together on the film Dumplin'. Anston starred in the movie while Parton provided the soundtrack. While working on the movie together, Parton pulled Aniston and co-star Danielle MacDonald out of their comfort zones. Aniston described the experience as both terrifying and exhilarating.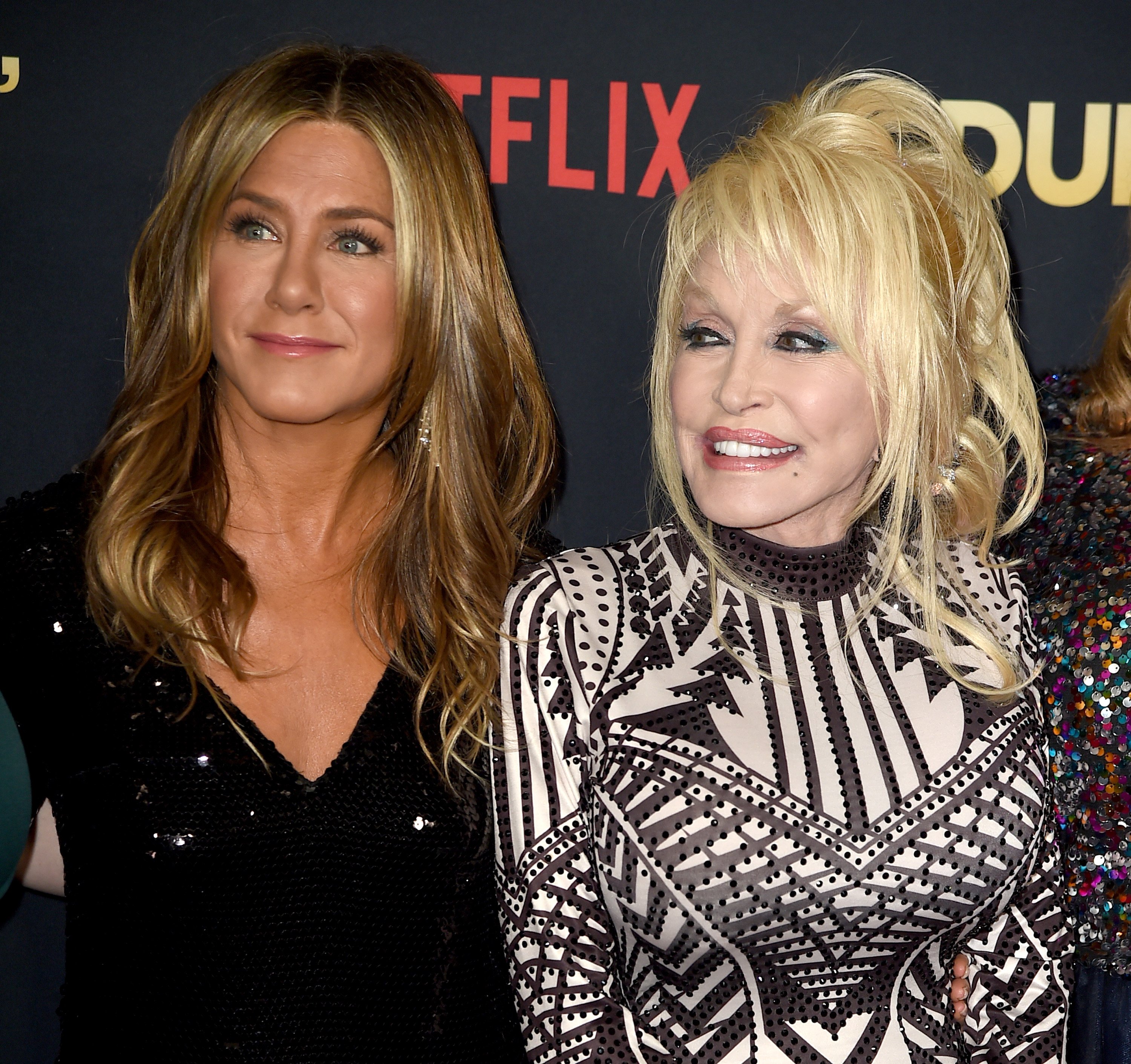 Dolly Parton and Jennifer Aniston grew close while working on a film
When Parton first got involved with Dumplin', she was only initially going to provide them with a license for her songs. Soon, though, she agreed to write the theme song with Linda Perry.
"So I got with Linda Perry just to write the theme song, and boy, we clicked as musicians and singers and writers," Parton told Elle. "And we just hit it off. As soon as we wrote the theme song, we just went one to another, writing songs."
Parton became heavily involved in the project and formed a friendship with Aniston, who played the lead character's mother. Aniston explained that she was grateful for a chance to work with Parton.
"There's a lot of Dolly worship out there. Not only have I been able to create something with her and sing with her, but I've even girlfriended with her," she told USA Today. "I'm humbled."
Parton explained that she dragged the actor into a recording studio
One impact that Parton had on the film was bringing Aniston and MacDonald into the studio to record a song together. She explained that neither wanted to do it.
"I told 'em, 'Look, we want you to sing.' And they said, 'We can't sing!'" Parton explained. "And we said, 'We don't care, we'll make you sound good. You've gotta be on this record.'"
Parton explained that she was proud of both actors for making an effort despite their initial discomfort.
"They actually did pretty good!" Parton said. "They don't claim to be singers. You can always make it sound better if there's a little note that's not necessarily right on pitch or whatever."
Aniston explained that she was petrified to sing but ended up feeling happy that she did it.
"It was terrifying and fun and all of it … it was great," she told ET. "[I was] fearless, yes, or fearful, depending on how you look at it. But I had Dolly and Linda Perry there, who were just patient and wonderful."
Dolly Parton joked that her husband has a crush on Jennifer Aniston
Parton's husband, Carl Dean, was particularly excited that his wife would be working with Aniston. She explained that he'd harbored a crush on Aniston for a while.
"See, I think he kinda fantasizes, like, a threesome with us," she joked on The Tonight Show. "I'm serious!"
Parton explained that she didn't think this arrangement was likely.
"I'm serious! He does," Parton said, adding, "I mean he can't even get it out to pee, much less get it up for three."