Dolly Parton Explains the Poignant Reason Miley Cyrus 'Had' to Sing on Her New Christmas Album
To even make it in the music business is remarkable. But to have a career spanning decades must feel like a miracle to those who have achieved it. For instance, Dolly Parton became a living legend since her debut album in 1967. Now she has released a new holiday album, A Holly Dolly Christmas. And there was one performer she insisted to collaborate this: Miley Cyrus.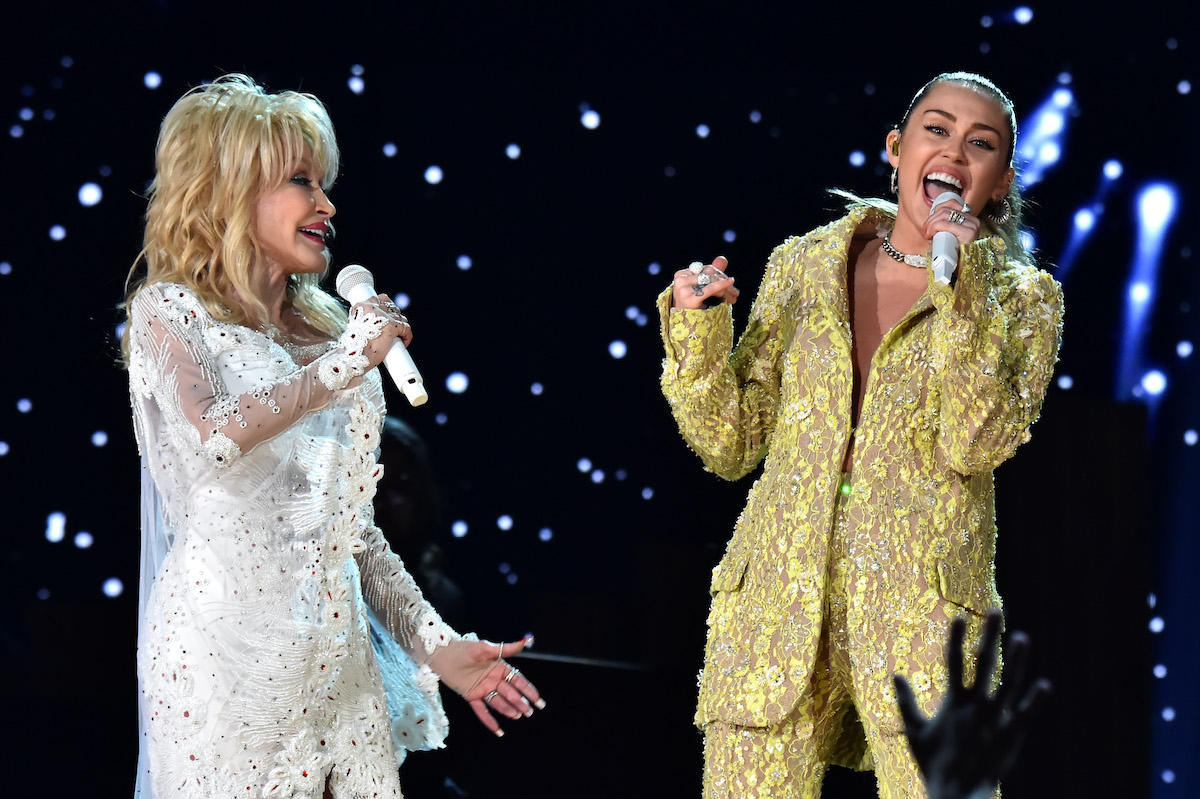 Dolly Parton released a new holiday album, 'A Holly Dolly Christmas'
On Oct. 2, 2020, Parton released A Holly Dolly Christmas. The album is her first release since 2017. But more significantly, it's only the third holiday album of her career. In addition to holiday classics like "All I Want for Christmas Is You" and "Holly Jolly Christmas," the album features several original songs. And she recruited several collaborators to bring them to life.
Perhaps most notably, Michael Bublé — whose own career has been somewhat defined by the holiday season — duets with Parton on a track titled "Cuddle Up, Cozy Down Christmas." Fellow music legend Willie Nelson, Jimmy Fallon, and Parton's own brother, Randy Parton, also appear. Lastly, Cyrus and father Billy Ray Cyrus lend their vocals to separate tracks.
The legendary singer insisted on having Miley Cyrus appear on it
But why was Parton so determined to have Cyrus on A Holly Dolly Christmas? Well, for those who don't know, Parton is the young singer's godmother. And as Parton told ET Canada, the album is probably the last one she'll record devoted to the holiday season. So a collaboration with Cyrus was an absolute necessity.
"[Miley] had to sing on this Christmas album. She was working on her own project and I said, 'I'm not going to ask you to put it out as a single. I know you got your own thing, but you have to sing on this album with me. You and Billy Ray because you're like family, and I'm probably never going to do another Christmas album.'"
Cyrus was apparently working on her album Plastic Hearts when Parton came calling. Thankfully for fans of the pair, they were able to make it work. The resulting song, a sweet ballad titled "Christmas Is," is a highlight of A Holly Dolly Christmas. And it's made even more special when one considers the deep bond and history between the two performers.
Dolly Parton and Miley Cyrus have worked together before
"Christmas Is" isn't the first time Parton and Cyrus have worked together. The pair has performed together time and again over the years. And just as Parton worked to include Cyrus on her holiday album, so too did Cyrus fight to include Parton in her breakthrough project.
Cyrus first rose to fame in the mid-2000s as the star of the Disney Channel series Hannah Montana. On that series, Cyrus plays a pop star with a double life. And Parton shows up in a few episodes as "Aunt Dolly." Remarkably, it was Cyrus who convinced Disney to cast Parton. And their duet on A Holly Dolly Christmas brings their professional relationship beautifully full circle.