Dolly Parton Said Reese Witherspoon Needs a 'Big Old Boob Job' to Play Her in a Movie
When searching for an actor to portray Dolly Parton in a biopic, a blonde, cheery Southerner seems like the ideal choice. That means someone like Reese Witherspoon. Parton shared her thoughts on the potential casting, and a big change Witherspoon would have to make to score the role. She also spoke about an upcoming project that both women are collaborating on.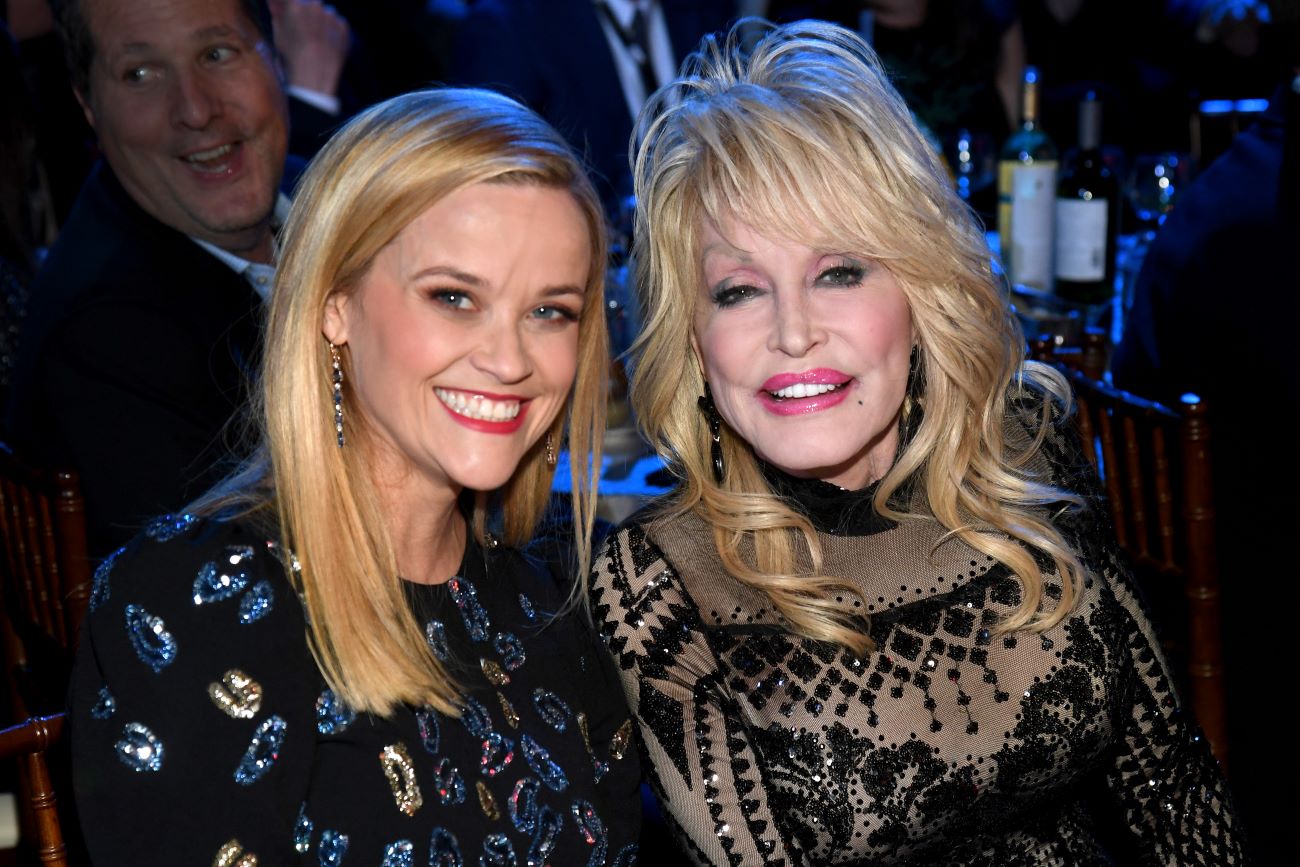 The '9 to 5' singer is in talks to make a movie about her life
In 2022, Parton shared that she is considering making a film about her life. She appeared on the radio show Mr. Nashville Talks to discuss how the coronavirus (COVID-19) derailed initial plans for a Broadway show.
"We were talking about doing my Broadway musical, and we were really, really way out ahead of that, and then COVID hit, and that changed my mind about a whole lot of things," she said. "I do intend someday to be on Broadway, but I'm thinking now that I might do my life story as a feature. Maybe possibly even a musical feature, so we're in talks about that."
Ideally, she'll have more than one actor play the lead role, including a possible part for herself.
"You have to have at least two Dollys, well three Dollys really," she explained. "You have to have the little Dolly, we'd have to have the medium one, and now that I've lived long enough to be older, I might play myself as my old self. I don't know, but anyhow, there's many ways to do it."
Dolly Parton shared her thoughts on casting Reese Witherspoon as herself
Parton has discussed a potential biopic before and has shared her opinion. She believes that Taylor Swift is much too tall for the part. Kristin Chenoweth is someone Parton has handpicked for the role, particularly if it's a singing part. Many have also suggested Witherspoon, but Parton isn't completely sold.
"There were rumors about Reese Witherspoon being up for the role," Parton told PopSugar, "but we'd have to get her a big old boob job or a big old bra."
More recently, though, Parton has said that she doesn't have anyone particular in mind. The project has been a lengthy one, and the people she initially considered may have aged out of the role.
Reese Witherspoon is producing another movie with Dolly Parton
Even if Witherspoon never ends up playing Parton in a movie, the two women are working together on a different project. In 2022, Parton and author James Patterson's book Run, Rose, Run came out. In the same month of the book's release, Witherspoon announced that her Hello Sunshine media company would produce a film adaptation of the project.
"James and I love Reese and look forward to working with her and her wonderful team," Parton said in a statement, per USA Today.
Witherspoon shared her excitement about working on the project, particularly after finishing the book.
"Dolly Parton is not only an icon to me, but a true inspiration to women and girls everywhere," Witherspoon said. "My admiration for her grew to even greater heights when reading Run, Rose, Run, a gripping and heartbreaking book I couldn't put down. I couldn't feel more honored to be working alongside her and James to bring this remarkable story to the screen."
Parton will both produce and star in the adaptation of Run, Rose, Run.
RELATED: Dolly Parton Used to Get the 'S— Beat Out' of Her for Wearing Makeup