'Dopesick': What is the Black Box Warning Mentioned in the Series?
When the FDA forced Purdue Pharma to put a black box warning on OxyContin, it didn't hurt the sales at all, according to 'Dopesick.'
In Hulu's Dopesick Episode 7, "Black Box Warning," Richard Sackler (Michael Stuhlbarg) worries about the FDA Black Box Warning on Purdue Pharma's OxyContin label. However, by the end of the episode, viewers find out that Purdue twisted their marketing to continue pushing the highly-addictive drug, although the FDA used the warning label.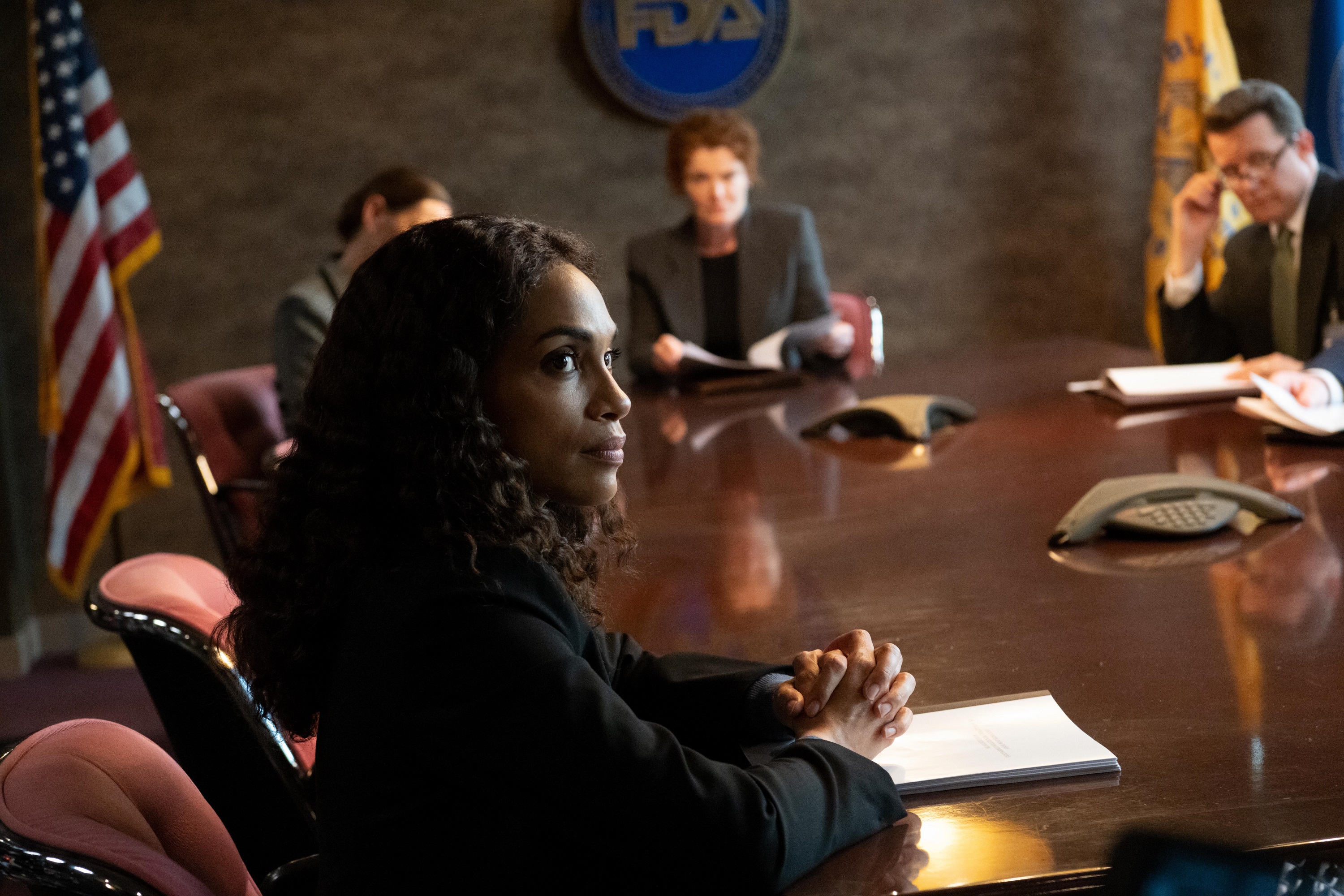 'Dopesick': What is a Black Box Warning?
In Dopesick Episode 7, creator Danny Strong lets viewers in on the secret that Curtis Wright (portrayed by Brian Keane) wrote the original OxyContin label while at the FDA. Shortly after leaving the FDA, Purdue Pharma hired Curtis. Bridget Meyer (Rosario Dawson) also presented her findings from Dopesick Episode 6 to the FDA and Purdue. 
Her team found that OxyContin is unsafe even when used as prescribed. When combined with non-lethal medications, 98% of the deaths linked to OxyContin found the deceased took the drug exactly as prescribed. Actual abusers switched to cheaper drugs like heroin. So, the FDA issued a "Black Box warning" for OxyContin.
According to the FDA, a black box warning, now called a "boxed warning," is "designed to call attention to serious or life-threatening risks" from taking a drug. The additional warning is not on the box itself but the insert inside the packaging. The box indicates the threat of the drug. However, the warning did little to stop the sale or prescribing of OxyContin in Dopesick or real life. 
The Black Box Warning may have increased the misuse of OxyContin 
According to an article published in the NCBI, The Black Box warning is the highest warning the FDA can place on a drug. However, the notice might have played a part in increasing the misuse of OxyContin. The warning told patients not to crush, chew, or dissolve the tablets on the package insert because it would result in rapid release. It even added that this rapid release could cause a fatal dose. However, after the warning, the prescription of OxyContin only increased in the United States. For individuals who became addicted to the drug, the simple mention of getting that feeling more quickly might have led to its misuse.
Is 'Dopesick' a limited series?
Executive Producer Danny Strong originally created Dopesick on Hulu as a limited series. However, the events of Dopesick Season 1 only cover the events of Purdue Pharma through 2007. After that time, the series gives a brief overview of the litigation, but there's so much more that Strong could dive into with another season. When asked about a potential Dopesick Season 2, Strong said he's open to it.
"I'm not sure yet," Strong told Showbiz Cheat Sheet in an exclusive interview. "I'm not closed-minded to it. I don't know. There haven't been any discussions about it yet, but there's certainly a lot of events that occurred post-2007 that could potentially be a season 2. I haven't deep-dived into it enough to know if I can even pull it off. But we're just still kind of waiting to see how this goes."