'Double Shot at Love': Are Derynn Paige and Pretty Ricky Dating Again?
Are 'Double Shot at Love' stars Derynn Paige and Pretty Ricky back together? A fan sighting might have the answers.
Double Shot at Love stars Derynn Paige and Pretty Ricky were spotted together recently. Does this mean the MTV reality stars are giving their Las Vegas romance another shot?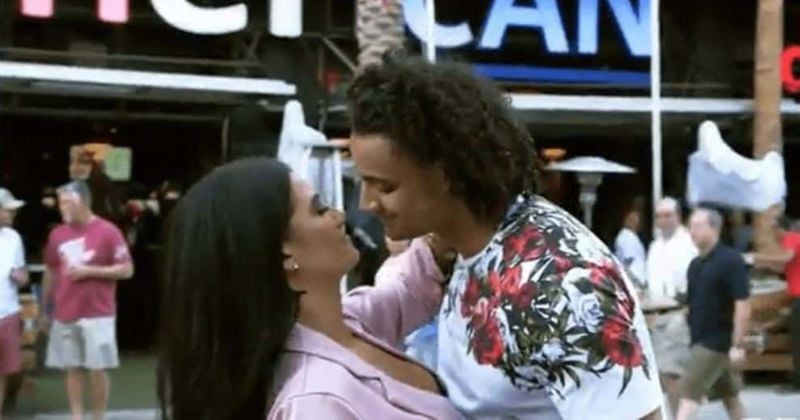 Derynn Paige broke her 'dry spell' during 'Double Shot at Love' Season 2
Thanks to Jersey Shore star Vinny Guadagnino, Paige was introduced to Pretty Ricky on season 2 of Double Shot at Love. She and the stripper hit it off almost immediately, sleeping together later in the season. Before she left Las Vegas, Pretty Ricky took Paige out an official date, too.
By the time season 2 concluded, Pretty Ricky asked Paige to be his girlfriend. But despite his assurance that he would remain faithful regardless of his line of work, Pretty Ricky ended up breaking his promise. 
Derynn Paige called Pretty Ricky out during the 'Double Shot at Love' reunion
During part 2 of the Double Shot at Love reunion, Paige talked about visiting Pretty Ricky after the show ended. 
"We decided to keep our relationship open and long-distance," Paige explained. "If we [ended] up seeing someone else, we [had] to tell each other." 
Unfortunately, that's not what Pretty Ricky did. "Let's just say that one day I woke up and one of my good friends sent me a TikTok of Pretty Ricky and his girlfriend that he had and that he never told me about," Paige said. 
Pretty Ricky addressed the elephant in the room, admitting he was wrong in the situation. 
"I got caught up on TikTok and I made a mistake," Pretty Ricky confessed. "I put my attention into somebody else that wasn't worth my attention." 
It didn't seem like Pretty Ricky and Paige were going to give their relationship another shot during the reunion. But now, a "double shot at love" might be in order for the reality stars. 
Pretty Ricky and Derynn Paige are hanging out again
Over the weekend, Paige shared photos and videos on her Instagram Stories of herself with some of the other Double Shot at Love cast — including Pretty Ricky. 
Then, a fan who works at a Cheesecake Factory in New Jersey spotted the Double Shot at Love stars together on Oct. 26. 
"I'm a hostess at Cheesecake Factory in NJ and I kid you not both Derynn and Pretty Ricky just walked in for a table," the fan shared on Reddit. 
"I had to do a double take [because] 1. She came in with her mask down knowing very well she needed it on and 2. [They] were holding hands and they waited for a table but never came back for one," the fan added. "Unfortunately there's not much tea only that I saw them clearly together even though she ain't claiming him." 
Many fans are disappointed in Paige's decision to hang out with the Chippendale's stripper again. "She really was like 'Pretty Ricky who' on Twitter, just to still be hanging out with him," one fan commented. 
Other fans think this is Paige and Pretty Ricky's way of maintaining the attention they obtained from being on the MTV show.
"They both trying to ride the wave," a fan pointed out. "Why would she seriously deal with him after he had a whole girlfriend the entire time and then admitted to using the girl due to pandemic? So he homeless and using females, she got to be slow or clout chasing." 
Whether Pretty Ricky and Paige were hanging out romantically or as friends remains unclear.