'Double Shot at Love': Is MTV 'Slyly Trying to Find a New Cast' for a 'Jersey Shore' Reboot
Pauly "DJ Pauly D" DelVecchio and Vinny Guadagnino are back for a second season of Double Shot at Love. However, fans are beginning to see what's going on here. Are the men looking for love, or are they initiating a new cast for a Jersey Shore reboot?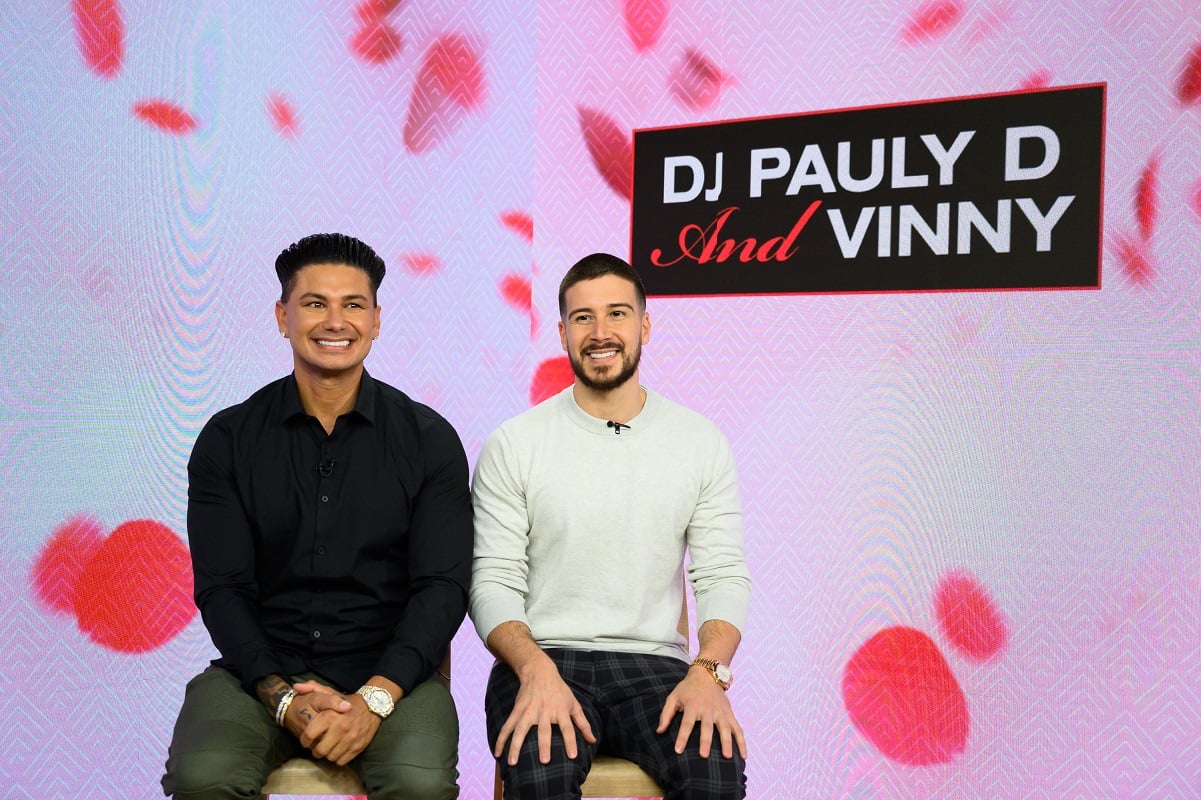 What is 'Double Shot at Love' Season 2 about?
The premise of Double Shot at Love was for Pauly D and Vinny to play the eligible men like the ABC show, The Bachelor. The producers brought in 20 women for the men to date, and they were supposed to choose one to give their final rose to. 
However, at the end of season 1, Pauly D shocked viewers when he decided to remain single. The DJ felt that Nikki Hall fell too hard and intensely for him. He also claimed that he didn't have a strong enough connection with Derynn Paige to take things further. 
Vinny narrowed down his females to Elle Wilson and Alysse Joyner. He did choose 24-year-old, Alysse, from Brooklyn. However, their relationship fizzled after filming.
Conveniently, both men are single again and back for another season of Double Shot at Love. This time, they brought back five of their exes to the Las Vegas strip. Plus, their former flame, Derynn, brought three of her guy friends from the east coast. Now the eight newcomers are roommates with our former Jersey Shore stars, Pauly D and Vinny.
Fans feel that 'Double Shot at Love' is MTV's attempt to create a 'Jersey Shore' reboot
When MTV rebooted Double Shot at Love with Pauly D and Vinny, it became a guilty pleasure for Jersey Shore fans. Maybe viewers knew all along the two bachelors weren't ready to settle down. Now, for season 2, the game show format is out the window, and instead, we have Jersey Shore rebooted with a whole new cast.
"It kind of feels like I'm watching a season of Jersey Shore, but in Vegas," one fan wrote on Reddit. "I don't mind the girls now that they're not competing for P&V (and it's nice to see Nikki be a part of the group this time). The guys kind of suck, though."
Other fans agree that it does seem like an attempt at a reboot for the original series, Jersey Shore.
"It's very much a new Jersey Shore with Pauly & Vinny kind of serving somewhat of a Danny role," added another viewer.
When Jersey Shore first aired on MTV, Danny Merk was the owner of the Shore Store and the roommates' house in Seaside Heights, New Jersey. He had the tough job of reeling them to "work" and playing a bit of a mentor role. Now fans believe Pauly D and Vinny are the eight newbies' landlords and bosses — filling Danny's old position. 
Fans like 'Double Shot at Love' Season 2 more than 'Jersey Shore: Family Vacation'
"I think they are slowly easing us into these new characters, and to be honest, I don't mind it," another Redditor added. "I'll still watch, but I feel that whatever they have in store for the next JSFV is going to be cringe-worthy, to say the least."
Jersey Shore: Family Vacation is the sequel series to the original show, which aired from 2009 to 2012. The newer show follows the old roommates as they vacation together in Florida for the first season in 2018. Then the subsequent seasons continue in various locations, updating fans on the lives of the stars.
"I do find [Double Shot at Love] more authentic than the latest season of Jersey Shore: Family Vacation though," one fan wrote.
Pauly D and Vinny's spinoff has fresh new faces to create drama. Whereas fans feel the producers have to fabricate the drama between the older roommates. The only problem is the name. Since there's no dating competition, MTV might be better off if they had stuck with the original renewal title: DJ Pauly D and Vinny's Vegas Pool Party. Or maybe they should call it what it is: Jersey Shore Rebooted