'Double Shot at Love' Season 3: Who Did Vinny Guadagnino Send Home in Episode 1?
Vinny Guadagnino's search for a girlfriend continues in Double Shot at Love Season 3. With the help of Pauly DelVecchio, Nikki Hall, and a few other surprise guests (including Guadagnino's ex-girlfriend Maria Elizondo), the "Keto Guido" is hopeful the "third time around" will work. Find out who the Jersey Shore: Family Vacation star sent home in week 1. 
[SPOILER ALERT: Spoilers ahead for Double Shot at Love Season 3, Episode 1.]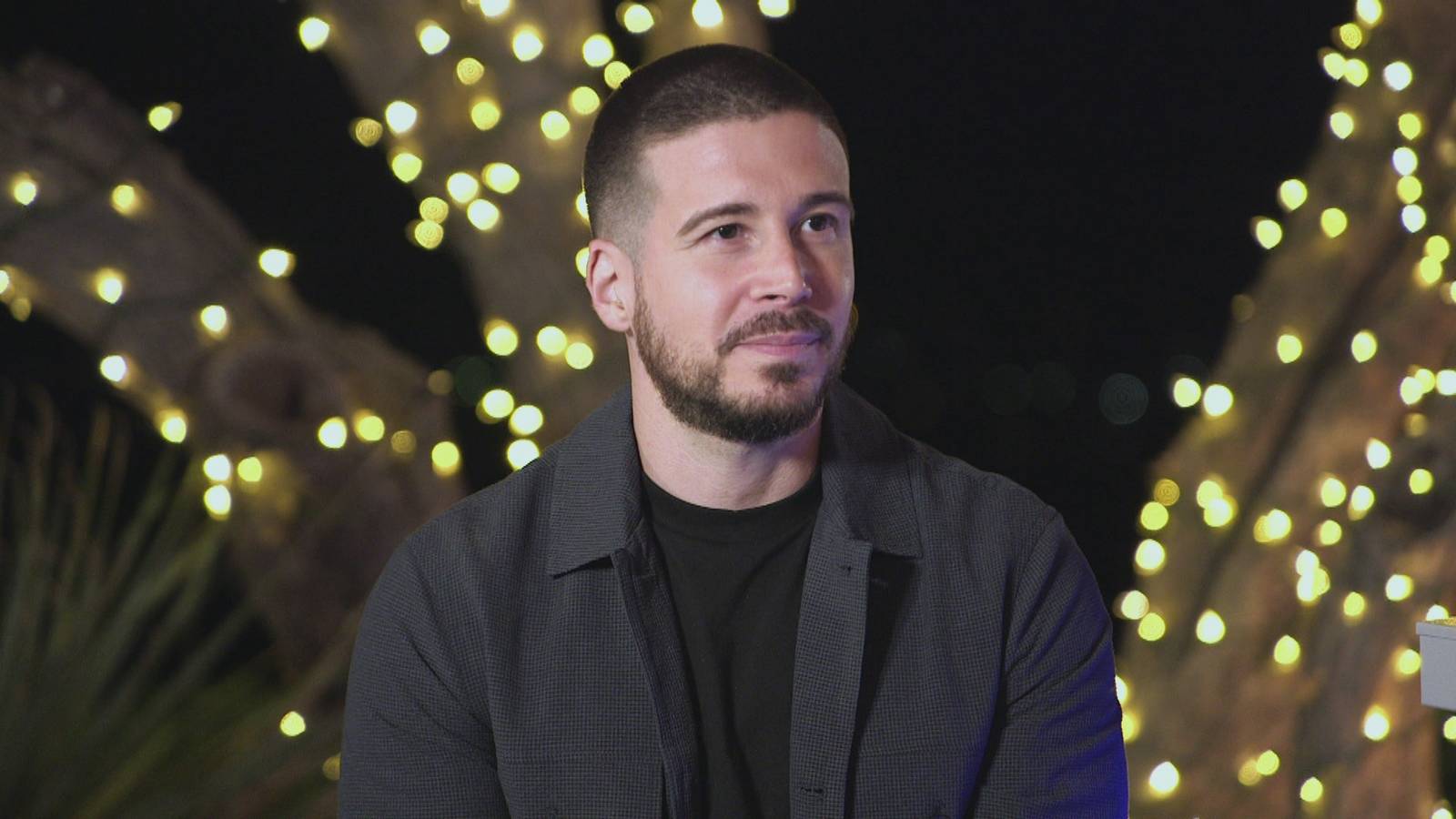 Vinny Guadagnino is dating 17 women in 'Double Shot at Love' Season 3
During the season 3 premiere, Guadagnino mingled with the 17 women. Despite his "awkward" tendencies, Guadagnino made time for each.
"Kayla [Penoli] is very independent and that's my type," Guadagnino tells cameras. Other prospects, like Jovanna Del Plato, have popped up in Guadagnino's life before.
Del Plato has been Guadagnino's "hot bottle waitress" in Atlantic City in the past. Ironically, Guadagnino felt like she was out of his league when he spotted her in the nightclub. Guadagnino also says Del Plato was at Angelina Larangeira's wedding and didn't say hi to him.
Other stand-out prospects for Guadagnino include Kortni Montgomery, the flight attendant he refers to as "adorable and really pretty." She won a morning coffee date after asking Guadagnino for a dance performance.
The other women after Guadagnino this season include:
Bidisa Chandra
Emily Piccinonno ("Peachy")
Jasmine Jones
Danielle Hopson
Abi Memoli
Claudelia Zarate
Leanzy Peterson
Erika Devito
Peyton Freestone
Erica Pecore
Kyra Carey
Akielia Rucker ("AK")
Kiana Khoshaba
Honey Nguyen
'Double Shot at Love' premiere elimination is disrupted by Vinny
Season 3 follows in the footsteps of previous seasons of Double Shot at Love, where DelVecchio and Guadagnino held an eliminations each week. As Guadagnino gets to know more about these women, the more he'll start to realize if there's a connection or not.
After meeting the women of season 3, it became clear that Guadagnino had a stronger connection with some more than others. During his conversation with Peyton Freestone, Guadagnino learned of her career as an Instagram influencer.
Guadagnino felt like Peyton could be a "clout chaser." Her career path and her "half a million followers" turned him off a bit. As such, Peyton seemed like an obvious choice to send home going into the elimination. However, the episode was cut short.
RELATED: 'Jersey Shore' Didn't Inspire Nicole 'Snooki' Polizzi's Nickname, This 2001 Movie Did
During the elimination, Guadagnino asked to speak to a producer. "I feel crazy right now…I don't know what to do," Guadagnino tells production. After realizing what was happening, DelVecchio checked in on him. The episode ended without an elimination.
Vinny Guadagnino disappears mid cocktail party
"These types of situations bring out the awkward in me," Guadagnino tells cameras early in the episode.
As he spoke with Emily "Peachy" Piccinonno, Guadagnino stepped away abruptly. Many of the women were confused, but no one was more concerned than DelVecchio.
Fortunately, Guadagnino was fine — he just had a nosebleed. "Leave it to this chooch to have to leave these girls here because he got a bloody nose," DelVecchio tells cameras.
Could another nosebleed have been the cause? "Breaking the fourth wall!!! You know this s*** is real," he tweeted during the premiere regarding his abrupt exit.
Tune in next week to find out why the elimination was disrupted and who Guadagnino sends home on Double Shot at Love.