'Downton Abbey: A New Era': Julian Fellowes Modeled Thomas Barrow and Guy Dexter After Several Real-Life Gay Celebrities
The show may have ended years ago, but the Downton Abbey Universe continues to expand with a second feature film, appropriately titled A New Era. The movie builds off of its predecessor to tell a different story about the Crawley family and the ways modernity is beginning to affect their lives.
One example of society moving forward is a burgeoning gay relationship hidden in plain sight. The storyline is in line with the secret double lives required of gay people in order to stay safe during this era. 
'A New Era' draws parallels between the shifting film industry and British aristocracy
After six seasons and a movie, it felt like the most important character arcs had reached a suitable conclusion. The Dowager Countess Violet informed Mary she was dying. She passes on the responsibility of managing the estate to her granddaughter. But Downton Abbey was so well-received and left enough unanswered questions to justify a sequel. 
A New Era doesn't go far into the future; it takes place nine months after the first movie. But it does advance the story in several ways. Violet is still alive and informs the family she inherited a villa from a former flame in the French Riviera. Most of the family moves to the home, while others stay behind to watch over Downton. Mary agrees to let a film crew led by Director Jack Barber (Hugh Dancy) make a silent movie in the old house to raise money to fix the roof. 
The movie's dual narratives make sense for the characters and add a meta-layer on top of the entire enterprise. Silent films are already on the brink of irrelevance by the time the production staff makes it to Downton. The older members of the family find the idea of letting the estate become a film set to be unseemly. The plots mirror the changing attitudes toward movies as a medium, and the differences between how the two generations look at the world.
"I grew up at the end of that, when films were considered — certainly by the British upper classes — fairly working-class entertainment that had taken over from the music hall. The idea that they should take them seriously was completely alien to them," Fellowes said to Vanity Fair. "And really it was their children, the next generation of viewers, who changed that." 
'Downton Abbey: A New Era' shows how gay men found ways to be themselves within the restrictions of the time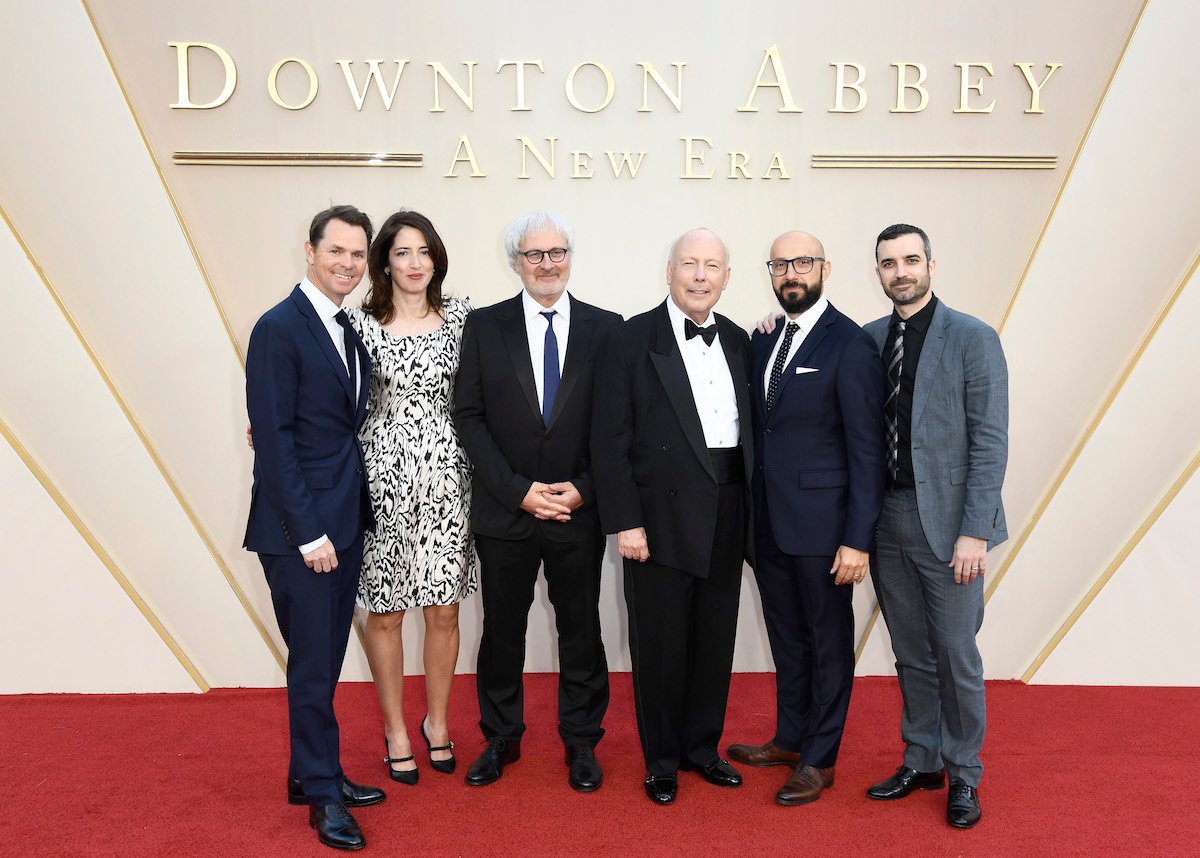 A New Era has many subplots to honor its deep bench of characters. One of the secondary storylines explores how gay men found ways to pursue romantic feelings within the era's restrictions. Actor Guy Dexter (Dominic West) develops a relationship with Thomas Barrow. To stay together without suspicion, Barrow leaves Downton to become Guy's house manager. 
It's a happy ending with realistic imperfections. They're both still wary of the outside world's reaction to their sexuality. But at least they have each other. As Vanity Fair reports, Fellowes writes their journey this way to illustrate how cultural movements rarely happen as fast as advocates hope:
"That's one of the things I'm always slightly in dispute of: the kind of activism of today is they want it all to happen next week. The fact is these major social rearrangements and realignments take a long time for people to get used to living with authentically. I think that Dexter and Thomas are on that road. And by the time they die, they still won't be in the thick of it, but it will all be much more accepted than it is at the moment. But they're part of progress, a movement that had a long way to go."
For all the progress made in the last century, coming out still takes a lot of courage. Discriminatory rhetoric and threats of violence are commonplace. Hate mobs with influential supporters could enact negative consequences on your career. There's a reason there are still relatively few movie stars who are openly gay.
But people tend to find ways to be themselves, a trait Fellowes recognizes as connective tissue between then and now. "One of the interests of writing period drama is that you have these challenges in earlier societies for people who were gay, for women, for the black community, all sorts [of demographics] where obstacles were constantly being placed in their way. And they somehow, if they could, have to find a way [around] them."
Thomas and Guy's relationship is based on several big-name actors
Fellowes looked to the lives of several high-profile actors from history who had similar arrangements with other men.
Randolph Scott and Cary Grant were two of the biggest stars of the mid-20th century, both considered Hollywood heartthrobs. They met on a set in 1932 and quickly struck a bond. They lived together for 12 years, sharing a beach house and an LA mansion and doing a photoshoot with a fan magazine that inadvertently portrayed them in comfortable domestic bliss. (You can see the pictures in this article from Everything Zoomer.)
Neither Grant nor Scott ever confirmed that they were a couple. Both of them married multiple women over the course of their lives, but rumors persisted about the extent of Grant's sexuality. He previously lived with openly gay costume designer Orry-Kelly and allegedly had affairs with men while married. Scott kept a much lower profile during his famous period. 
Rock Hudson was another inspiration for A New Era. An acclaimed actor for three decades, it was an open secret in the industry that Hudson was gay. A rumor floated that he married comedian Jim Nabors. The two couldn't appear in public together anymore, destroying their friendship. Hudson died of AIDS-related complications. The revelation showed American audiences the virus could affect anyone and was not a moral failing.
RELATED: 'Downton Abbey: A New Era' Cast, Director Hope for 3rd Movie