'Downton Abbey: A New Era' Subplot Is Meta [Spoilers]
The second 'Downton Abbey' film, 'Downton Abbey: A New Era,' is here and it has many subplots. However, only one is meta.
Downton Abbey: A New Era is everything fans hoped it'd be. After a long wait, it's refreshing to be back. Things have changed with the times. Downton Abbey hosts the production of a silent film, just as the real-life Earl and Countess do when the production of Downton Abbey returns to Highclere Castle.
[Warning: This article contains spoilers from Downton Abbey: A New Era.]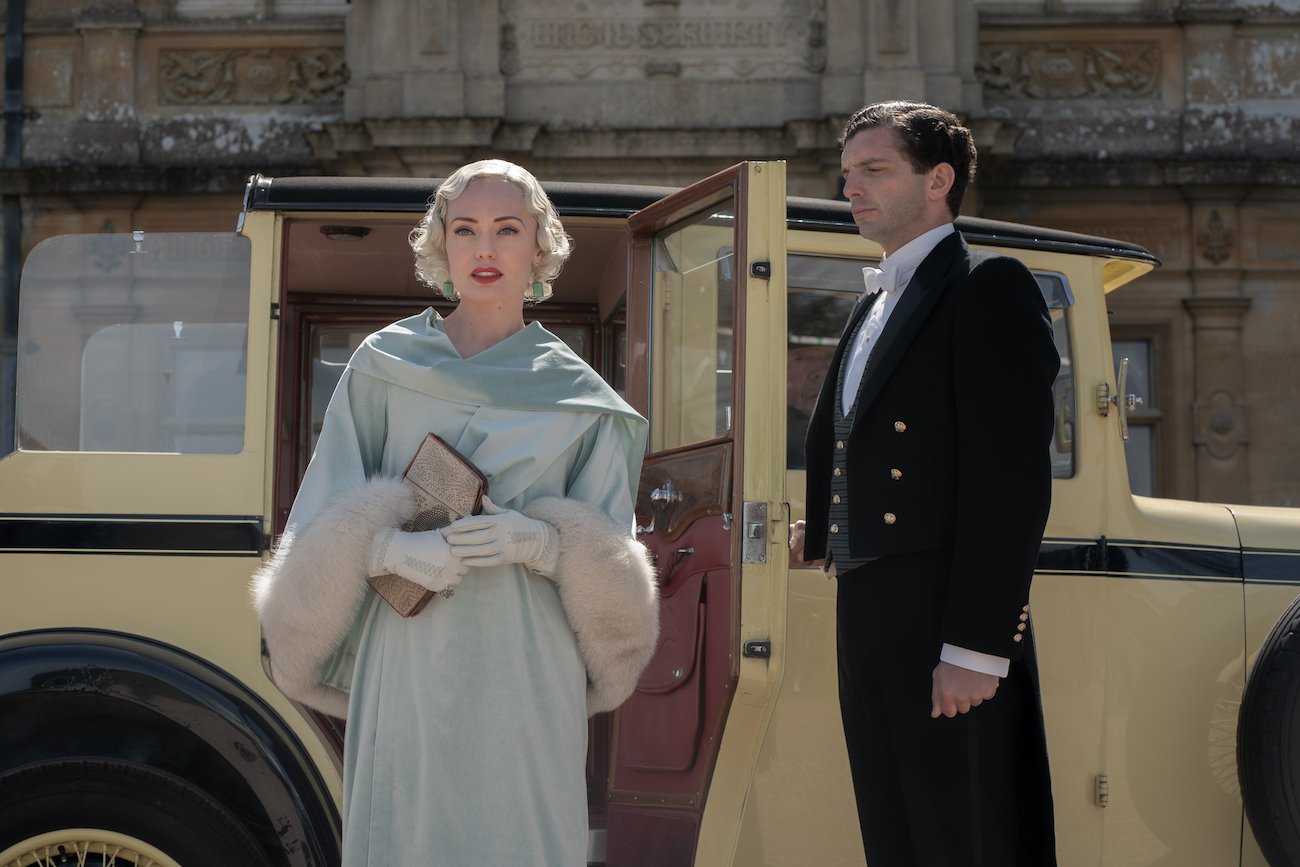 The first 'Downton Abbey' could've been a long series finale
Fans loved the first Downton Abbey film. While the show was famous for its many subplots upstairs and downstairs, the film sprinkled in the stories of some new royal faces. The King and Queen came to Downton, and it was all hands on deck.
Many unexpected things happened. Tom saved the King, helped Princess Mary, and fell in love with Lucy. The King allowed Bertie to stay at home with Edith to await the birth of their first child. Henry finally came home to dance with Mary at the royal ball. Violet passed the torch of running Downton on to Mary.
Meanwhile, Mr. Carson returned to the big house to make sure the royal visit ran smoothly, Thomas almost got arrested, Daisy and Andy got engaged, and Mr. Molesley almost fainted from serving the King and Queen.
Everyone's story wrapped up nicely. However, there were some unanswered questions, some characters didn't get as much screentime, and there was room for a sequel, which creator Julian Fellowes capitalized on.
'Downton Abbey: A New Era' has a subplot that's meta
Fellowes added many surprises in Downton Abbey: A New Era. The first film could have been a long series finale. However, the second film truly reaches cinematic proportions and lives up to its title. This is not the Downton Abbey we first saw in 2011. Downton has entered the modern era.
The film touched on every character's story, making for even more subplots. However, there are two major subplots.
To raise money to fix Downton's roof, Mary agrees to let a film crew make a silent movie in the house. She stays to oversee everything and keeps Violet company. Meanwhile, Violet notifies the family that a deceased French Marquis has left her a villa.
She decides to give it to Sibby, but no one can determine why the Marquis gave it to Violet. Robert, Cora, Edith, Bertie, Tom, Lucy, Maud, and Mr. Carson travel to the villa. The current Marquis scares Robert, claiming they're brothers because their parents were in love just before his birth. The Earl gets another fright when Cora tells him she's ill. However, Robert is his father's son, and Cora won't die. All is right by the time they make it back to Downton.
There, Mary has become a voice actor for Myrna Dalgleish, the actor in the silent film who can't speak eloquently. The downstairs even gets to star in a scene. The film has a couple of hiccups, but Mary saves the day.
The silent film subplot is meta. The silent film crew filmed in Downton while the crew of Downton Abbey filmed at Highclere Castle. So, they filmed a movie in a movie. Mary got to know what the Countess of Carnarvon goes through when Downton Abbey comes to film at Highclere.
The Earl and Countess of Carnarvon love hosting the show and films
George and Fiona Herbert, the current 8th Earl and Countess of Carnarvon, have been running their ancestral home since 2001. Highclere Castle has been the Earl of Carnarvon's estate since 1679.
The Earl and Countess opened their home to tourists to help fund the estate, just like the Crawleys. However, their finances were in bad shape by the time Fellowes offered them an opportunity that would not only allow them to afford their £12 million ($16.5 million) renovation bill but ensure financial stability for years to come.
Downton Abbey was filmed from February to June for six series and one to two months for the first film. In the early days of filming the series, the Countess was "constantly in the wings, showing crew how to move furniture — 'you take a girl in your arms and a chair by its bottom' — and reminding people to wipe their feet and respect the carpets," the Daily Mail wrote.
It was a lot of work, ensuring the crew treated their home with respect. However, filming the series and film went without a hitch. When Downton Abbey: A New Era began filming, the Countess was happy to have the hustle and bustle back.
"We all got very used to each other. We had a good routine. It was like a new term at school — 'here they come!'" the Countess said. "After all, a house like this is used to being busy, to being full of life. It comes alive with people and without them things go wrong."
The Countess says running the estate is "both a business and a way of life." Mary would agree. Even if Downton never came to Highclere Castle, the Earl and Countess would still do anything to keep their home alive, just like the Crawleys.
"It's been an amazing magic carpet ride for all of us," the Countess told The Guardian. "It's given us a wonderful marketing platform, an international profile. I'm hugely grateful. My husband and I love it, and the people here. Now, without doubt, it is loved by millions of other people."
The Countess is just as grateful for Downton Abbey as Mary is for the silent film. Generations might separate the two women, but Downton Abbey: A New Era connects them.