'Dr. Death': Christian Slater and Alec Baldwin's Chemistry Made Them a Dynamic Duo
a new docuseries called Dr. Death details the horrifying and true story of Christopher Duntsch starring Christian Slater and Alec Baldwin.
True crime is one of the most popular genres of movies and TV shows in America, as many people find themselves fascinated with the origin stories and motivations behind murder, missing persons, and other types of cases. One such case isn't your typical murder plot or average Joe committing a crime, and a new docuseries called Dr. Death details the horrifying and true story of Christopher Duntsch.
Learn more about the series, the roles played by Christian Slater and Alec Baldwin in the show, and where Dunsch is now below. 
Peacock's new docudrama 'Dr. Death'
After the success of the Dr. Death podcast, produced by Wondery and hosted by Laura Beil, NBCUniversal announced that the story would be developed into a limited series in 2018. The podcast and series follow the story of Christopher Duntsch, a former American neurosurgeon who received the nickname Dr. Death after maiming several patients and killing two while working at hospitals in Dallas-Fort Worth. 
The show details the difficulties of challenging a doctor, however incompetent, in the United States medical system, and focuses heavily on two doctors that sought to get Duntsch's medical license revoked. Randall Kirby and Robert Henderson worked tirelessly to bring evidence to the board of Duntsch's sketchy qualifications and brutal operations, though many bureaucratic challenges stand in the way. 
The show premiered on Peacock on July 15th, 2021, and it has received an excellent reception from critics and audiences alike, according to Rotten Tomatoes. 
Christian Slater and Alec Baldwin's on-screen chemistry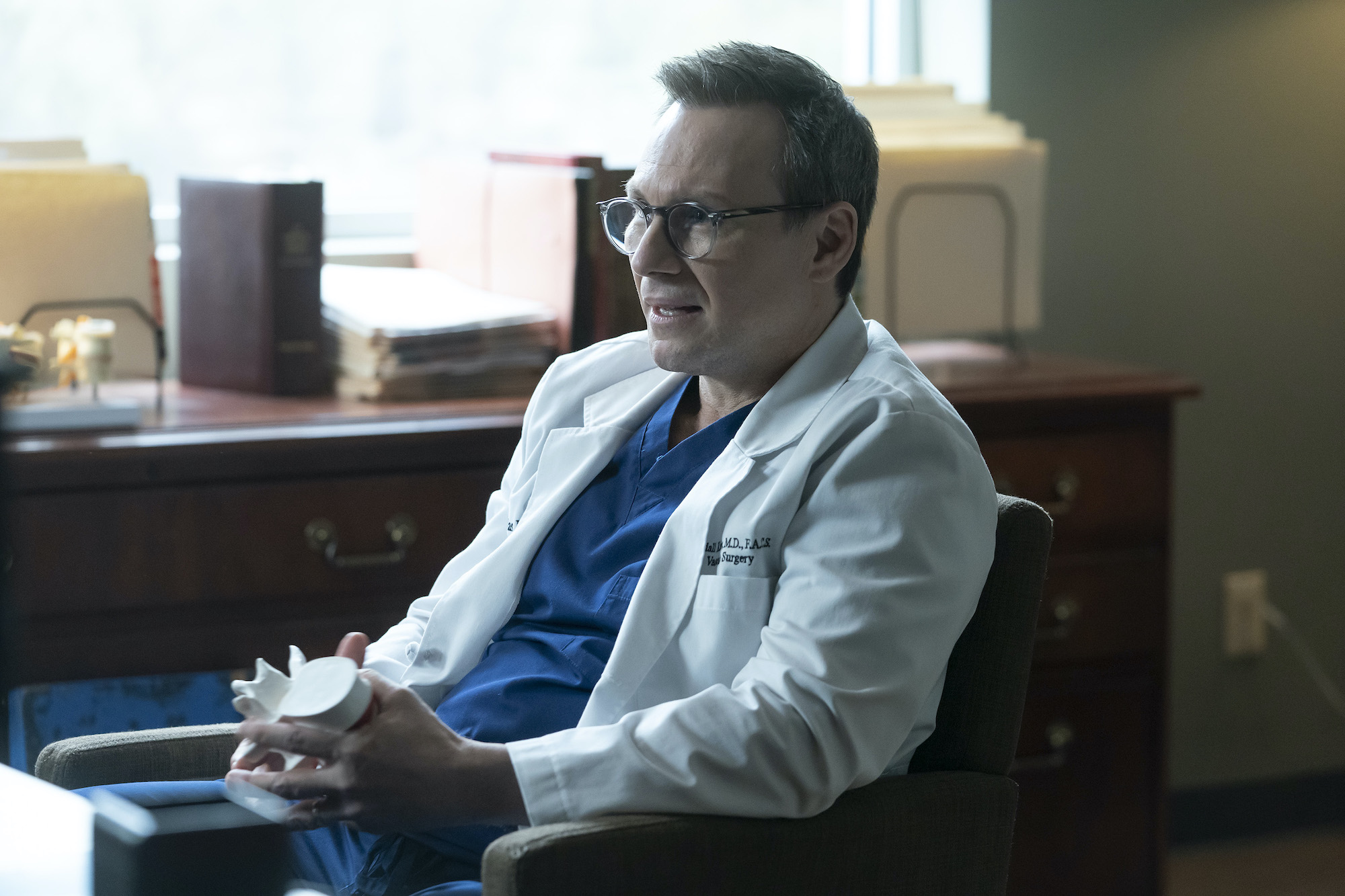 Two of the heroes of the story, Dr. Kirby and Dr. Henderson, banded together to take down Duntsch and ensure that he never operated on another person after they discovered what he had done. Christian Slater's and Alec Baldwin's performances in the show provide an additional emotional and fascinating dynamic between the two doctors who seem to be on different ends of the spectrum in their personalities. 
In an interview with Entertainment Weekly, Slater reflects on the interactions between his character and Baldwin's, stating, "Dr. Kirby is passionate. He is the type of guy that really honestly would have gone to any lengths to make sure that Dr. Duntsch wasn't able to practice. And Henderson I think in reality is a much more laid-back kind of guy. So these two gentlemen were able to inspire each other."
When discussing working with Baldwin, Slater added, "I felt a very similar chemistry with Alec Baldwin. He is an actor that I've always admired. I just think he's fantastic. So the opportunity for him to play kind of the straight man to my passionate, wild, and crazy sort of character was just a blast every day."
Where is Christopher Duntsch now?
The emergence of this docudrama has left some people wondering what Duntsch is up to now, especially after all the media attention brought to him in recent years. After all the work many brave healthcare workers did to report Duntsch, his medical degree was revoked in 2013, and he was arrested in 2015.
Duntsch's indictments took place in 2017, which was just four months before the statute of limitations in Texas was due to run out. He was ultimately convicted of injury to an elderly person, which granted him life in prison and no parole eligibility until 2045, according to The Dallas Morning News. 
The story of Dr. Death haunts everyone who learns about it because it highlights a system that made it possible for a doctor who was so clearly harming patients to continue with his practice. The case had shed light on the American medical system in a way no other has before, and this is one of the first cases where a doctor was actually imprisoned for malpractice.