'Dr. Death': Joshua Jackson Speaks On the Biggest Challenge Of Playing the Evil Doctor
Actors are often asked to play characters with personalities far different from their own, and sometimes they are playing a character that is downright villainous. In the case of Joshua Jackson, he's playing not a fictional character, but a real person in Peacock's original series Dr. Death.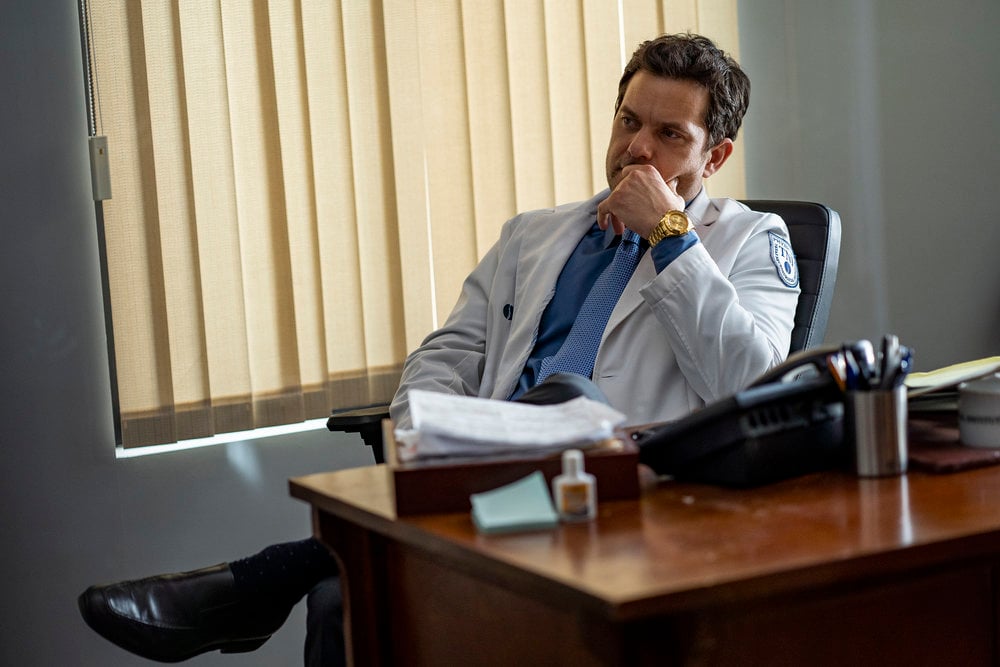 Playing a fictional character who isn't a good person is a challenge, according to some actors, so playing a real person seems like it would be even more so. Jackson said he had some trouble filling the shoes of a real person who did horrible things. 
Peacock's Dr. Death debuted on July 15, 2021
Peacock's original series, Dr. Death, debuted on the streaming platform on July 15, 2021. It is one of the earliest original Peacock series since the streaming platform itself launched nationwide also on July 15. As a headliner for Peacock's launch, Dr. Death needed to be enticing. 
There's nothing more enticing than a mind-bending story based on reality. Dr. Death follows the career of Dr. Christopher Duntsch, who was a neurosurgeon in Texas. Dr. Duntsch was a charming and personable man who both coworkers and patients liked and respected. 
But something went wrong in too many surgeries, leaving patients either maimed or dead. He was arrested in 2015, two years after his license was revoked. In 2017, he was sentenced to life in prison. 
Dr. Duntsch was profiled in the 2018 Wondery podcast, Dr. Death (available on Apple), hosted by Laura Beil. In six episodes, she profiled Duntsch's life and career, and interviewed patients left scarred by his actions. One patient said that Duntsch promised to "fix" them, and end their pain. Christopher Duntsch practiced in the Dallas, TX area for eighteen months. 
The Peacock miniseries stars Joshua Jackson as Christopher Duntsch. The series also stars Alec Baldwin, Christian Slater, Grace Gummer, and AnnaSophia Robb. 
The hardest part about playing Duntsch was keeping him human
Joshua Jackson is Christopher Duntsch in the miniseries. He said that one of the hardest things about playing such a horrible person was, in part, because it was based on a real person. In an interview with Esquire, Jackson said this about the challenges of playing the evil character:
"The biggest challenege in playing a homicidal neurosurgeon is not thinking that he's a terrible human being … the outcomes that this man had in surgeries were so spectacularly bad and he is, at the surface level, just a patently evil person for having done this to other human bodies. The hardest part was to get out of my own judgement of him and try to see him as a human being."
Joshua Jackson has a long career
Joshua Jackson began acting when he was young. He was cast as Charlie Conway in The Mighty Ducks in 1992, but it wasn't his first acting credit. He did two made-for-television movies in 1991. In 1999, he portrayed Blaine Tuttle in Cruel Intentions.
When he was cast as Pacey Witter in Dawson's Creek, though, he cemented his place as a teen heartthrob and a serious actor. In 2008, he landed the role of Peter Bishop on Fringe, which lasted five seasons and gained a cult following. More recently, Jackson has starred in The Affair and in Little Fires Everywhere. Both were critically well-received. 
What many fans want to know, though, is the reason that Jackson didn't appear in one show: The Mighty Ducks: Game Changers on Disney+. Charlie Conway, the role that Jackson played, was the main character of the movie, so why wasn't he in the reunion episode — or any episode — of the continuation?
The short answer is that Covid-19 kept him from traveling. In addition, Jackson had just had a child. There's still season two, though. Playing Charlie Conway again should be easier than a psychopathic doctor.
RELATED: The Cheat Sheet's Guide to the Best True Crime Podcasts