Dr. Dre Once Hated the Grammy Win for This Eminem Song: 'It's Like a Stab in the Stomach'
Eminem and Dr. Dre have received a lot of praise and accolades for their contributions to hip-hop. This includes winning several rap Grammys over the years for their bodies of work. But there was one hit record Dr. Dre would've rather not earned a Grammy for and kept in the vault. So much so that he felt the Grammy win itself was a stab in the stomach.
Dr. Dre once felt Eminem was 'robbed' of winning a Grammy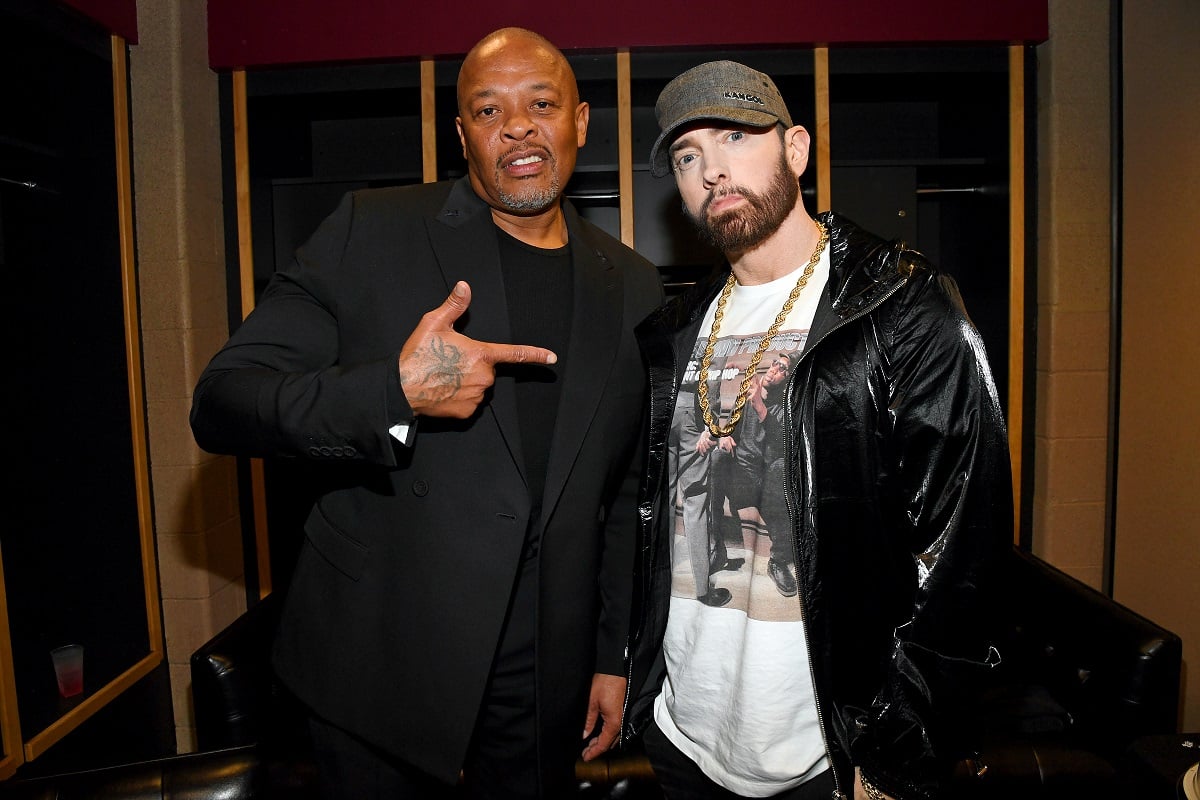 Dr. Dre has proven that he isn't coy about sharing his opinions when it comes to the Grammys. The Chronic rapper once felt he and Eminem weren't given the recognition they deserved for The Marshall Mathers LP, and let everyone know it. Although Eminem's sophomore record earned a Grammy for best rap album, it didn't win album of the year. This rubbed Dre the wrong way.
"To be perfectly honest, I think we were robbed," Dre once told Access Hollywood (via ABC News).
Eminem was at the height of his controversy during this time in early 2001. So Dre believed the Grammys didn't grant Eminem the ultimate win because of the album's content.
"It was probably something the Grammys had to do because of the backlash that they were going to get from giving him the award," Dre said.
But the then-president of the National Academy of Records Arts & Sciences, Michael Greene, insisted that Dre was mistaken.
"I don't think the content of Eminem's album had anything to do with it. Otherwise, he wouldn't have been nominated or won the other Grammys. The voters truly don't care what the critics think or how they're perceived. They're very independent," Greene said.
Dr. Dre hated winning a Grammy for this record featuring Eminem and 50 Cent
Eminem's Relapse record "Crack a Bottle" was a huge hit when it first came out. Featuring frequent collaborators Dr. Dre and 50 Cent, Billboard once reported that it broke a digital record. Its first-week digital downloads reached 418,000 at the time. It was also No. 1 on the Hot 100, which was only the second time that happened for Eminem and Dr. Dre.
It would later go on to earn further critical praise by winning a Grammy for Best Rap Performance by a Duo or Group. But it's a win that Dre wasn't proud of.
"It's like a stab in the stomach," Dre once told Vibe in a 2010 interview.
Dre mostly felt like this because the song was illegally leaked when it first debuted.
"First of all we weren't even going to release the song. We won a Grammy for it, but I'm not even considering putting the Grammy up," he continued. "My wife has a problem with that because she wants all of my achievements to be up in the house. But the way it came, it doesn't mean the same to me. We didn't get a chance to do the song with our heart in it because we had to go in and rush it out. We went in one day and finished it at least so people could hear a proper version but we didn't get to put our heart and soul in it."
Eminem once revealed why he'd never go to a Grammy show ever again
Dre isn't the only artist who let his feelings known about the Grammys. Out-spoken rapper Eminem swore off attending the Grammy awards a few years back. Speaking to Sway Calloway, he disclosed the reasons behind his decision.
"Every f****ing year. I'm tired of seeing it," Eminem explained. "For whatever reason, they're always pitching this hint that you might win album of the year, which used to be a big deal. I don't think it's a big deal now. I sat at home for the Grammys this year and watched Jay and Kendrick not get it, and I felt like one of them should have got it."
Given that the "Lose Yourself" artist felt the Grammys constantly snubbed hip-hop artists, he refused to contribute to the ceremony.
"Don't f***ing get us all here, to use as your selling point for your f***ing show, and stiff everybody every single f***ing time. After that point in time, I said don't ever ask me to come here again. My answer is no for a hundred million years," he added.
RELATED: Eminem's Youngest Child Leads a Private Life Compared to Their Siblings