Drew Barrymore Made 'Scream' Iconic With Just 1 Simple Decision
In 1984, Wes Craven created one of the most popular horror icons of all time with Freddy Krueger (Robert Englund). Then, just as A Nightmare on Elm Street ended its decade long run, Craven reinvented the slasher film with Scream. But the movie might not have been nearly as much of a pop cultural game-changer if not for a simple decision Drew Barrymore made before production even began.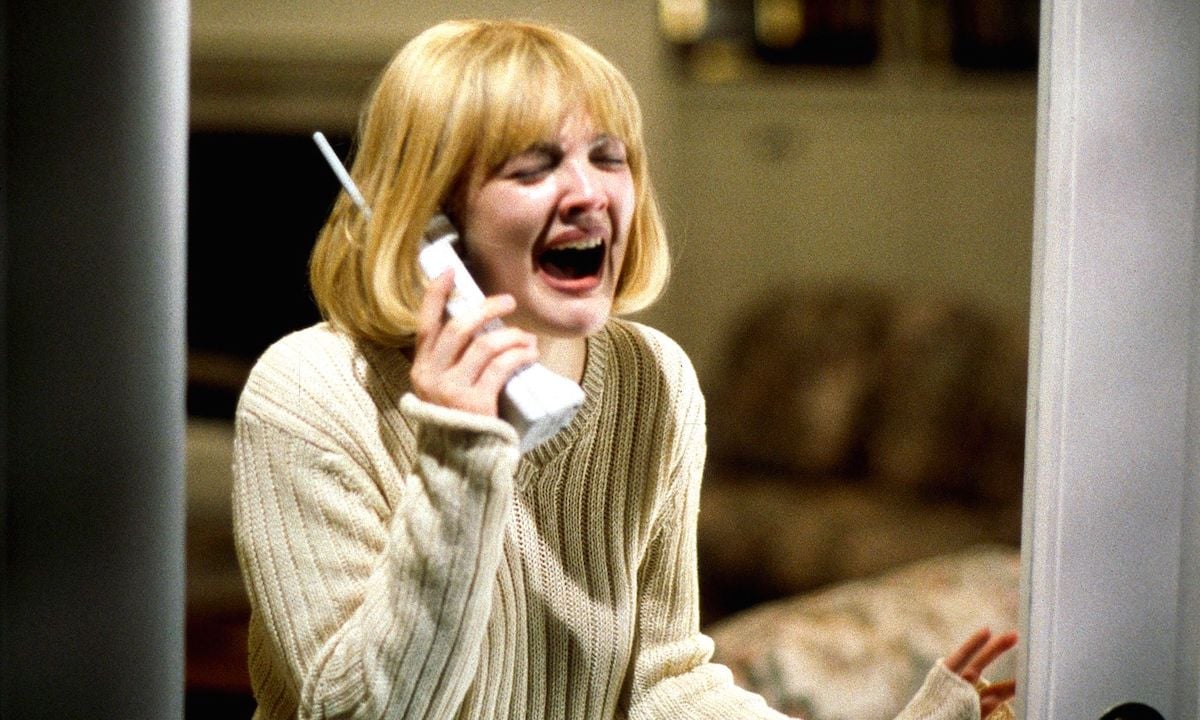 Drew Barrymore's opening sequence in 'Scream' became an instant classic in the horror community
Scream, of course, is well-known for its self-aware sense of humor. The movie also, of course, featured such actors as Neve Campbell, Courteney Cox, David Arquette, and Jamie Kennedy, all of whom returned in sequels. But easily, the most iconic sequence in the entire franchise remains the opening of that first film.
The cold open of Scream starts with a horrifying phone call between Barrymore's Casey Becker and the mysterious Ghostface. After a brief discussion of their favorite horror movies, the killer stalks Casey around her home, ultimately killing her in the most gruesome fashion just as her parents pull up to the house.
RELATED: Drew Barrymore Was Originally Eyed to Star in This Controversial Oscar-Winning Movie
The actor ultimately made the decision that would shape the rest of the franchise going forward
In the lead-up to Scream's release, Barrymore was front and center in the movie's marketing. She even had the biggest photo on the poster, with her face serving as the backdrop. That makes sense, since Barrymore was the biggest movie star of the bunch. But it also made that much more shocking when her character was killed off in the first few minutes. According to Vanity Fair, that was Barrymore's plan all along.
"The script was so well written, and the horror genre was sort of lost at that time. I remember everything like it was yesterday. Night after night of shoots at this house crying and hyperventilating. I loved that we turned things on its head a bit. I was originally supposed to play the Neve Campbell role, and then I had this epiphany that if I played Casey and got killed in the first scene, all bets were off.

[Screenwriter Kevin Williamson]'s writing had this tongue-in-cheek quality to it that felt different and fresh — a new approach to horror. I think when you do something that gets parodied not once but dozens of times, you definitely get the feeling it had an effect on people."
In addition to leveraging Barrymore's involvement in the most impactful way, Scream's opening set the template for the franchise. The sequels continued to toy with fan expectations of how a Scream movie would begin. 2011's Scream 4 took this the furthest to date, with multiple star cameos faking out viewers.
RELATED: Drew Barrymore Just Reunited with Ex-Husband Tom Green: 'We Were Just Kids'
Now 'Scream 5' is on the way, and Drew Barrymore is focused more on her talk show than acting
Now after more than a decade away, the Scream franchise is heading back to the big screen. Scream 5 — which is officially titled simply Scream — reunites Campbell, Cox, and Arquette. The film is set to arrive in theaters on Jan. 14, 2022 with Ready or Not directors Matt Bettinelli-Olpin and Tyler Gillett at the helm.
Meanwhile, Barrymore is more focused on her talk show than acting in more movies. Nevertheless, she left her mark on the horror series by taking on the smaller yet unforgettable role of Ghostface's first victim. So in that regard, Barrymore will always be an integral part of the Scream legacy.