The 'Dune' Cast Member Everyone Was Afraid to Work With
Denis Villeneuve's Dune cast spent a couple of months together filming the sci-fi epic in 2019. Cast interviews show how close all the actors and the director got while filming the movie. But according to Villeneuve and other Dune stars, there was one person everyone was nervous about acting with.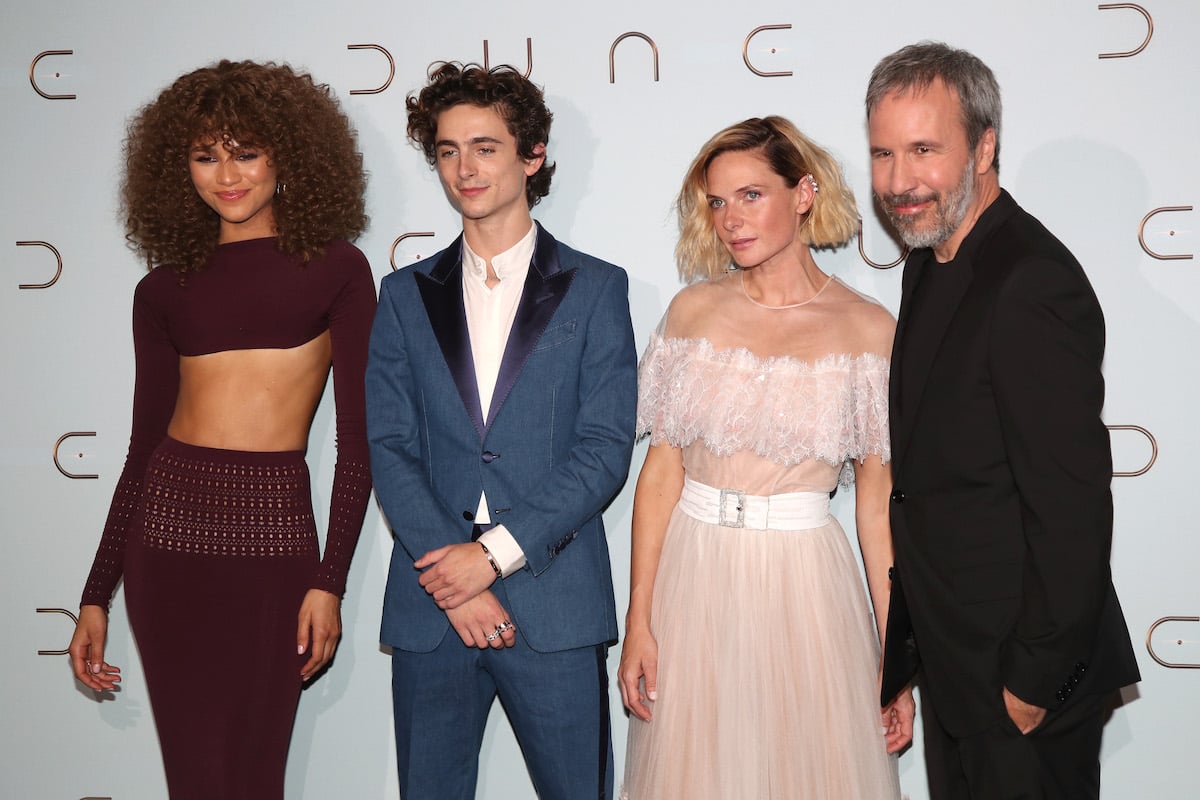 Denis Villeneuve's 'Dune' cast
The Dune 2021 cast is stacked with famous faces. Timothée Chalamet, Rebecca Ferguson, and Oscar Issac play the Atreides family, Paul, Lady Jessica, and Duke Leto. Zendaya plays Chani, a Fremen woman living on Arrakis. Josh Brolin and Jason Momoa are part of House Atreides' military. Chang Chen plays Doctor Yueh, Stellan Skarsgård plays the Baron, Stephen McKinley Henderson plays Thufir Hawat, and Javier Bardem plays Stilgar.
The cast also includes Sharon Duncan-Brewster, Dave Bautista, David Dastmalchian, Charlotte Rampling, Babs Olusanmokun, and more. Dune: Part Two has officially been green-lit by Legendary Entertainment and Warner Bros. Audiences will get to see many of these cast members return when Dune: Part Two comes out in theaters Oct. 20, 2023. Parts one and two weren't filmed at the same time. Part two will likely start filming in 2022.
Dune was filmed in multiple locations. Some scenes were shot at the Origo Film Studios in Budapest. Others were filmed in the deserts of Jordan and the United Arab Emirates, as well as Stadlandet, Norway.
RELATED: 'Dune' Gom Jabbar Scene Is One of the Film's Most Important — Denis Villeneuve Explains Why
Denis Villeneuve's 'Dune' cast was nervous to work with Charlotte Rampling
Translating Frank Herbert's 1965 Dune book from page to screen was no easy task. But the cast helped bring Villeneuve's vision to life. The end result is an incredible cinematic experience with notable performances from every actor. While all of the actors played very different roles, one thing they all had in common was their fear of working with Rampling.
Rampling plays Gaius Helen Mohiam, Reverend Mother of the Bene Gesserit and truthsayer to the emperor. The Reverend Mother only has three scenes in the whole movie, but Ferguson, Chalamet, and even Villeneuve were nervous about having the film icon on set. Rampling's career has stretched over 60 years, and she apparently had quite the presence on set.
"We were very afraid of Charlotte. We love her," Villeneuve told The AV Club. He also told Vanity Fair Chalamet was terrified of Rampling as they got ready to film the Gom Jabbar scene.
"We love her, but, man, she has that power," Chalamet said. "You feel it. And she had those platform [shoes,] so she was kind of like floating on set."
Ferguson felt the same way.
"I was very nervous," she told The Cut. "I was having heart palpitations knowing she was going to walk in." She continued:
"In my head, she was going to be difficult to talk to, and my plan was to break through that. And then in walks this … cool kitten. There was no ego and no meanness. There was just respect. It's a very cool thing for an actor to do, to be so comfortable in their own presence. I've got her phone number, by the way."
RELATED: 'Dune': Rebecca Ferguson Could Quit Acting Happily, But Not Before Crossing This Off Her Bucket List
Charlotte Rampling almost played Lady Jessica in 'Dune' in the 1970s
As it turns out, Rampling almost played Lady Jessica herself. In 1975, director Alejandro Jodorowsky set out to make his own Dune movie. It never got made, a documentary about it was.
Jodorowsky's Dune came out in 2014. It details how "the mother of unmade movies" created so much hype and ultimately was scrapped. Jodorowsky's Dune director Frank Pavich told IndieWire in 2014:
"Jodorowsky was going to shoot part of the film in Algeria. They spoke to the Algerian government, and the Algerian army was going to play extras. Jodorowsky was looking for who was going to play Jessica, and he wanted a strong, beautiful woman, not a weak dainty woman. Someone with a real spiritual strength. He saw a movie with Charlotte Rampling, and thought she would be perfect. They sent Charlotte Rampling the script, and she agreed to meet with Jodo before she had read the script."
He continued:
"In the script, there is a scene where a character named Rabban the Beast, part of the Harkonnen army. In order to insult Duke Leto, David Carradine, Rabban the Beast gets his army, the Algerian army, to pull down their pants in front of the palace and sh*t. So there's going to be a scene of 2,000 extras defecating at once. So here's Charlotte Rampling, she agrees to meet with Jodo, she gets the script, she reads the script, and she says, 'I can't be in a movie where there's 2,000 extras defecating on screen! I need to be in a movie that people are actually going to see! Who the hell is going to see this movie?' Jodo said, 'It was a great disappointment for me. A great disappointment.' It's kind of fantastic."
Sounds like Rampling liked Villeneuve's Dune vision more.