'Dune': How Many Marvel Stars Appear in Denis Villeneuve's Science-Fiction Movie?
Denis Villeneuve's Dune arrives in theaters this October, bringing the world of Frank Herbert's science-fiction novel to the big screen for a second time. A number of well-known stars make up the film's cast, including quite a few actors from the Marvel Cinematic Universe. Which Marvel stars will fans recognize while watching Villeneuve's Dune movie?
The 'Dune' trailer features a lot of familiar faces
RELATED: MCU Fans Noticed Something Oddly Familiar in a First-Look 'Dune' Photo
The second full-length trailer for Villeneuve's Dune movie dropped in July 2021, outlining the film's plot and highlighting its main characters. Anyone watching the new trailer will realize many of those characters are portrayed by familiar faces. The film's lead is Timothée Chalamet, whose credits include hits like Call Me by Your Name and Little Women.
Beyond Chalamet, the lineup consists of actors with plenty of blockbuster experience. The film includes talent with Star Wars and DC backgrounds, but it also boasts several Marvel stars.
Which Marvel stars appear in Denis Villeneuve's 'Dune' movie?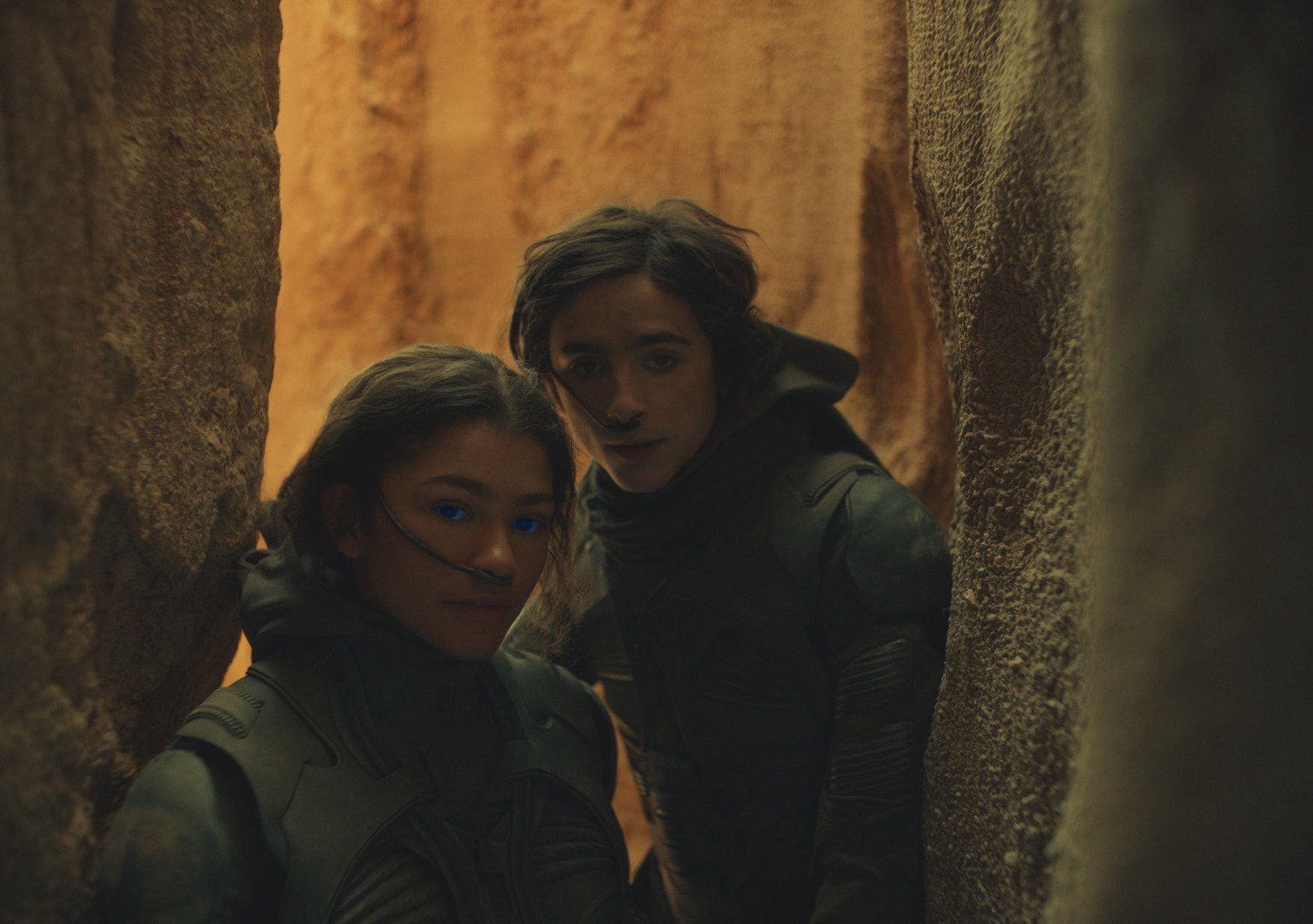 RELATED: 'Dune' Star Oscar Isaac Compares Duke Leto Atreides To 'Star Wars' Poe
As for how many Marvel stars viewers can expect when watching Dune, a total of four will appear in the movie — well, five if you're counting future MCU heroes.
The most obvious example is Zendaya, who plays Chani in Villeneuve's film. Chani is one of the Fremen residing on Arrakis, and her storyline intertwines significantly with that of the movie's protagonist, Paul Atreides (Timothée Chalamet). Zendaya stars in the current Spider-Man series alongside Tom Holland, portraying the hero's love interest, Mary Jane.
Dave Bautista, Josh Brolin, and Stellan Skarsgard also hold prominent roles in Villeneuve's Dune movie. Bautista plays Drax in Marvel's Guardians of the Galaxy films, but he'll take on a more serious role with Dune antagonist Beat Rabban. Brolin, on the other hand, plays a much milder character than he does in the MCU. While he brings Thanos to life in the Marvel films, he takes on the role of Gurney Halleck in Dune. Gurney is the Warmaster for House Atreides.
Skarsgard plays scientist Erik Selvig in the first two Thor movies and The Avengers. The actor takes on a much different role in Dune, playing Vladimir Harkonnen, the movie's Big Bad. Harkonnen is a rival and enemy of Leto Atreides, and he seems to be the catalyst for the challenges House Atreides will face throughout the film.
Finally, Oscar Isaac makes his appearance as Duke Leto Atreides before joining the MCU, but he's still a confirmed Marvel star. Following Dune's release, Isaac will play Moon Knight in Marvel's Disney+ series about the character.
This DCEU star also has a prominent role in the Warner Bros. movie
RELATED: 'Dune': Why Jason Momoa Says This Movie Tops 'Aquaman' and 'Game of Thrones'
Although Dune features a lot of Marvel stars, they aren't the only ones in the film with superhero roles on their resume. In fact, a well-known actor from the DC Extended Universe also appears in the movie: Jason Momoa.
Momoa plays Aquaman in the DCEU, but many know him as the actor who portrayed Khal Drogo in HBO's Game of Thrones. His Dune character is called Duncan Idaho, and he's the swordmaster of House Atreides. The trailer teases a close relationship between him and Paul.
Momoa positively gushed about working on Dune during a press conference. According to CinemaBlend, the actor said the film blows Aquaman and Game of Thrones out of the water:
"How does this compare? Well, I've never worked with a director on this scale. Denis is a cinematic genius, and generally all the action stuff that I've done has been nowhere, even remotely close to Denis."
Viewers will find out if that's true when the film arrives in theaters and on HBO Max this October. Either way, it'll be fun to see Momoa and all the Marvel stars together — even if some of them are fighting on different sides in Dune.