'Dune: Part 2' Is Officially Happening: Release Date, Cast
In what feels like the inevitable, Dune: Part Two has officially been green-lit by Warner Bros. and Legendary Entertainment. And the exciting announcement also included the Dune: Part Two release date. The first part of Denis Villeneuve's sci-fi epic hit theaters and HBO Max on Oct. 22. It had a whopping $40 million opening weekend in domestic box offices. And its HBO Max opening weekend viewership was also in the millions.
Villeneuve always planned on making multiple Dune movies. In fact, he wanted to film Dune: Part One and Dune: Part Two back to back. But a sequel was dependent upon the film's box office performance. And now, his Dune dreams are becoming a reality.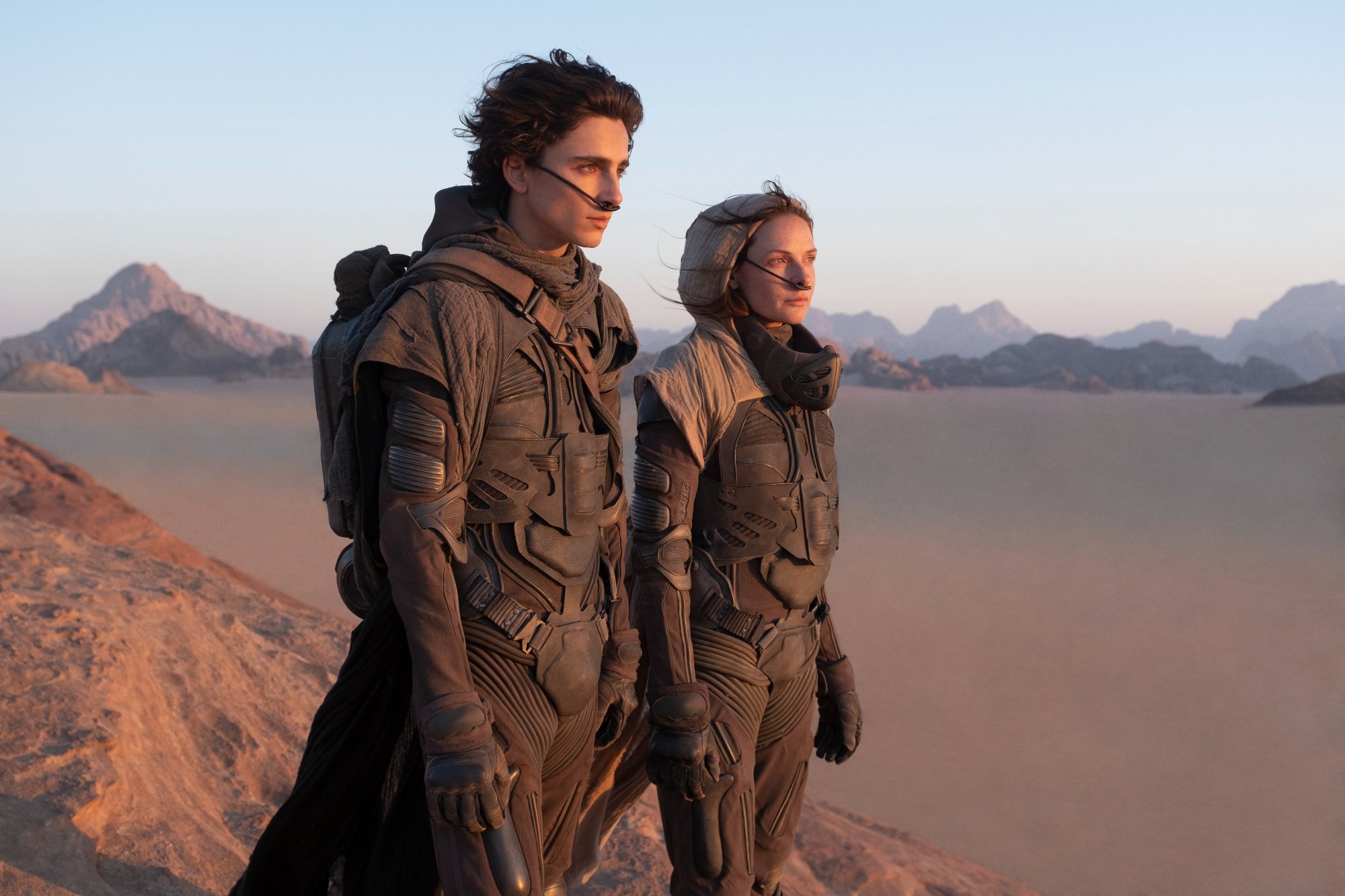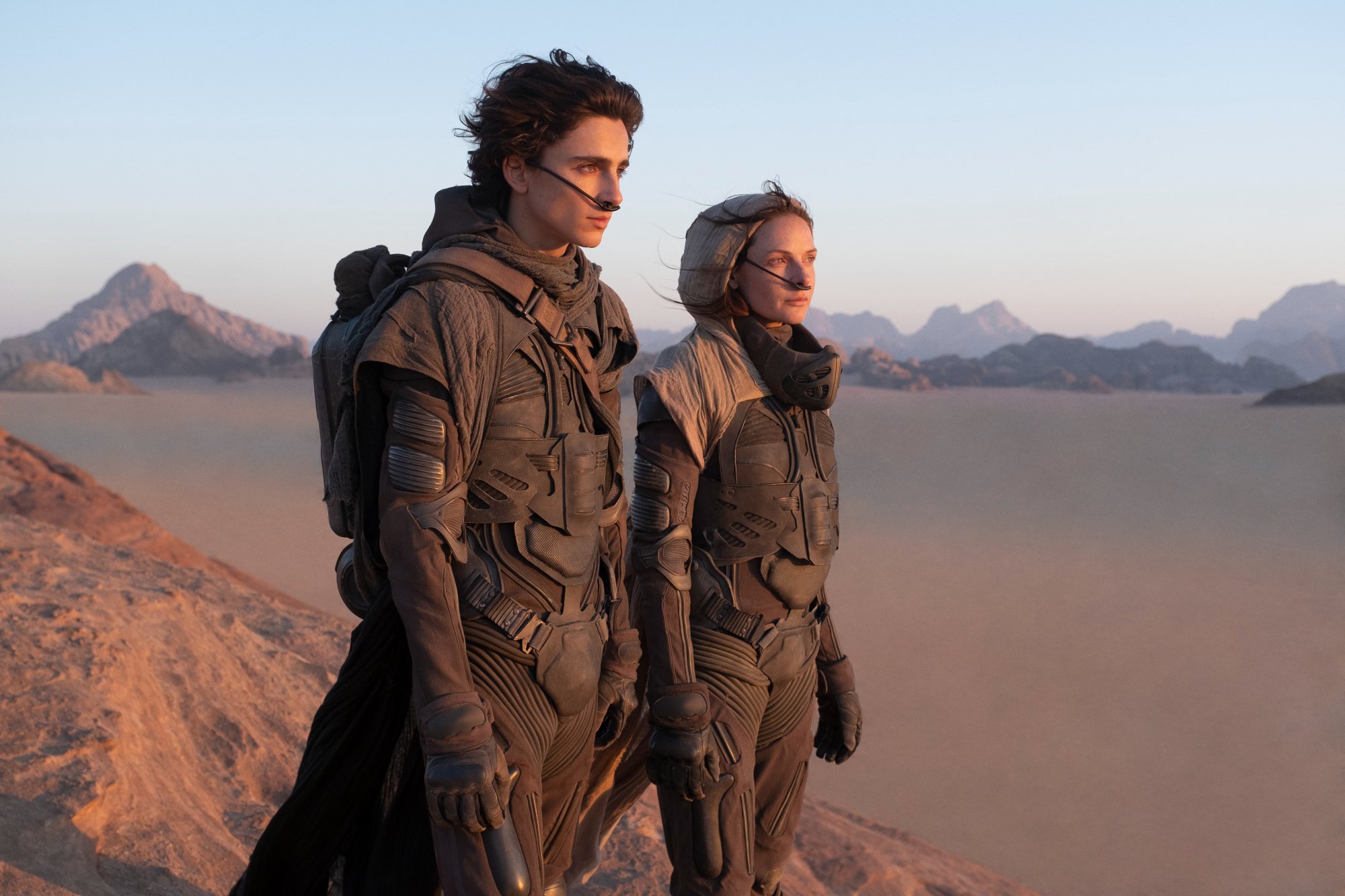 'Dune: Part Two' release date
Legendary announced Dune: Part Two on Twitter on Oct. 26.
"This is only the beginning," Legendary's tweet said. "Thank you to those who have experienced @dunemovie so far, and those who are going in the days and weeks ahead. We're excited to continue the journey!"
Legendary and Warner Bros. confirmed the Dune: Part Two release date will be Oct. 20, 2023, according to The Hollywood Reporter. Villeneuve shared his delight in a statement. He said:
"I just received news from Legendary that we are officially moving forward with Dune: Part Two. It was a dream of mine to adapt Frank Herbert's Dune and I have the fans, the cast, and crew, Legendary and Warner Bros. to thank for supporting this dream. This is only the beginning."
Timothée Chalamet also shared shared the news on his social media accounts, simply sharing the Dune: Part Two logo. On his Instagram Story, he thanked fans for flocking to theaters to see Dune and The French Dispatch this weekend. He gushed:
"THANK YOU TO EVERYONE who saw these movies in theaters this past weekend!!! The movies exist because of the cast and crew but actually going to see them in theaters got it over the finish line!! So THANK YOU!!!!!
RELATED: What 'Dune' Star Rebecca Ferguson Envies About Timothée Chalamet's Acting Career
'Dune: Part Two' cast
Dune: Part One only covered half of Frank Herbert's 1965 Dune novel. In addition to Chalamet, the Dune: Part One cast included Rebecca Ferguson, Oscar Isaac, Jason Momoa, Josh Brolin, Zendaya, Stellan Skarsgård, Javier Bardem, and more. Much of this cast should be returning for the sequel, although (don't worry, no spoilers here) some characters likely won't return. Zendaya was advertised as one of the main stars of Dune: Part One. But in truth, she didn't appear much in the film. Her character, Chani, will have much more screen time in the sequel.
Dune: Part Two will complete Villeneuve's vision. In fact, the French Canadian director said Dune: Part One was just an "appetizer." He told Nerdist:
"The tough task here [Dune: Part One] was to do introduce you guys to the world, to the ideas, to this world, to the codes, the cultures, the different families, the different planets. Now once this is done, it becomes an insane playground. So it will allow me to go berserk and really create… I should not say that, but I will say that, for me, Dune: Part One is like an appetizer, and Dune: Part Two is the main meal. … As much as Dune: Part One was by far my most exciting project ever, Dune: Part Two is already getting me more, even more excited. That's all I will say."
RELATED: 'Dune': Rebecca Ferguson Almost Turned Down Playing Lady Jessica
'Dune: Part Two' will only come out in theaters
Dune: Part One was given a dual release in theaters and on HBO Max. This was to account for coronavirus (COVID-19) safety precautions. And while it garnered 1.9 million viewers its opening weekend on the streaming service, according to Variety, Dune is best watched on the biggest screen possible. Villeneuve created stunning visuals of the sprawling Dune universe that are a true wonder to behold on a movie theater screen. Watching it on a TV, laptop, or phone largely pales in comparison.
This won't be an issue with Dune: Part Two. Variety reports Dune: Part Two will get an exclusive theatrical release when it comes out on Oct. 20, 2023. This is all thanks to its massive opening weekend. Dune: Part One raked in almost $225 million globally and is one of Warner Bros.' biggest releases of 2021.