Dwayne Johnson and Emily Blunt 'Raise a Glass' To Fans To Celebrate 'Jungle Cruise' Sequel
Johnson thanked fans for making 'Jungle Cruise' a franchise.
Dwayne 'The Rock' Johnson has made no secret of the fact that he's excited about a Jungle Cruise sequel. After the movie surpassed the $100 million mark, it was official: it's getting a sequel and is on its way to Pirates of the Caribbean-style franchise greatness. Now Johnson says it's time to celebrate. 
'Jungle Cruise' reached the box office milestone on August 29, 2021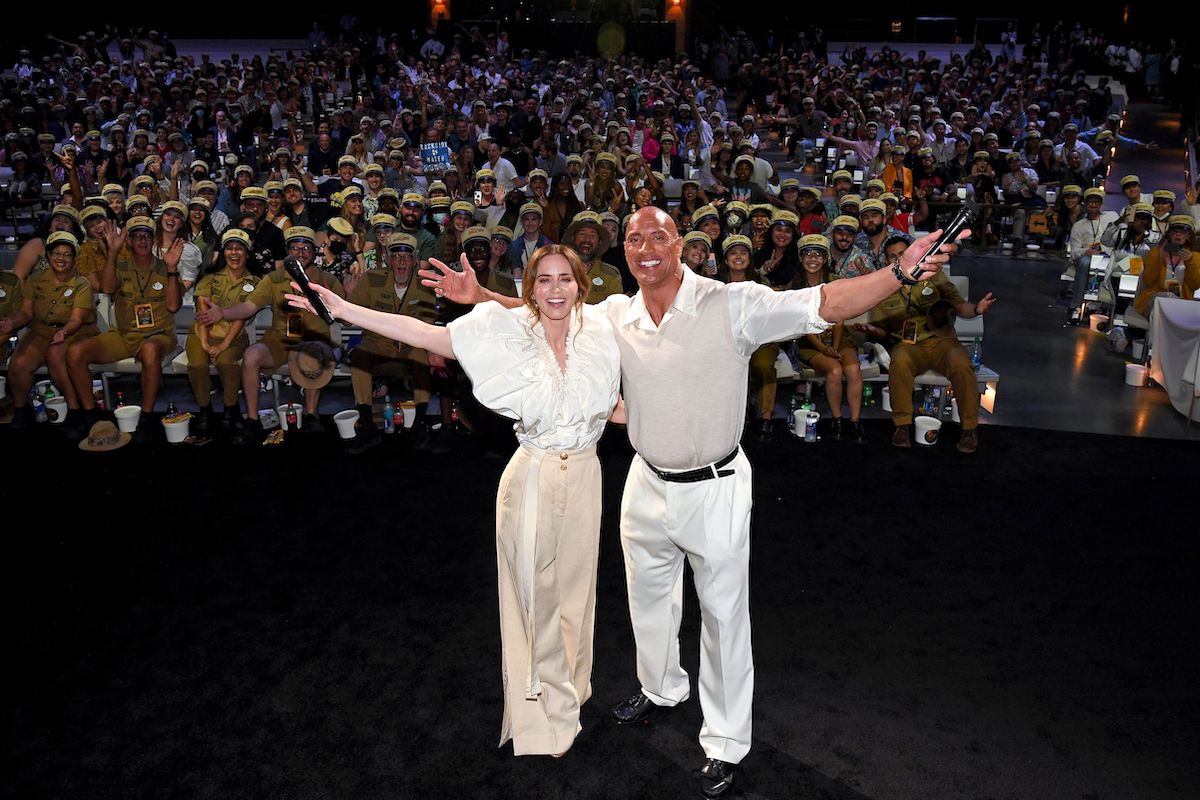 According to The Hollywood Reporter, after the movie shattered expectations and raked in over $100 million in sales the weekend of August 27, Disney promptly decided on a sequel. Dwayne Johnson and Emily Blunt will reportedly be back in their respective starring roles as Frank Wolff and Dr. Lily Houghton. 
Clad in a tank top, the ever-accessible Johnson took to social media to thank fans with a video and flaunt the movie's newly-minted franchise status on September 1, 2021. 
"So cool and honored to officially announce our JUNGLE CRUISE SEQUEL!!!" wrote Johnson via Instagram. "THANK YOU guys around the world for turning JUNGLE CRUISE into a FRANCHISE. THANK YOU to our DISNEY partners and filmmakers (Jaume Collet-Serra) for your trust, shared vision and intent to deliver for families around the world. The intrepid Dr. Lily Houghton and fearless-ish Skipper Frank aka THE PUN-SLINGER return to take you all on the ADVENTURE OF A LIFETIME!!!" 
Co-writer Michael Green; producers John Davis, John Fox, Beau Flynn, Hiram and Dany Garcia, and Johnson; and director Jaume Collet-Serra are all expected to be onboard for the sequel. 
The movie opened July 30 in theaters and streaming via Disney+ Premier Access. It generated over $65 million in its first three days and has only picked up steam since then. 
Dwayne Johnson is now 'raisin' a glass' to the movie's success
In an emoji-heavy Instagram post September 2, Johnson said he and Emily Blunt are officially celebrating the sequel news and paying tribute to the movie's supporters. 
"Em & I raisin' a glass to you in celebration of our official JUNGLE CRUISE SEQUEL," he wrote alongside a screenshot of The Hollywood Reporter's exclusive coverage. 
"THANK YOU and your families around the world for discovering and loving our film ~ in theaters and in your living rooms, he added. "And a HUGE MAHALO for making JUNGLE CRUISE cross that $100M mark at the US box office. JUNGLE CRUISE is only the 4th movie of 2021 to achieve that milestone." 
'Jungle Cruise' was released via streaming and in theaters 
The movie's dual-platform release is an increasingly popular option for studios navigating the post-coronavirus (Covid-19) movie landscape. According to The Hollywood Reporter, Jungle Cruise's breakdown so far includes a worldwide box-office take of $187 million. 
The haul is especially impressive considering how the coronavirus has rocked the industry and forced studios to adapt. Johnson acknowledged that achieving those numbers was an uphill battle. 
"Not an easy accomplishment these days," he wrote. "So thank you guys so much."  
Johnson will next appear in action-thriller Red Notice alongside Wonder Woman star Gal Gadot and Free Guy actor Ryan Reynolds.