Dwayne Johnson Refused to Do His Signature Eyebrow Raise in His First Movie
Dwayne Johnson's eyebrow raise is iconic. As one of his signatures from early in his professional wrestling days, it has followed him into his film career. Fans love seeing it, and everyone expected to see him pull it out in his first movie. That wouldn't come to pass, though. Johnson kept his first role as the Scorpion King in The Mummy Returns eyebrow-raise-free, and for good reason.
Dwayne Johnson's first movie was 'The Mummy Returns'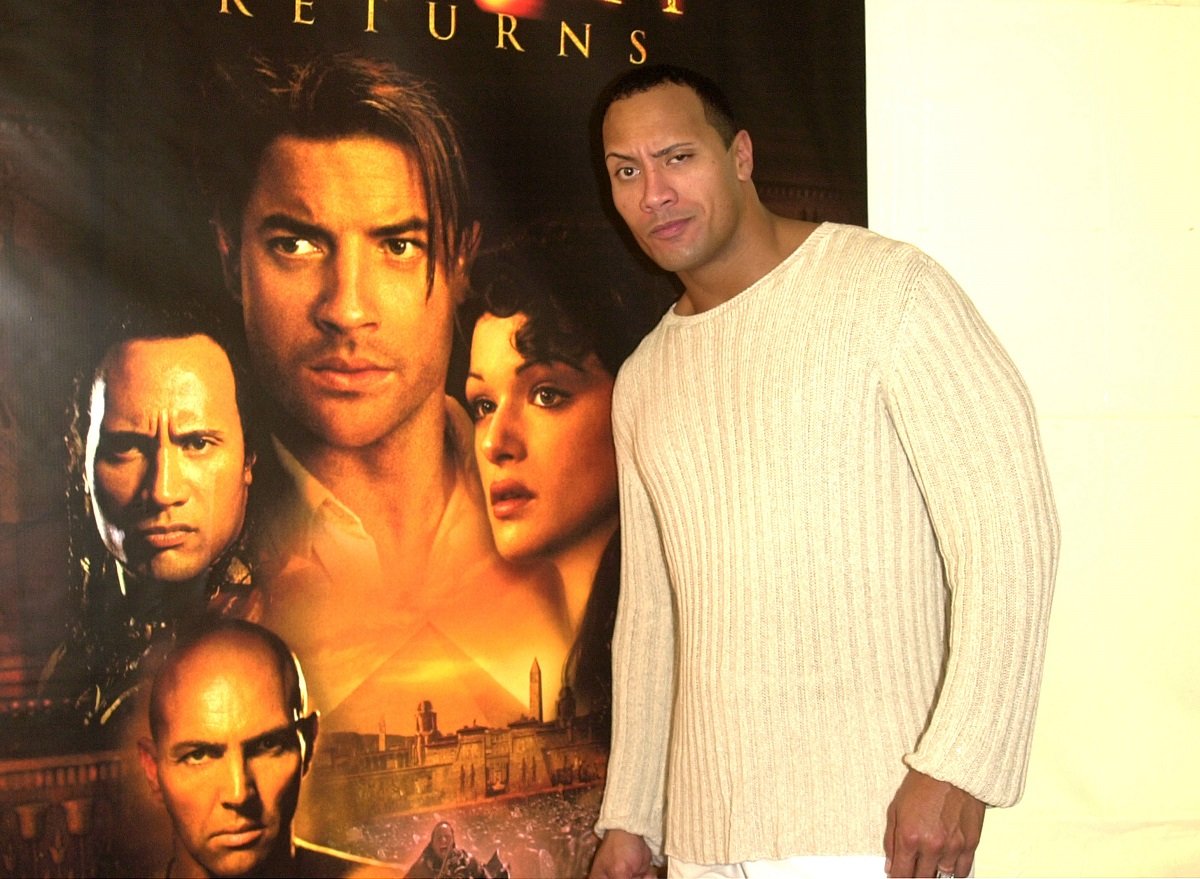 The Mummy Returns debuted in 2001. As the sequel to 1999's The Mummy, the movie carried through with familiar characters and introduced fans to new ones. Dwayne "The Rock" Johnson's Scorpion King was one of the new characters introduced, in his first movie role ever. 
The Mummy Returns picked up the story eight years after the events of The Mummy. Rick O'Connell (Brendan Fraser) and Evelyn Carnahan (Rachel Weisz) were married and had a child. When Anck-Su-Namun (Patricia Vasquez) brings her dead lover, The Mummy's main antagonist Imhotep (Arnold Vosloo), back to life, the O'Connell family and friends have to put a stop to their evil plans.
Johnson appeared as the Scorpion King, who had sold his soul thousands of years before in a deal to conquer ancient Egypt. The arrival of the Scorpion King was an unexpected complication for both O'Connell and Imhotep in the film's climax. But though Universal used Johnson heavily in marketing materials and promotions, Johnson had only about 15 minutes of screentime. In addition, his head was digitally added to a monster's body for his film debut.
Because of the character's circumstances, Johnson didn't think that his signature eyebrow raise was appropriate. "I was adamant," he said. The actor continued. "I didn't want to do the eyebrow thing. I didn't think it was fitting. Not for this movie," he told Entertainment Weekly. No eyebrow and no catchphrases from his WWE days made it into The Mummy Returns, and that's just how Johnson wanted it. 
Fans saw the eyebrow raise in The Scorpion King
Universal saw an opportunity to use Johnson's magnetic star-power in The Scorpion King, which acts as a prequel of sorts to The Mummy and The Mummy Returns. the actor reprised his role as the titular character. And fans can finally see the eyebrow in The Scorpion King.  
The Scorpion King was Dwayne Johnson's first movie in which he played the starring role, and it was released only a year after The Mummy Returns. He was certainly put to the test quickly, though he rose to the challenge.
"This part isn't all that different from the stuff I do on TV," Johnson said about acting in choreographed fights. He said that he was able to pick it up pretty quickly because it was so similar to what he had been doing in his wrestling appearances. Instead of "smashing people with folding chairs," he was using props. "All I need is two minutes to figure out a scene," he added.
While that may sound cocky, and completely deserving of its own eyebrow raise, Johnson exuded a sort of quiet confidence on set, according to EW. Stephen Sommers, who wrote and directed both The Mummy Returns and The Scorpion King, called him very smart and very civilized. Later, Johnson confessed that some things were challenging. For one scene, where the character's brother is killed, Johnson said that he ended up bawling.
Johnson always wanted to go into film
Johnson's fame skyrocketed after his appearances in The Mummy Returns and The Scorpion King, and he went on to star in almost too many films to name. For instance, Jungle Cruise debuted in theaters and on Disney+ in July 2021. 
When interviewed by EW during the filming of The Scorpion King, Johnson said, "I always knew I wanted to do film. And not only did I want to do film, but I wanted to make an impact." It seems like he's living his dream.