Dwayne Johnson, Ryan Reynolds, and Gal Gadot Dominate Netflix with 'Red Notice' Release
The movie's success may be due in part to its large budget. The internet is already speculating about a sequel.
As if Dwayne Johnson didn't have enough going his way, Red Notice showed up on Netflix over the weekend and blew the competition away. The Dwayne Johnson, Ryan Reynolds, and Gal Gadot-led action art caper is the streaming giant's latest colossal hit. Here's what to know about the movie's direct-to-streaming and limited theatrical release. 
'Red Notice' was fantastically expensive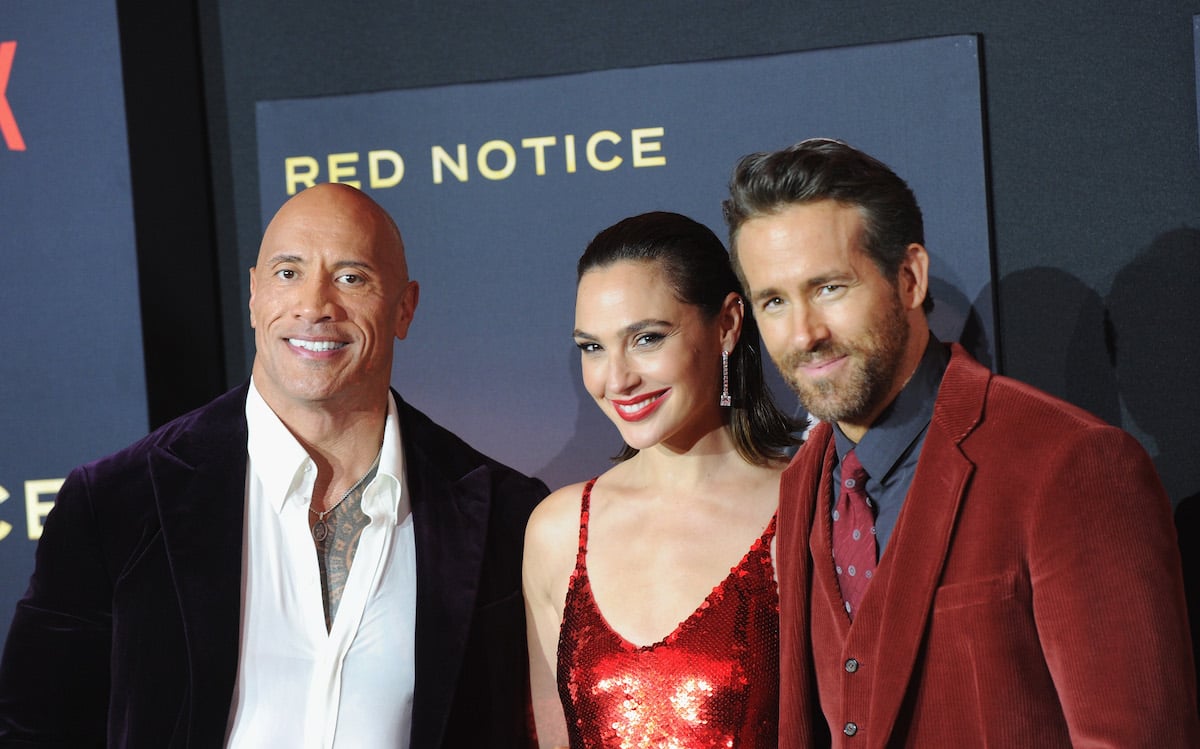 Per Screenrant, Red Notice is by far Netflix's most expensive movie. The streamer pumped a whopping $200 million into the action-comedy. A lot of that went to its A-list stars. Screenrant reports that Gadot, Johnson, and Reynolds banked $20 million each for their starring roles. An additional $10 million went to Rawson Marshall Thurber (2004's Dodgeball: A True Underdog Story) for writing and directing. 
The idea is (at least partially) that a hefty budget boasts bigger production values: more explosions, impressive effects, and a bigger and better time at the movies. Moreover, signing top-tier talent lures audiences in just by name recognition. If you enjoyed Ryan Reynolds in Free Guy or Deadpool or, for example, you're likely to assume you'll get more of that blend of action and comedy with Red Notice. 
The budget is absurd by any standard. Furthermore, it was actually increased from an original projected budget of $160 million. The Coronavirus (COVID-19) pandemic delayed the project and cost extra money, so the final tally escalated to $200 million. 
In this case, at least at the outset, the strategy seems to have worked. 
The Dwayne Johnson and Ryan Reynolds movie sports Netflix's biggest opening day ever
The opening day results are in, and they're enough to send Johnson and Reynolds to social media to celebrate. Red Notice's November 12, 2021 opening day is reportedly Netflix's biggest opening day ever for a movie. However, the film didn't fare quite as well at the box office. 
"WOW #RedNotice is @Netflix biggest ever opening day for a film" tweeted Amityville Horror star Ryan Reynolds on November 13. "Congrats to this whole team! Can't wait for Red Notice (Taylor's Version.)." 
Similarly, Johnson took to social media to celebrate. 
"It's OFFICIAL as the numbers are coming in from 190 territories around the world," wrote Johnson via Twitter and Instagram. "RED NOTICE has become THE BIGGEST OPENING EVER ~ for ANY MOVIE IN THE HISTORY OF NETFLIX! 92% AUDIENCE SCORE. Love you guys and tonight, I'm raising my @teremana to y'all and RED NOTICE. More to come." 
Johnson is known to tout the performance of his movies online. Back in August, he celebrated the success of his movie Jungle Cruise via social media and announced its upcoming sequel. 
Will there be a 'Red Notice' sequel? 
There's no official word yet on the production of Red Notice 2. But there are a couple of compelling details that point to a sequel. Firstly, Johnson's Twitter comment "More to come" could indicate sequel news. 
Secondly, without giving spoilers, the movie's ending obviously sets the film up for further installments. Finally, director Thurber told Goggler in a video he's "available" for a sequel. "I think it comes down to if Reed Hastings, Ted Sarandos, and Scott Stuber want to do it," he said. "If Netflix wants to do it, and the stars will come back, I'm presently unemployed and tech avail. So we'll see what happens."
Gadot similarly told Today that she hopes for another Red Notice. "I hope so," she said when asked about a potential sequel. "I love these guys and I would love to have the opportunity to work with them again."
In short, we don't know if there will be another Red Notice. But we do know that the movie's current record-breaking success is strong enough to consider the possibility.