Dwayne Johnson Once Wrote Fanmail to His 'Man-Crush' Clint Eastwood
Dwayne Johnson may be one of the biggest actors on the planet, but even he becomes a fan around other celebrities. This is the case with Oscar-winner and cinematic legend Clint Eastwood, who Johnson wrote a fan letter to years ago.
Dwayne Johnson was too afraid to approach Clint Eastwood at the Oscars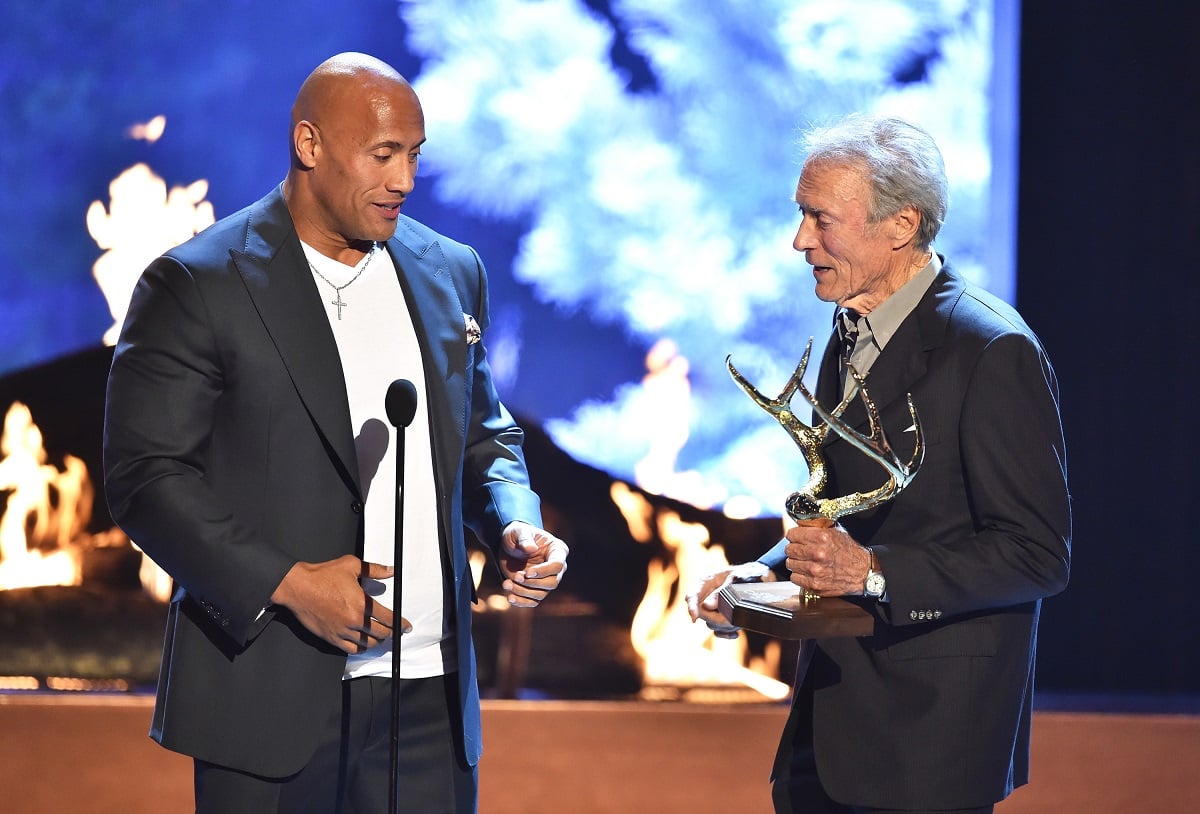 Johnson had a similar reaction to meeting Clint Eastwood for the first time that some fans might have meeting him. The Hobbs and Shaw actor ran into Eastwood at the Oscars, but found himself unable to approach his idol.
"We were at the Oscars and I was doing red carpet and when I was done with an interview, I turn around and there he is, he's walking in with his wife… I was like, 'Oh man, this is it,'" Johnson once said according to Contact Music. "And then I froze. I completely froze."
Dwayne Johnson once sent Clint Eastwood fanmail
Dwayne Johnson's admiration for Clint Eastwood runs deep. The Jumanji star has been a fan of the actor turned filmmaker since childhood.
"Clint has always been an inspiration of mine. As a matter of fact, Clint has always been my inspiration as an actor…With Clint, not only has he been my inspiration, (but he's) my one and only man-crush," Johnson shared.
The Red Notice star decided to tell the Oscar-winner how much he meant to him by mailing him.
"I wrote him a letter recently," he added. "He's been such an inspiration to me (and) I just wanted to take the time to write him a letter…I know that he received it, and in the letter it wasn't, 'Hey, here's my number, please call me', it was, 'I want you to know that you're my inspiration', that was it."
Dwayne Johnson channeled Clint Eastwood in one of his lesser known movies
Before Johnson was a part of the Fast franchise, he led a smaller action film called Faster. The 2010 film starred Johnson as an ex-con trying to avenge the death of his brother. In an interview with MTV News, Johnson listed some of the inspirations Faster took from other movies and actors. Eastwood was one of those inspirations.
"The movies of the 70s, a lot of Peckinpah movies, Eastwood movies from the 70s, Steve McQueen, Charles Bronson — movies like that where they just have that tone and that texture," Johnson said. "There weren't big explosions for the sake of explosions, so all the action was fueled by an emotion. Not big bazookas or anything like that. I've got one big bullet and I'll put it right between your eyes. It's that type of action."
If Black Adam director Jaume Collet-Serra is to be believed, Johnson may also be channeling Eastwood in the DC film as well.
"Having just done a romantic adventure comedy where he's very light, I was really attracted to getting the dark version of Dwayne. Basically, turning him into Clint Eastwood in a Western. I was like, 'You're like the Dirty Harry of superheroes,'" Serra told Variety. "I didn't have to convince people that I was right for this one in the same way that I did for Jungle Cruise. It's like things I've done with Liam [Neeson], that tough-guy antihero who has a heart. The world is not black and white. The world is in gray areas, so you need these people that are riding that gray area."
RELATED: Dwayne Johnson Was Born to Play Black Adam Says Producer Hiram Garcia