Dylan Barbour and John Paul Jones Are Supportive of 'Bachelorette' Star Jed Wyatt's New Romance After Hannah Brown Split
We've seen love flourish and hearts break on The Bachelor shows. While the ultimate goal is for the Bachelor or Bachelorette to find the person of their dreams they hope to spend the rest of their life with, the outcome can be pretty unpredictable. And such was the case for Hannah Brown.
While Brown was engaged to Jed Wyatt at the end of her season of The Bachelorette, things went south quickly for the couple. Wyatt's ex came forward and claimed Wyatt was on the show for the wrong reasons. Now, he and Brown want nothing to do with each other — and he's found love with another woman.
While many fans are still dragging Wyatt, it seems some notable Bachelor nation contestants are actually supportive. Here's who's showing their love for him and his romance.
Fans dragged Jed Wyatt after the truth came out regarding his 'Bachelorette' intentions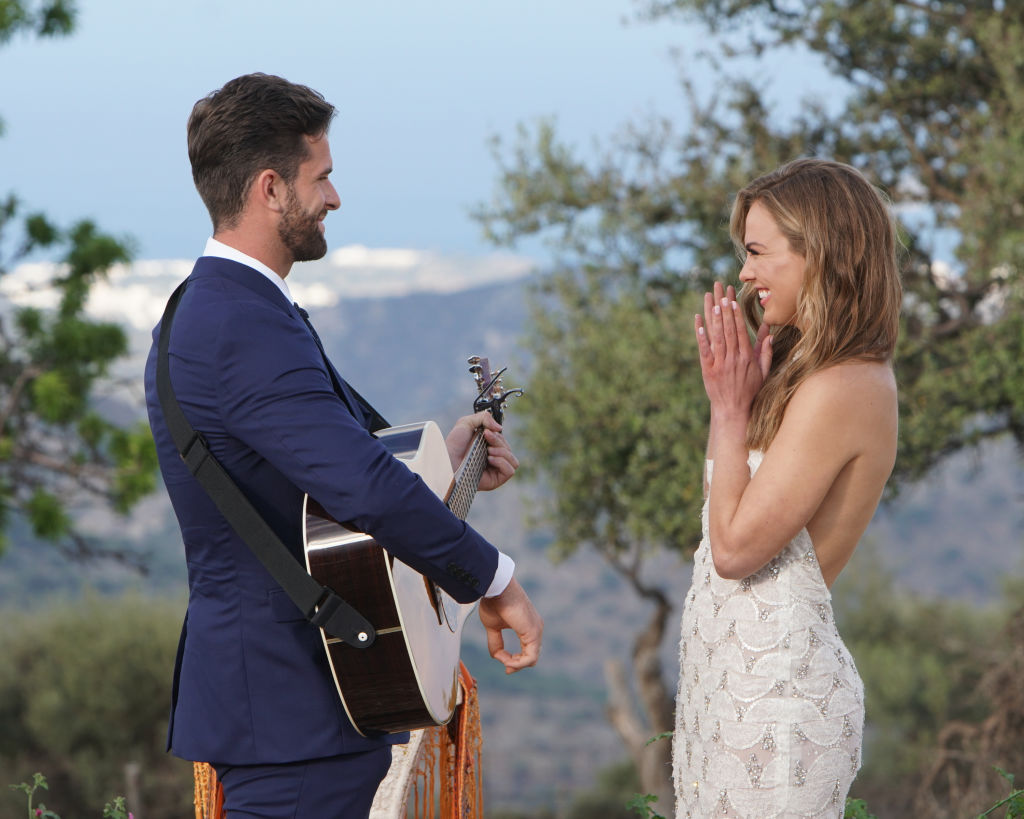 Wyatt was known as the singer/songwriter after Brown's heart, but it seems he may have just been after a record deal. Haley Stevens, Wyatt's ex-girlfriend, told Us Weekly that Wyatt was only joining the Bachelorette cast to get noticed for his musical talents. And he also allegedly promised her that he'd come back to her when the show was over.
"I know the premise of the show. Even though that's not an ideal situation for our current relationship, when you're not in it, it seems like a movie. It seems like it's just a TV show," Stevens said. "You don't necessarily think about the fact that hearts are going to get involved, there are going to be feelings involved."
After Wyatt returned home newly engaged to Brown, however, Stevens knew something was up. He didn't attempt to get into contact with Stevens for weeks after filming ended.
Fans dragged Wyatt after the truth came out, of course.
"I feel for your family, your ex & especially Hannah but YOU need to own your responsibility in putting them in this position," one of his Instagram followers commented. "Millions watch this show with passion and devotion to those on it."
Wyatt's now found love with Ellen Decker
Brown had trouble getting past the engagement, and she appears to still be single. Wyatt, however, has moved on completely. He's been posting photos to Instagram of himself with model/personal trainer Ellen Decker since the end of November 2019. And the two seem absolutely obsessed with each other.
"Turns out time travel is possible, 5 days goes by in about 30 minutes with this one. Merriest Christmas ever," Wyatt captioned his photo of himself with Decker during the holidays. And Decker posted plenty of sweet photos of herself with Wyatt, too.
"To the guy who brings me so much joy and laughter," she captioned her post with Wyatt from Dec. 23.
A few 'Bachelor' stars are completely supportive of the new romance
There are plenty of Bachelorette fans who think Wyatt has no business dating someone new when he broke Brown's heart. But it seems some of Brown's other contestants are all for Wyatt finding love again. Dylan Barbour and John Paul Jones, both of whom competed for Brown's affections, have commented positively on Wyatt's photos of Decker.
Wyatt posted a photo of him with Decker on his lap while he was playing PlayStation 2. And Barbour left a very funny comment about Wyatt's choice of gaming. With that said, any comment on the post shows he's not shaming Wyatt for a new relationship. "Medal of Honor is a top 5 game of all time," Barbour noted.
On another post of Wyatt and Decker, Barbour wrote, "Look at you sweet beans."
As for Jones, he's also showing his support. "Ow ow," he commented on a post alongside Barbour.
In the video game post, Jones also added, "Hell yeah," along with fire emojis.
These two aren't the only ones, either. It looks like Mike Johnson and Garrett Powell from Brown's season are also supportive.
We'll have to wait and see how far Decker and Wyatt's romance will go. So far, the love birds are taking it seriously — and many Bachelorette alums are into it!
Check out Showbiz Cheat Sheet on Facebook!