1 'Dynamite'-Themed Bangtan Bomb Shows V and Jimin Being Chaotic With a Microphone
V and Jimin are the BTS members behind "Friends." They also appear in some behind-the-scenes clips from the "Dynamite" music video. Here's what we know about these BTS members and their chaotic energy, especially when someone hands them a microphone.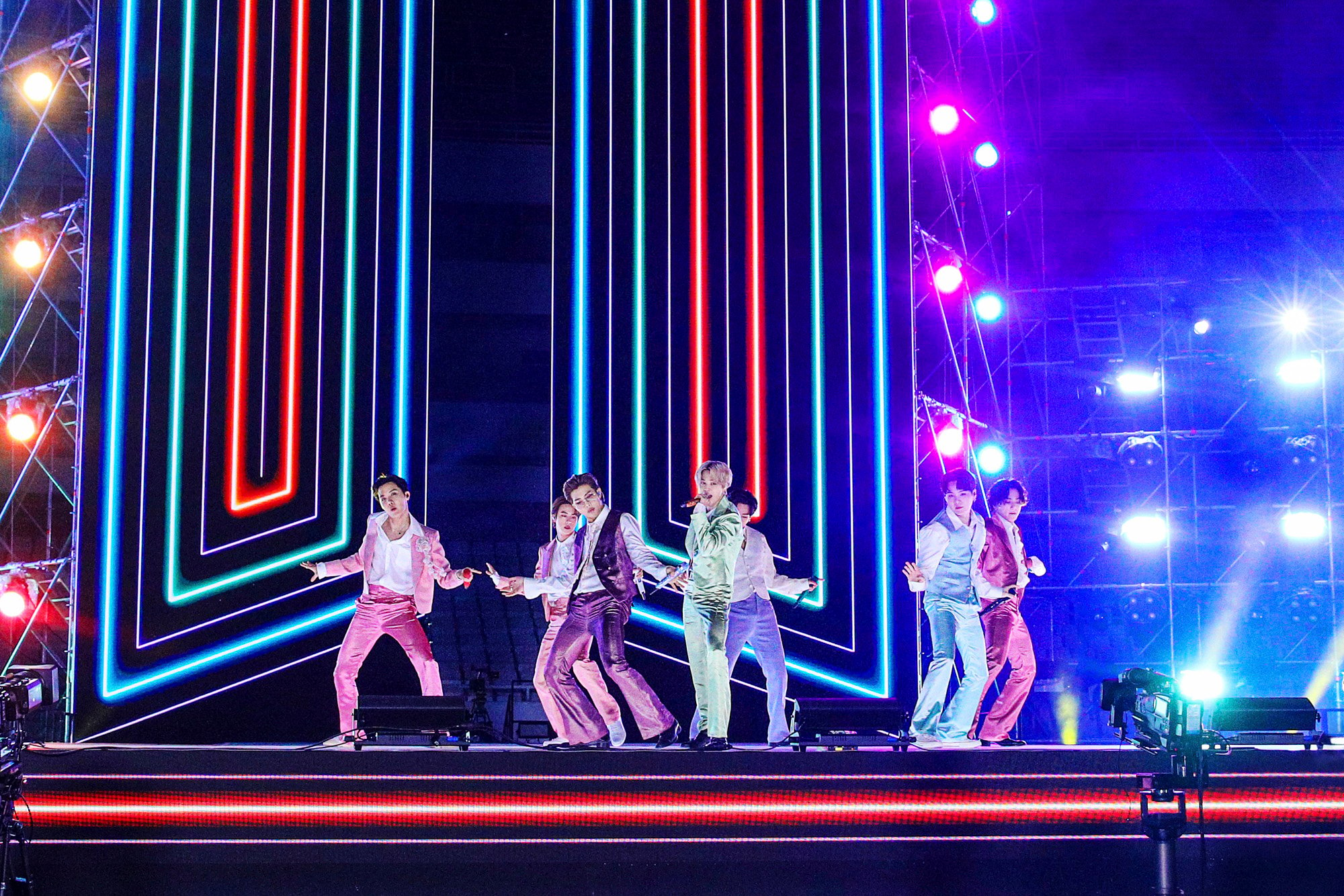 Jimin and V appeared on BTS' song 'Dynamite'
They light up the music charts like "Dynamite." In 2020, this boy band released their first all-English song. Since its release, this single became a record-breaking song for BTS, earning the K-pop group their first Grammy nomination.
The music video for "Dynamite" also broke records, becoming the biggest music video to debut on the platform to date, with over 101.1 million views in its first 24 hours. The 2021 release, "Butter," broke that record. Fans also enjoyed behind-the-scenes videos featuring artists like Jimin and V in their colorful outfits.
RELATED: Jimin From BTS Finally Puts the 'Dumpling Incident,' Mentioned During 'The Late Late Show With James Corden,' to Rest
Jimin and V joked around behind the scenes of the 'Dynamite' music video
In between filming scenes for "Dynamite," V and Jimin "took the microphone," as seen during one chaotic Bangtan Bomb. Jimin started singing the lyrics to this new single, even changing some words to include the names of the BTS members.
"Yes, hello. The person who has Kim Taehyung's phone, please come to the director's chair. I repeat… Kim Taehyung's phone," V said into the microphone, according to a translation.
After getting his phone back, he thanked the staff and laughed with Jimin. Later, Jimin appeared alongside RM with his microphone still in hand. He repeated the lyrics to "Dynamite," then he started improvising.
"Vice Principal [is] calling a student…," Jimin said. "Kim Taehyung from 12th-grade class. Please come to the teacher's lounge."
RELATED: Is Jungkook the Last BTS Member to Create a Solo Song? Here's What We Know About 'Still With You' and the Mixtapes of These K-Pop Idols
V and Jimin created the sub-unit song 'Friends' off of 'Map of the Soul: 7'
These idols appear in solo songs released in conjunction with BTS. V and Jimin also collaborated on a Map of the Soul: 7 track titled "Friends." As a subunit nicknamed the "95s," these singers had a relationship before debuting with BTS, even attending classes together.
"I remember our uniforms / Our memories are movies / The dumpling incident is a comedy movie," the lyrics read, according to one translation. During one YouTube video, Jimin and V shared some of the inspiration behind this track.
"I liked it because it wasn't predictable. It was so original," V said. The singer even shared that he would "of course" collaborate with Jimin again. Of course, these idols appear on group BTS songs, like their recently released single, "Butter."
The "Dynamite" music video is now available on YouTube. Music by BTS, including Map of the Soul: 7, is available for streaming on Spotify, Apple Music, and most major platforms.