Ed McMahon Spent the Day After Johnny Carson Died in Bed Watching Television
In television icon Ed McMahon's memoir, Here's Johnny, he recalled the phone call he received notifying him his friend of 46 years, Johnny Carson, was dead from emphysema. And he shared how he spent the next day in a "style of mourning you don't often see," staying in bed, laughing and crying through television tributes to his beloved Tonight Show friend.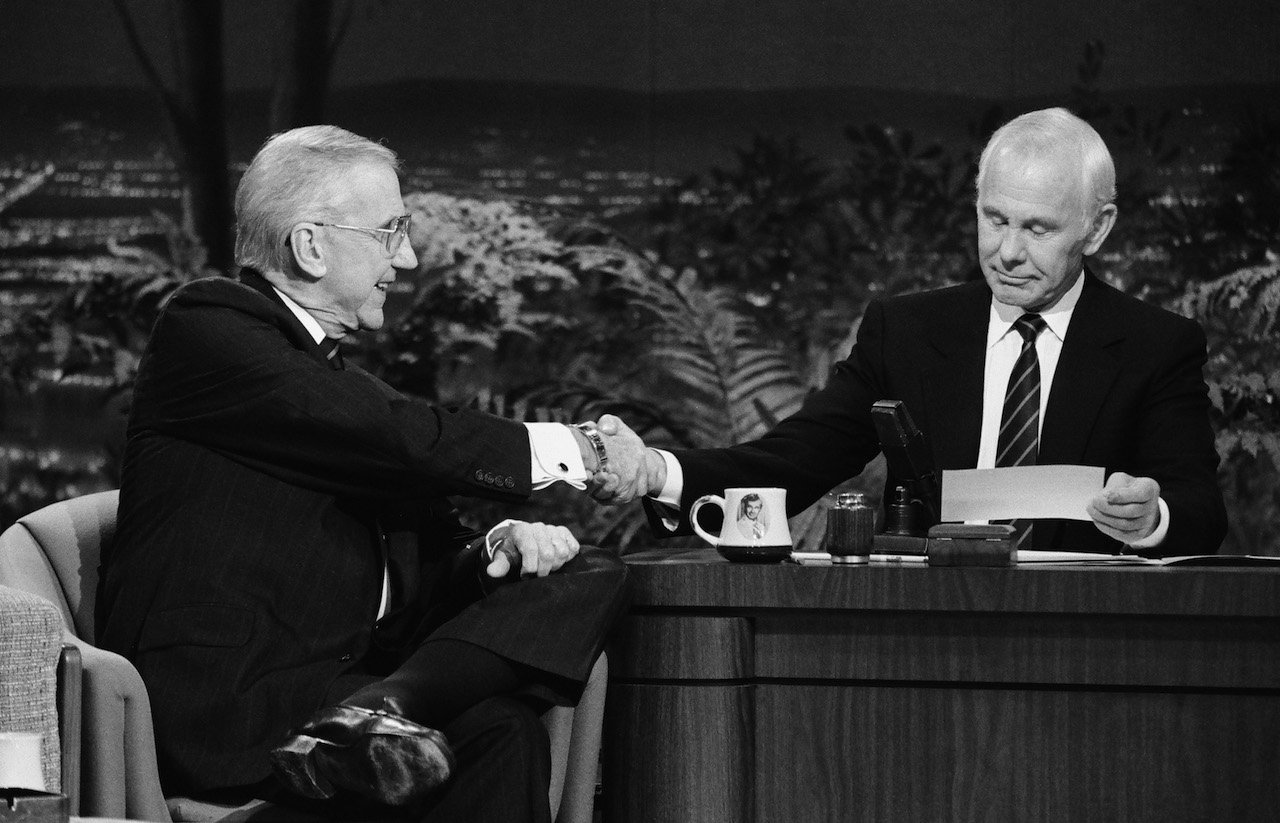 When Ed McMahon cried over Johnny Carson, it was the first time his third wife saw his tears
In Here's Johnny, McMahon wrote his "heart broke" when he didn't have to "wait until the year 2100 to write" about his memories of Carson. He said they spoke about the possibility of him writing a book. But he wasn't prepared when the moment came, and his friend was already gone.
McMahon got the call a few minutes after 7:00 a.m. on Jan. 23, 2005. His third wife, Pam, answered, and "her hand fell to heart."
"As the blood drained from her face, she silently handed the phone to me," he shared. "I didn't need Sherlock Holmes to know what had happened."
According to McMahon, he was the first call the family made. "He would have wanted me to call you first," he recalled Carson's nephew, Jeff Sotzing, telling him. "I know how much you two meant to each other."
But McMahon said he was at a rare loss for words. And after hanging up the phone with Sotzing, he began to cry "the first tears that Pam ever saw [him] shed." Notably, they'd been married since 1992.
Ed McMahon spent the day after Johnny Carson died in bed crying and watching television tributes
The day after Carson died, McMahon said he stayed in bed where he watched tributes to Carson, "crying one minute, laughing the next."
"It was a style of mourning you don't often see," he shared in Here's Johnny. He said he could hear Carson telling him to seek help.
In the weeks after the icon's death, McMahon started making his rounds to pay tribute to his longtime friend on radio and television. And Carson's widow, Alexis Maas, called to say she'd seen it all and wanted to thank him. "You've been magnificent," he remembered her telling him. "I love you, Ed, just as Johnny did."
Doc Severinsen emotionally recalled the moment he learned of Johnny Carson's death
Doc Severinsen, the bandleader for The Tonight Show Starring Johnny Carson, also recalled to OWN his memories of the phone call letting him know Carson died.
Like McMahon, he was with Carson on The Tonight Show for 30 years and became close friends with him in real life.
Also like McMahon, Severinsen's wife answered the call when Carson's family reached out with the news of the host's death. He said she screamed and told him, "Johnny just passed away."
And Severinsen still paused to wipe away tears, even many years after Carson's death.
RELATED: Johnny Carson Shared This Pre-Show Routine With Ed McMahon While on 'The Tonight Show'