Ed Sheeran Possibly Spoiled the New BTS Song He Wrote
A new collaboration between Ed Sheeran and BTS is on the way, and Sheeran seemingly spoiled the name of the song on his Instagram story. This will be Sheeran's second collaboration with Jin, Suga, J-Hope, RM, Jimin, V, and Jungkook. In 2019, Sheeran co-wrote the song "Make It Right" which was released on BTS' EP Map of the Soul: Persona.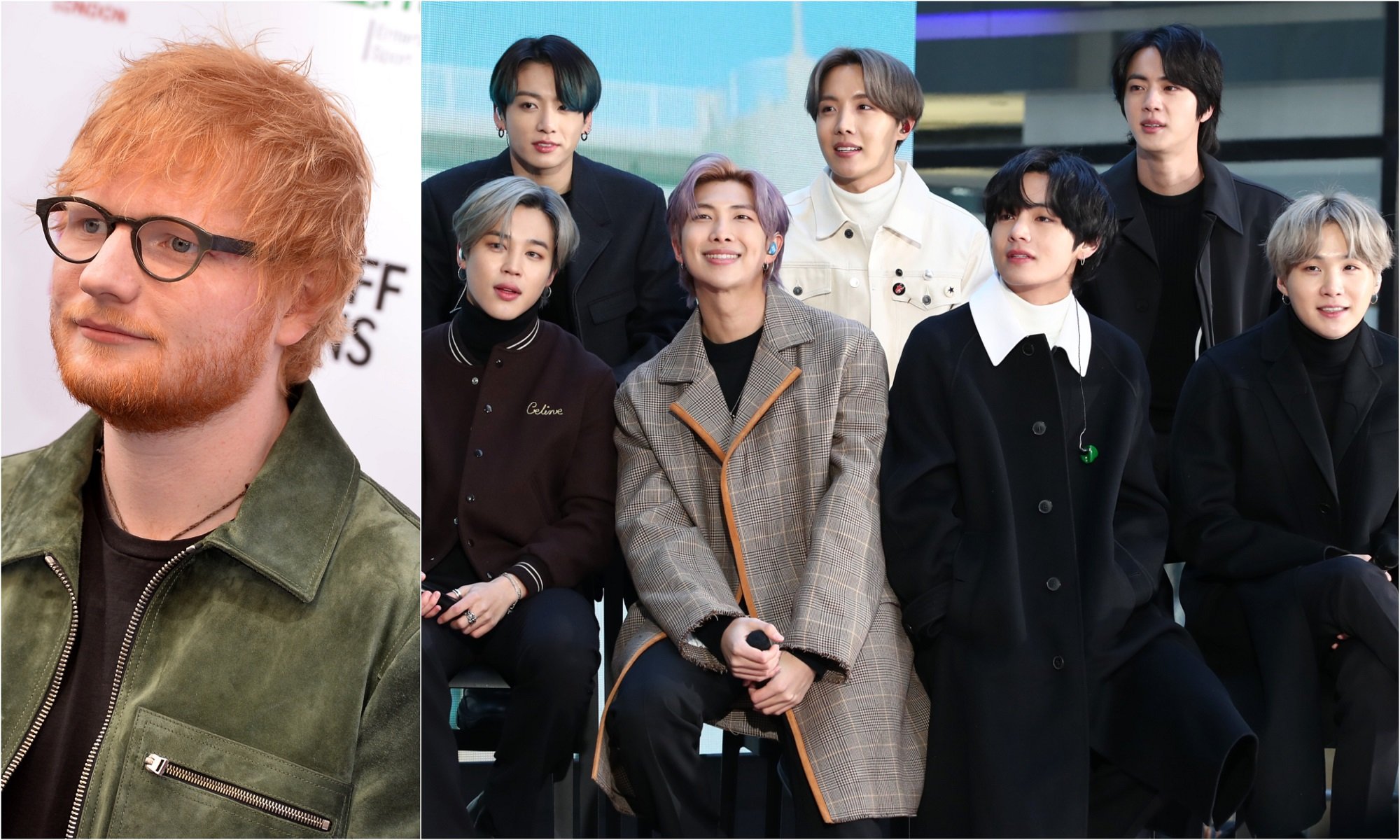 Ed Sheeran revealed his upcoming collaboration with BTS
On June 25, Sheeran released his new single "Bad Habits." To promote the song, he appeared on Most Requested Live on June 26. While appearing on Most Requested Live, Sheeran shared that he recently wrote a song for an upcoming BTS album.
"BTS. I've actually worked with BTS on their last record, and I've just written a song for their new record. And they're like super, super cool guys as well," he said.
After Sheeran let the news slip, Big Hit Music, BTS' label, confirmed the rumor to Newsen.
"It is true that Ed Sheeran is participating in BTS's new song," Big Hit Music said according to Soompi. "We cannot confirm the details."
RELATED: BTS Still Hope to Win a Grammy Award Following the Release of 'Butter'
Ed Sheeran possibly revealed the song's title
While Big Hit Music confirmed Sheeran was involved in the writing process for an upcoming BTS song, the company did not give any details about the song's title or the album it will be featured on. However, Sheeran appeared to spoil the song's title on his Instagram story on June 28.
BTS will release a CD of their second English-language single, "Butter," on July 9. The "Butter" CD will include an additional single. The unannounced song is rumored to be titled "Permission to Dance." On his Instagram story, Sheeran was asked about his favorite BTS song, and his reply seemed to spoil the upcoming collaboration.
"I'd say my favorite BTS song is their new song, 'Permission to Dance,'" Sheeran said.
Given that "Permission to Dance" has not been confirmed by Big Hit Music and has not been heard by the general public yet, Sheeran's reply hints he did indeed help write the unannounced single on the "Butter" CD.
RELATED: BTS Show Their Goofy Side With the Music Video for 'Butter (Hotter Remix)'
What we know about BTS' 'Butter' CD
BTS announced the release of the CD of "Butter" after their final BTS 2021 MUSTER SOWOOZOO concert on June 14. Big Hit Music then published a post on Weverse that gave fans more details about the CD.
In the post, Big Hit Music wrote:
"In celebration of ARMY's birthday, BTS's 'Butter' CD single will be released on Friday, July 9, available for pre-order from Tuesday, June 15. 

In addition to the digital single 'Butter' that was saturated by an outpouring of love from fans everywhere, the CD will include a new track that will make your heart beat to the rhythm of BTS's positive energy. We look forward to the love and support from all fans."
There are two versions of the CD for fans to purchase. Each version includes a poster, photo book, photo card, CD, and other goodies. The Cream version has yellow packaging, and the Peaches version of the "Butter" CD has an orange design.