Ed Sheeran Worked on an Upcoming BTS Song
Ed Sheeran and BTS previously collaborated on writing the track "Make It Right," which was first released on BTS' 2019 EP Map of the Soul: Persona. Sheeran recently dropped the single "Bad Habits." While promoting the song, he revealed that he collaborated with BTS again and wrote another song for the Korean band.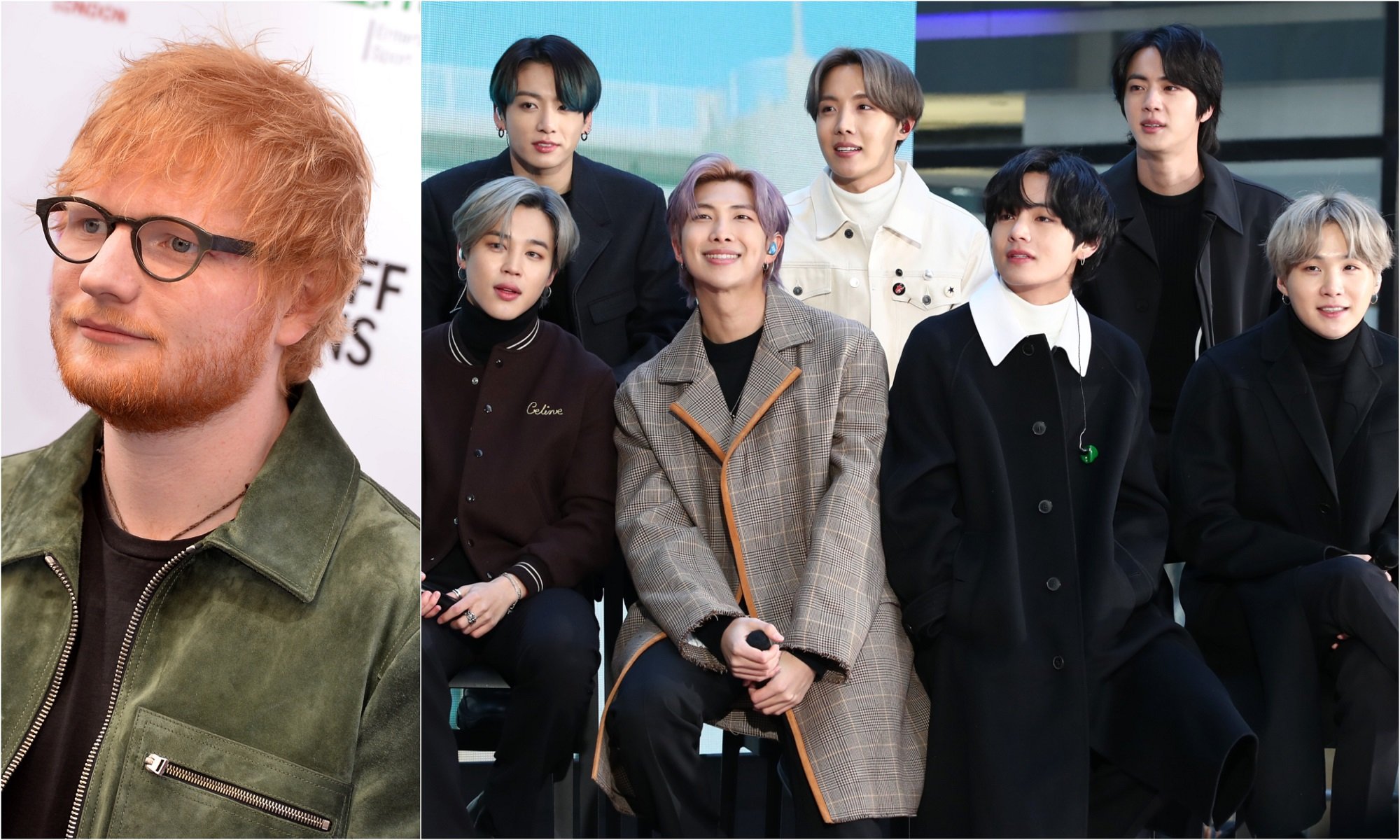 Ed Sheeran says he wrote an upcoming song for BTS
On June 26, Sheeran appeared on Most Requested Live. The singer-songwriter brought up BTS and revealed that he wrote another song for BTS' upcoming album.
"BTS. I've actually worked with BTS on their last record, and I've just written a song for their new record. And they're like super, super cool guys as well," he said.
In a surprise move, Big Hit Music confirmed the collaboration to Newsen.
"It is true that Ed Sheeran is participating in BTS's new song," Big Hit Music said according to Soompi. "We cannot confirm the details."
Ed Sheeran previously co-wrote the band's song 'Make It Right'
BTS released Map of the Soul: Persona on April 12, 2019. The EP features seven tracks: "Intro: Persona," "Boy with Luv," "Mikrokosmos," "Make It Right," "Home," "Jamais Vu," and "Dionysus." "Boy with Luv" featured Halsey and is the EP's lead single.
"Make It Right" was written by Fred Gibson, Sheeran, Benjy Gibson, Jo Hill, and RM, Suga, and J-Hope of BTS. The song became the band's second single from Map of the Soul: Persona when it was re-released as a remix with Lauv in October 2019.
In a 2019 interview with Radio.com, RM shared how the collaboration with Sheeran on "Make It Right" came to be.
"Really suddenly, he had like a little shout out in his Instagram. He said that he liked our album," RM said. "Everybody was very happy because Ed said he liked our album… He wrote all the hooks with his producers, and we wrote the lyrics, and that's how the collaboration happened."
Because working on "Make It Right" primarily happened over DMs and email, Jin, Suga, J-Hope, RM, Jimin, V, and Jungkook did not meet Sheeran for the collaboration.
"Not yet. We can't believe it. He's very busy and we are too," RM told Radio.com. "Next time we visit Britain maybe, we surely want to meet him. We just want him to dance."
BTS will release a CD of their song 'Butter' in July
On July 9, BTS will release a physical CD of their second English-language single, "Butter." The CD will also include a new song that has never been heard before. There are two different versions of the "Butter" CD. The Cream version has a yellow CD cover, and the Peaches version has orange packaging. 
In a post on Weverse, Big Hit Music announced the CD and gave details about the additional song, writing:
"In celebration of ARMY's birthday, BTS's 'Butter' CD single will be released on Friday, July 9, available for pre-order from Tuesday, June 15. 

In addition to the digital single 'Butter' that was saturated by an outpouring of love from fans everywhere, the CD will include a new track that will make your heart beat to the rhythm of BTS's positive energy. We look forward to the love and support from all fans."
It is unclear if the song Sheeran referenced on Most Requested Live is the new song on the "Butter" CD or a different song that will be featured on an unannounced BTS album.