Ed Sheeran's Secret Cameo in 'Star Wars: The Rise of Skywalker' Has Been Revealed
The 'Star Wars' saga is known for its secret celebrity cameos. Now we know who singer Ed Sheeran plays in 'Star Wars: The Rise of Skywalker.'
For the past several years, Ed Sheeran has been everywhere. The singer-songwriter famously sings pop hits such as "Thinking Out Loud" and "Shape of You." But he's also been creeping into other areas of pop culture.
In 2015, Sheeran appeared in five episodes of the FX series The Bastard Executioner. Then, the very next year, he popped up in cameos as himself in Bridget Jones's Baby and Popstar: Never Stop Never Stopping. But perhaps the biggest move happened in 2017, when Sheeran played a Lannister soldier on an episode of Game of Thrones.
Following a guest spot on The Simpsons and another role as himself in the hit movie Yesterday, Sheeran officially arrived in the Star Wars universe. Now Disney has revealed Sheeran's secret cameo in Star Wars: The Rise of Skywalker.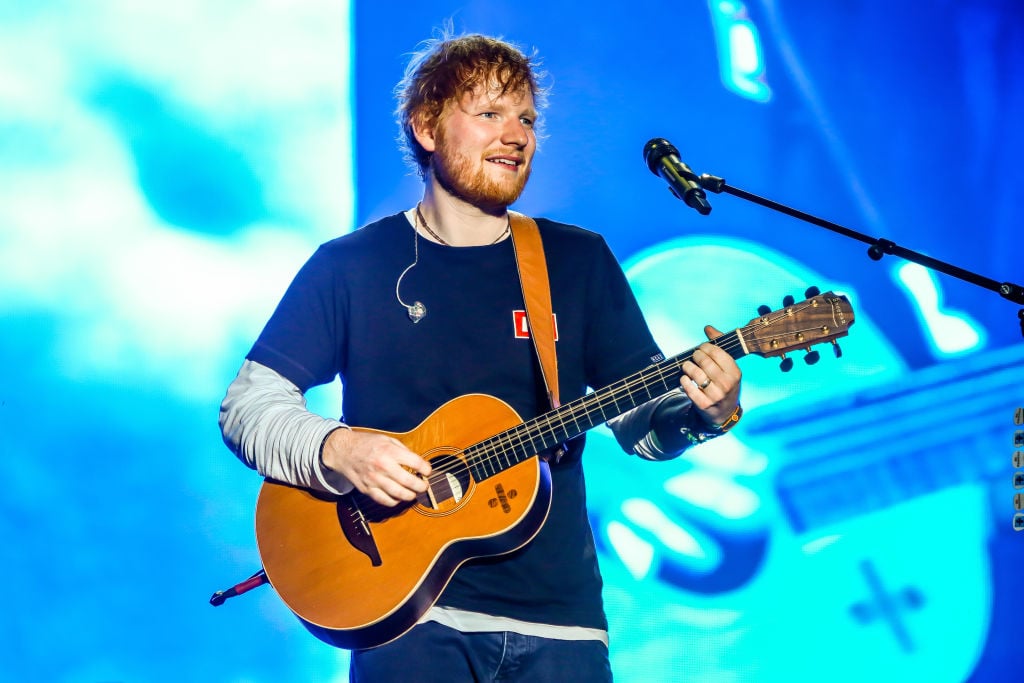 A sea of 'Star Wars' Easter eggs
Star Wars: The Rise of Skywalker, of course, features a ton of cameos both from past stars of the series and beyond. We've already detailed some of the fun appearances in director J.J. Abram's new film. But the latest Star Wars is far from the first to slip a few surprises into the mix.
Previous films in the franchise have rewarded fans with Easter eggs. But the sequel trilogy has really made it a point to give stars like Simon Pegg, Kevin Smith, and Joseph Gordon-Levitt the opportunity to play in the "galaxy far, far away." So, in that regard, Sheeran's inclusion feels like a natural extension of that tradition.
After all, everyone wants to be a part of the Star Wars universe. So, as long as it doesn't distract viewers or detract from the overall story, bringing in some famous faces and/or voices only adds to the experience. If nothing else, it encourages moviegoers to revisit the films to see what they missed.
Here's who Ed Sheeran played
We've known for a while Sheeran would have a cameo in The Rise of Skywalker. But many fans believed the singer played a stormtrooper in the film, a role now apparently claimed by Harry Styles. A bit of promotional material featuring Sheeran in a stormtrooper outfit — featuring footage reportedly not from the set — only added to the confusion.
Now Disney itself has confirmed Sheeran actually played an alien member of the Resistance. At this point, it's unclear if Sheeran shot a stormtrooper cameo or if this other character was always his. Perhaps Abrams cut his stormtrooper cameo, leading the director to give Sheeran this role. In any case, that's one less mystery hanging over Star Wars: The Rise of Skywalker.
Which cameos are still out there?
We can only imagine how much fun it was for Sheeran to suit up for a Star Wars movie. Yet, confirmation of his role is something of a surprise. While The Rise of Skywalker remains in theaters, we expected Disney to cling more tightly to the movie's many secrets. Yet, we highly doubt we've already uncovered all the Easter eggs in the final installment of the Skywalker saga.
The Star Wars community might not be as united as it once was. But at least these little scavenger hunts make for an exciting new way to watch the movies. We already know some of what The Rise of Skywalker has to offer in that regard. But there's likely more to come.
Hopefully, Lucasfilm still has some fun surprises tucked away in the movie, especially since the big-screen future of Star Wars remains unclear. At least Sheeran seized his chance to play a small role in the saga.