Eddie Lucas Reveals How 'Below Deck' Drama is 'Facilitated' by Producers'
Below Deck may not be scripted, but former first officer Eddie Lucas revealed that the series is "facilitated" by producers.
A lot of the partying and crew dynamics are built to create a storyline, which Lucas said is the backbone of good TV. He also revealed how the drama is facilitated in a myriad of ways on the series.
Getting less rest on 'Below Deck' – 'No you're gonna drink'
Lucas said getting enough sleep is important on the job. But he admitted that the crew gets a little less rest on Below Deck.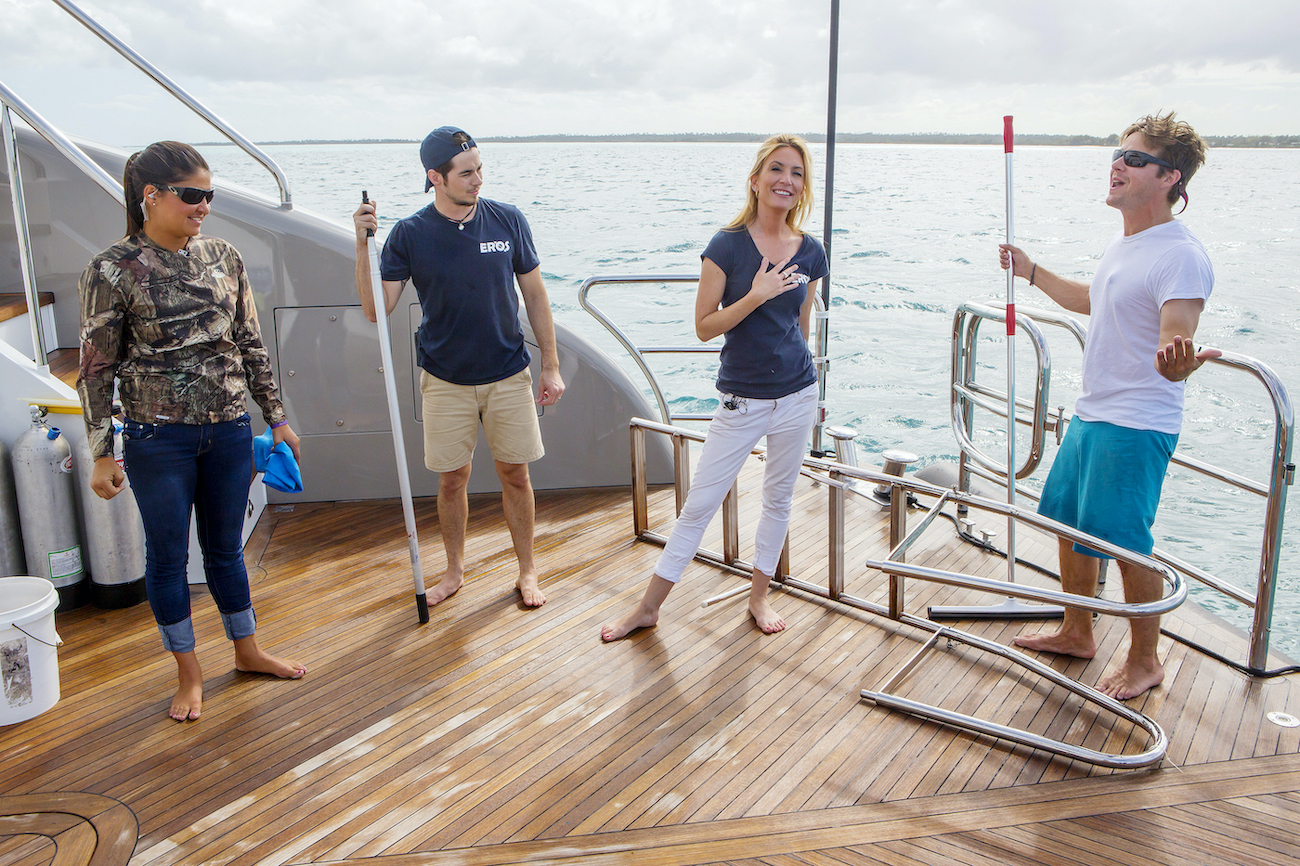 "We're supposed to adhere to STCW [the International Convention on Standards of Training, Certification, and Watchkeeping for Seafarers] when we're working on Below Deck. But if we're on anchor, things get kind of gray area and muddled," he told The Baltimore Banner.
"And then also, when we get off charter, and they're [the producers are] like, 'Oh, you know, go out, have dinner, have a good time.' You're like, 'I'd rather just get some sleep.'"
"And they're like, 'No, you're gonna drink. You're gonna drink and you're gonna stay up until four in the morning, and you're going to like it!'" he exclaimed.
Mixing crew personalities: How producers craft reality-TV gold on 'Below Deck'
Lucas said the top question he gets about Below Deck is if it's scripted. "And my answer is always the same, which is, it's not scripted, but it's facilitated," he said. "The drama is facilitated in a lot of ways. We're talking about lack of sleep, the crewing, you know, they go really in-depth about the personalities of each crew member and how these crew members are going to be playing off each other."
"We all go through serious background and psychological testing, where they get to understand what kind of personalities we have, what characteristics our personalities have," he added.
He also said Below Deck's recipe for success is how producers mix crew personalities.
"They understand how this Type A personality is not going to get along with this other Type A personality. So let's take this personality and make sure they're working together," Lucas said. "With this very officious rebel who doesn't take well to leadership, well, we're going to put them under this guy, who's also very officious and is big-time on delegating. You know they're not going to get along. They're not going to get along. And then it's, hey, let's put them all on a small boat together. And that's what makes it a great television show."
Why do 'Below Deck' producers want 'green' crew members?
Lucas also reflected on how Below Deck producers include some "greener" crew members in the mix on purpose.
"I think it's necessary to an extent, absolutely," he shared. "I mean, obviously, if they just said, 'Oh, we're going to get a bunch of people who have done yachting before, and they know what they're doing, put them together,' there wouldn't be a television show. People who actually charter yachts in the real world, they're not like this. I mean, these guys [the clients on Below Deck] are still paying a lot of money. Surely, $35,000 isn't chump change."