Eddie Murphy on His Michael Jackson Impression: What Did the Pop Legend Think?
Eddie Murphy is well-known for busting out celebrity impressions during his standup routines (and on Late Night appearances). From Stevie Wonder and Muhammad Ali to Tracey Morgan, Michael Jackson, and Bill Cosby, Murphy's been conjuring riotous laughter with his impressions for decades on end.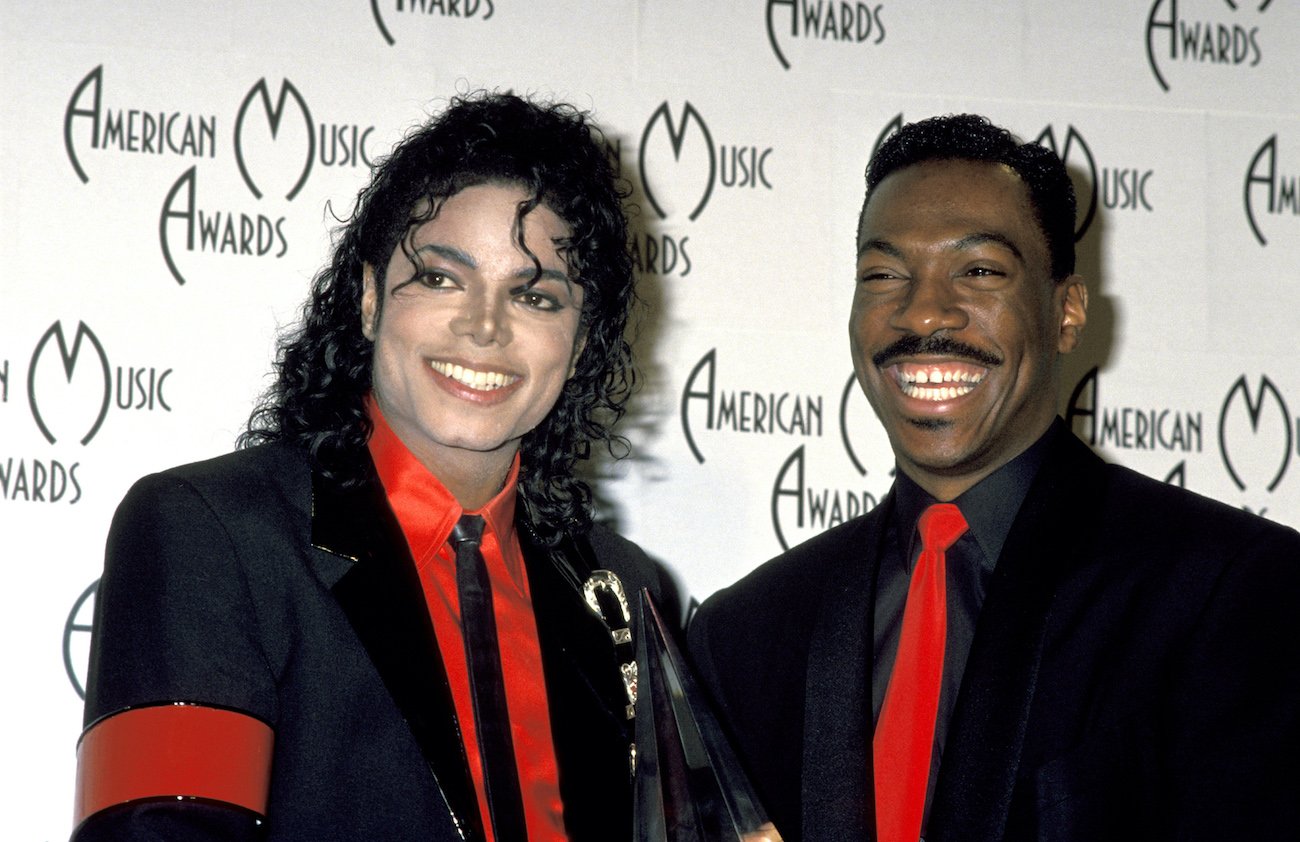 During an interview with The Guardian, Murphy talked about his relationship with Michael Jackson — from their friendship to their musical duet "Whatzupwitu," as well as how the "Thriller" singer responded to his impression. And, based on what Murphy shared, it's clear that it was all in good fun.
Eddie Murphy on his Michael Jackson impression
Murphy and Jackson collaborated for "Whatzupwitu" in the early 1990s, and the song came out — with an associated music video of them dancing in the clouds — in 1993. Yet, about a decade before the track's release, Murphy imitated Jackson's voice and disposition in his famous special Delirious. Murphy told The Guardian about his impression, stating:
"Yeah, I knew Michael for years and years before that track came out. What's interesting, when you watch that routine from Delirious when I'm doing Michael Jackson jokes, that was actually the first time anybody even did a joke about him."
RELATED: Paul McCartney on the Short Session With Michael Jackson That Led to 'Say, Say, Say'
Murphy was, according to the jokester himself, the first man to tease Jackson. So, how did it go over with the pop legend? According to Murphy, Jackson was a good sport:
"It's not mean-spirited at all, it's just all about how he was so sensitive. And then I sang. Michael loved Delirious, it was playful and fun."

Murphy | the Guardian
Murphy went on to talk about an SNL appearance, during which he impersonated Stevie Wonder.
RELATED: Will the Michael Jackson Biopic Cover the Pop Star's Entire Life?
Murphy on imitating Stevie Wonder and Michael Jackson: Why he got away with it
Murphy explained that he was close to both Wonder and Jackson; thus, he was able to tease them (as friends do). He shared:
"Michael and Stevie were people that I knew, and they were part of my social circle. I was able to play around and poke fun – they would never get mad. If you look at it, and compare it to the stuff that people are doing now, it's totally not mean-spirited…"

Murphy | The Guardian
Murphy went on to talk about his music career, which may not be his claim to fame (as is the case with Wonder and Jackson). Yet, his musical inclinations have resulted in a few memorable numbers, including his first song, "Party All the Time," which Rick James produced.