Eddie Murphy Swears That This 'Coming to America' Character Originated the Mic Drop
Eddie Murphy's highly anticipated sequel to 1988's Coming to America is set to release on March 5. Titled Coming 2 America, the film picks up 30 years after the events in the original, with some unexpected twists.
Murphy will star in multiple roles within the film, although details about which are still sparse.
The Golden Globe Award-winning actor also played four extremely-popular characters in the first movie, although one, in particular, is more influential than others.
Murphy claims that Randy Watson, a soul singer from the fictional band Sexual Chocolate, was the originator of the microphone drop so many entertainers do today.
Eddie Murphy says Randy Watson from 'Coming to America' was the first person to drop the mic after performing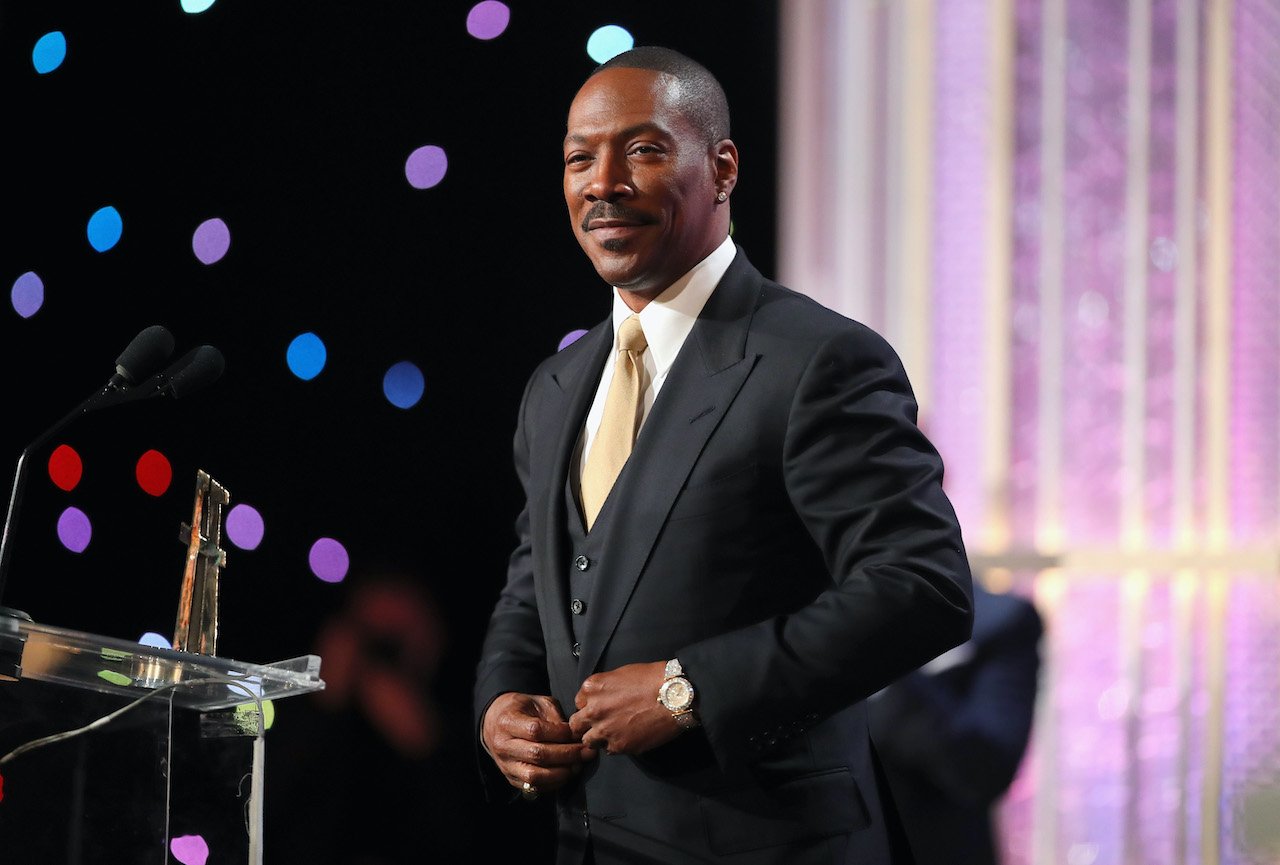 RELATED: Eddie Murphy Had No Intention of Making a 'Coming to America' Sequel at First
Related post url: 
Murphy discussed the controversial origin of the iconic mic drop during a recent appearance on The Tonight Show Starring Jimmy Fallon. Apparently, there's a debate about whether or not he was the first to do it.
"I don't know what anyone is debating about, 'cause I heard somebody say—somebody was like, 'Oh, it started with the rappers,'" Murphy said.
Regardless of the speculation, Murphy assures that Randy Watson was the first do it."
"The very first mic drop ever, ever, where it's like, 'What I said was so fly, there's nothing left to say, and I'm dropping the mic, that's Randy Watson," Murphy said.
Eddie Murphy says he used to throw his mic, but never dropped it after a show
Murphy also mentioned that prior to Coming to America he'd had his own experiences tossing mics down after his performances. However, they weren't quite the same as the mic drops we see today.
"Now, in 1983, at the end of Delirious, I threw my mic down and it slid down to the ground, but that wasn't a mic drop," Murphy said. "I said, 'Thank you. Good night.' I used to throw the mic down, cool. It wasn't like a, you know, I crushed it and dropped. The very first one to do that is Randy Watson."
Murphy is so confident that he originated the mic drop that he dares viewers to find a clip of anyone else doing it before him.
"And I defy anyone to find any footage of anyone doing that before Randy Watson," Murphy added.
Eddie Murphy improvised the entire Sexual Chocolate performance
Murphy revealed another impressive fact when he admitted that he improvised the performance scene with Randy Watson's band, Sexual Chocolate.
"And you know what? That was improvised," Murphy said. "That was an improvised moment, and the name of the band, Sexual Chocolate, that night I must've said 10—every take I would say a different name to the band. 'This is my band so and so,' and it would just get more and more ridiculous. Then that was the ridiculous one that stayed in."
Coming 2 America will be available for streaming on March 5, and Coming to America is currently available for streaming on Amazon Prime Video.