Eddie Murphy's Short-Lived Music Career Is Trending on Social Media – a Look Back at His Singing Career
Many social media users are clutching their pearls over the discovery that legendary comedian Eddie Murphy's career includes a short-lived singing career. Not only does Murphy credits as a background singer on music for other artists, but he also has two albums and had a lead role in an Oscar-nominated film.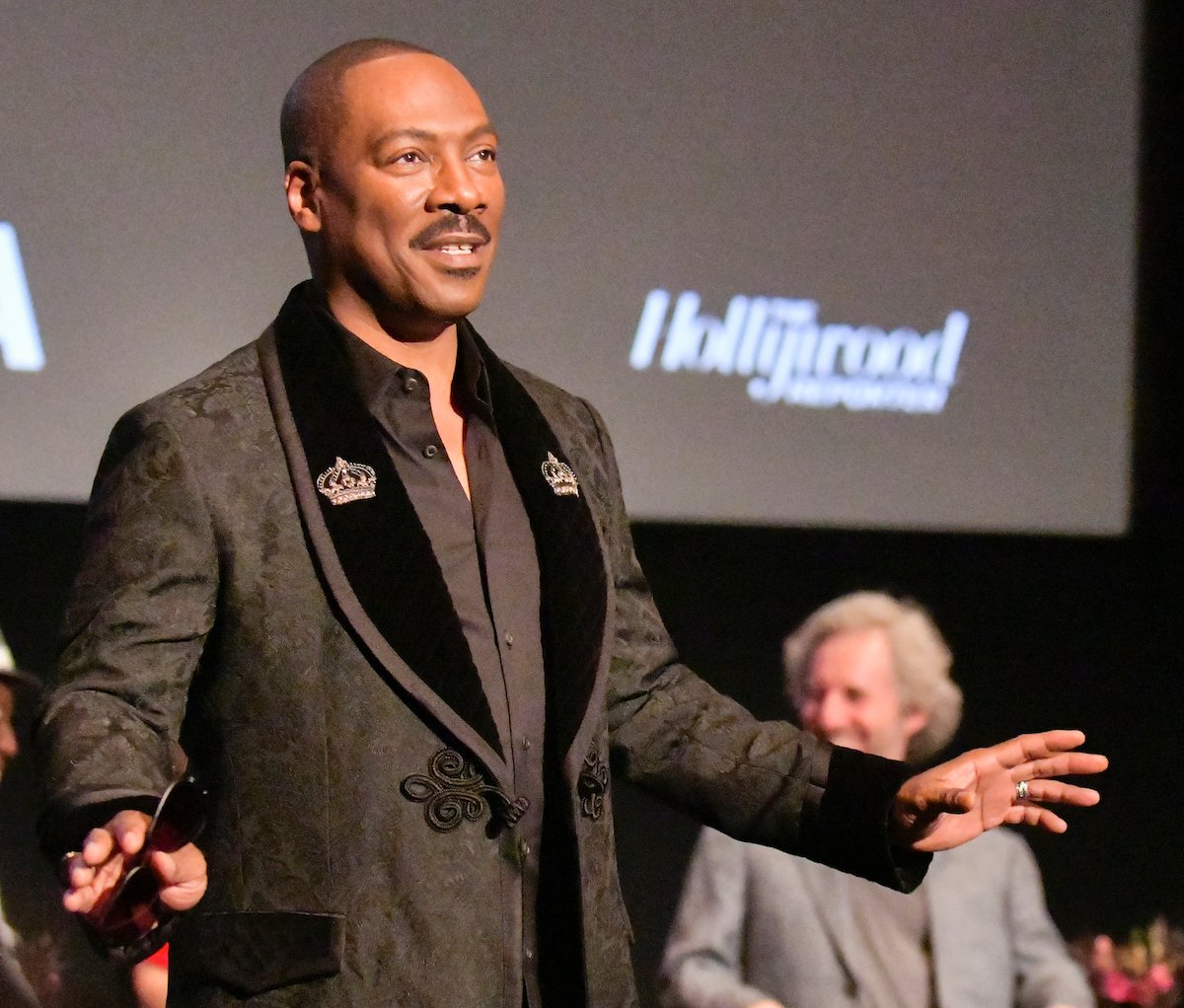 Eddie Murphy finds moderate success with his music
Murphy may be the funny guy but he takes his singing chops seriously. One of his first major professional singing gigs is providing background vocals to songs by The Bus Boys. In 1982, Murphy decided to take his singing career to the next level and release an album. 
His self-titled debut album is through his time on Columbia records. The album features audio from Murphy's comedy tours as well as original music. His single "Boogie in Your Butt" became a minor hit on the R&B charts.
It wasn't until Murphy's sophomore album that his music received traction. "Party All The Time" is the lead single from his sophomore album. Rick James is producer on the dance track.
The song has a funk vibe and features an accompanying music video. Critics did not like the song, but fans did. It was frequently in motion on several music video programs. "Party All The Time" peaked at No. 2 on the US Billboard Hot 100 Singles Chart. 
But some of Murphy's die-hard fans never caught on to his musical aspirations and Murphy doesn't care. In a 1993 interview with The Baltimore Sun, Murphy opens up about criticism of his music. 
"When I did my first record, I remember one of the things that a critic said was that I didn't really sing, that I did, like, impressions" he recalls. "So you can't really take my voice seriously, because I could be just doing an impression. I thought that was the weirdest thing I had ever heard."
Murphy insists he does not have to choose between music or comedy, saying, "I'm a musician, right? Just because I've been blessed, and I can make movies for a living, doesn't mean I shouldn't nurture my other talent."
Eddie Murphy shows off his singing chops in 'Dreamgirls'
Murphy did not release any additional full-length studio albums but his love for singing did not die. In 2006, he was able to show off his performance skills while portraying Jimmy Early in the musical drama Dreamgirls. 
The film is an adaptation of the Broadway musical and features music from the play and original music for the film. All songs featuring Murphy on the soundtrack and throughout the film include Murphy's own vocals.
Murphy understands his role as Jimmy is risky, but doubles down on his passion for singing. "I've sang [sic] my whole life, I've been singing for years and years," he tells Chuck the Movieguy in a 2006 interview.
"I don't think of myself as a singer. I'm an artist and I enjoy doing a bunch of different types of things," he says. "I wouldn't say that I'm a singer or an actor or that I'm even a comedian. I'm an artist and I just do a bunch of different stuff."
Unlike his previous musical endeavors, critics found Murphy's role in Dreamgirls impressive.
"Eddie Murphy's James Early is the best thing he has done for more than 20 years – since 48 Hrs. and Trading Places," a review in The Guardian reads. "With a maturity and depth of feeling he's rarely shown before.
The last single Murphy released is his 2013 collaboration with Snoop Dogg, a reggae track "Red Light."