Who Is Eddie Vedder's Daughter, Olivia Vedder, Who Sings 'My Father's Daughter'?
The centuries-old adage, "The apple doesn't fall far from the tree," certainly applies to Eddie Vedder's daughters, Harper and Olivia. The youngest daughter, Harper Vedder, took her turn in the spotlight first, with a sweet rendition of Neil Hefti's Batman theme. Today, the voice of Vedder's other daughter, Olivia, can be heard on the soundtrack to the Sean Penn vehicle, Flag Day. So, who is Olivia Vedder?
Eddie Vedder's early years and first divorce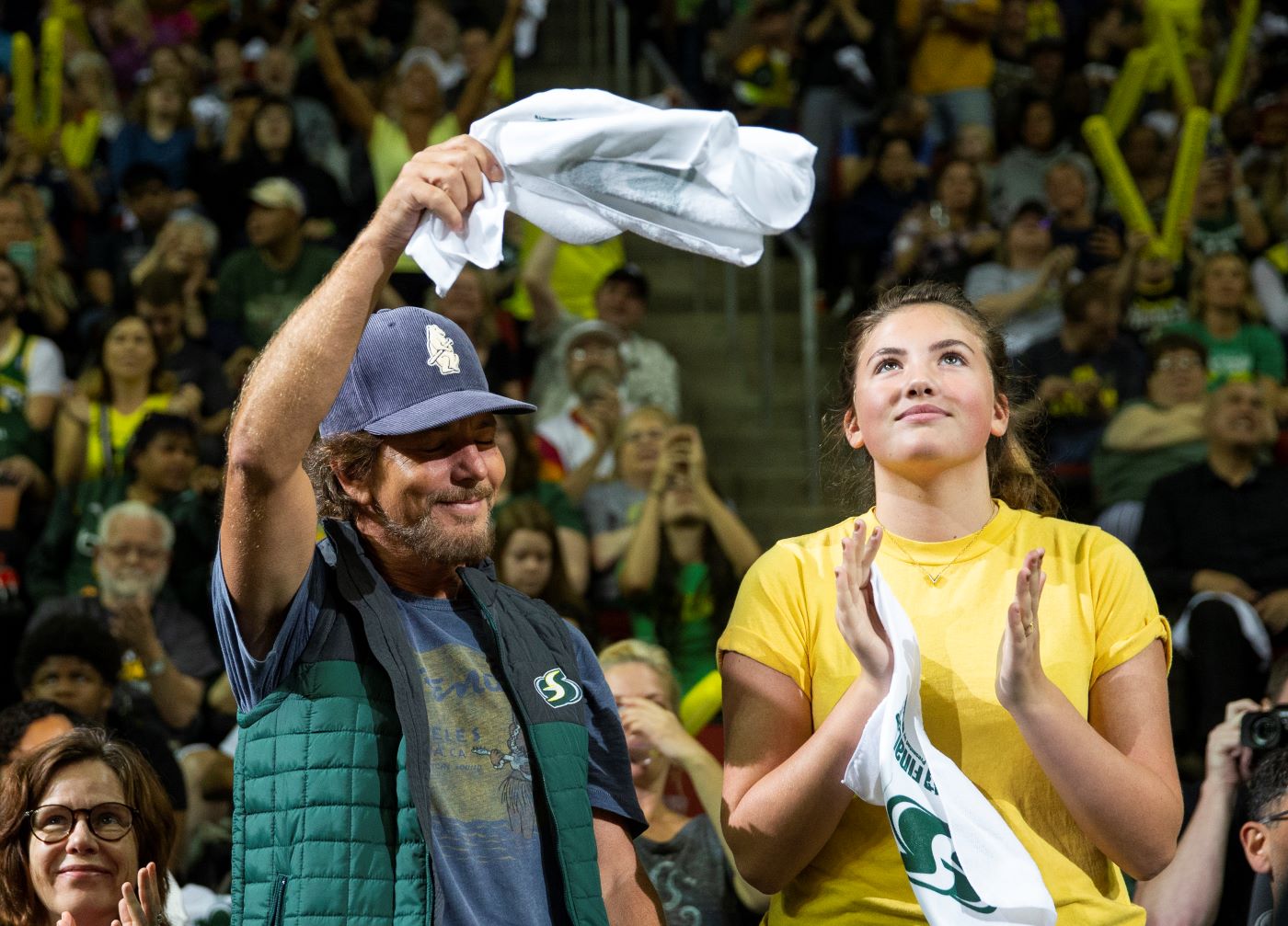 Former San Diego surfer, Eddie Vedder, split southern California for the Pacific Northwest to join a band called Pearl Jam, and he didn't arrive empty-handed. Vedder was invited to join the band on the strength of an audition tape that showcased his original lyrics and impassioned baritone singing of the songs "Alive," "Footsteps," and "Once."
While Pearl Jam, Nirvana, and Soundgarden were racing up the alternative pop charts in the early 1990s, Vedder wed his longtime girlfriend, Beth Liebling. She played bass under the stage name Sadie 7 in Seattle grunge band, Hovercraft, and sometimes Vedder sat in on drums. According to Zimbio, the couple had no kids and divorced in 2000.
10 years later, the "Better Man" singer tied the knot again, and so far, his marriage to Jill McCormick appears to be thriving.
Some may think it ironic that Vedder married a fashion model, especially after his song "Satan's Bed" made his feelings about women who make a living off their looks so apparent, notes Nicki Swift.
"Who made, who made up, made up the myth that we were born to be covered in bliss?"
Vedder and his second wife have two daughters who arrived in advance of their parents' nuptials. Olivia was born in June 2004, and Harper Moon arrived in September 2008.
Vedder's talented and philanthropic daughter
Olivia Vedder's mom, Jill, is the vice-chairman of a research partnership that aims to treat and cure a visible skin malady called Epidermolysis Bullosa, or EB for short. According to WebMD, EB is a genetic condition that can affect any part of the body, inside or out. The disease may be apparent at birth or appear later in life. In either case, EB causes unsightly blisters, makes swallowing difficult and causes patches of skin to fall off.
As beautiful as she is, Olivia didn't hesitate to undergo makeup that gave her the appearance of being wounded to flip the script as far as Instagram and other social media standards of beauty are concerned. According to Metalhead Zone, the campaign #BeautyIsNotRare is headed by Jill Vedder, Olivia Vedder, and Lucy Beal.
The fathers and children of 'Flag Day' by Olivia Vedder
Olivia Vedder's "My Father's Daughter" came late in the music mix of Sean Penn's Flag Day. As Penn revealed in Rolling Stone, Eddie's daughter's rendition of the song her dad co-wrote with Glen Hansard was included at the last minute and was "the perfect cherry on top of the sundae."
Olivia isn't the only child of a notable actor to appear in Flag Day. Two of director Penn's kids, daughter Dylan Penn and son Hopper Jack Penn, appear in the film, says IMDb.
Roger Ebert's posthumous website explains Flag Day as a story in the 1990s with flashbacks to the '70s. The protagonist is played by Sean Penn, who does double-duty as a movie star and director. Roguish but shopworn, Penn's character, John Vogel, plays a man's increasingly pathetic and broken failure as the film explores transcendence, child molestation, dysfunctional families, and emotional abandon. We don't want to spoil it too much, so let's say the film is worth watching, especially if you enjoy a superb soundtrack.