Elizabeth Olsen and Paul Bettany Improvised an Emotional Scene in 'Avengers: Infinity War'
For Marvel fans, WandaVision has been an emotional ride thanks to the heartbreaking story about the relationship between Wanda Maximoff/Scarlet Witch (Elizabeth Olsen) and Vision (Paul Bettany). The two characters first met in Avengers: Age of Ultron, and WandaVision follows Wanda and Vision after the events of Avengers: Endgame.
While WandaVision has allowed Olsen and Bettany to show off their chemistry and acting skills, the actors have been underrated in the Marvel Cinematic Universe for quite some time. In 2018, Olsen and Bettany revealed they improvised one of the most emotional scenes in Avengers: Infinity War.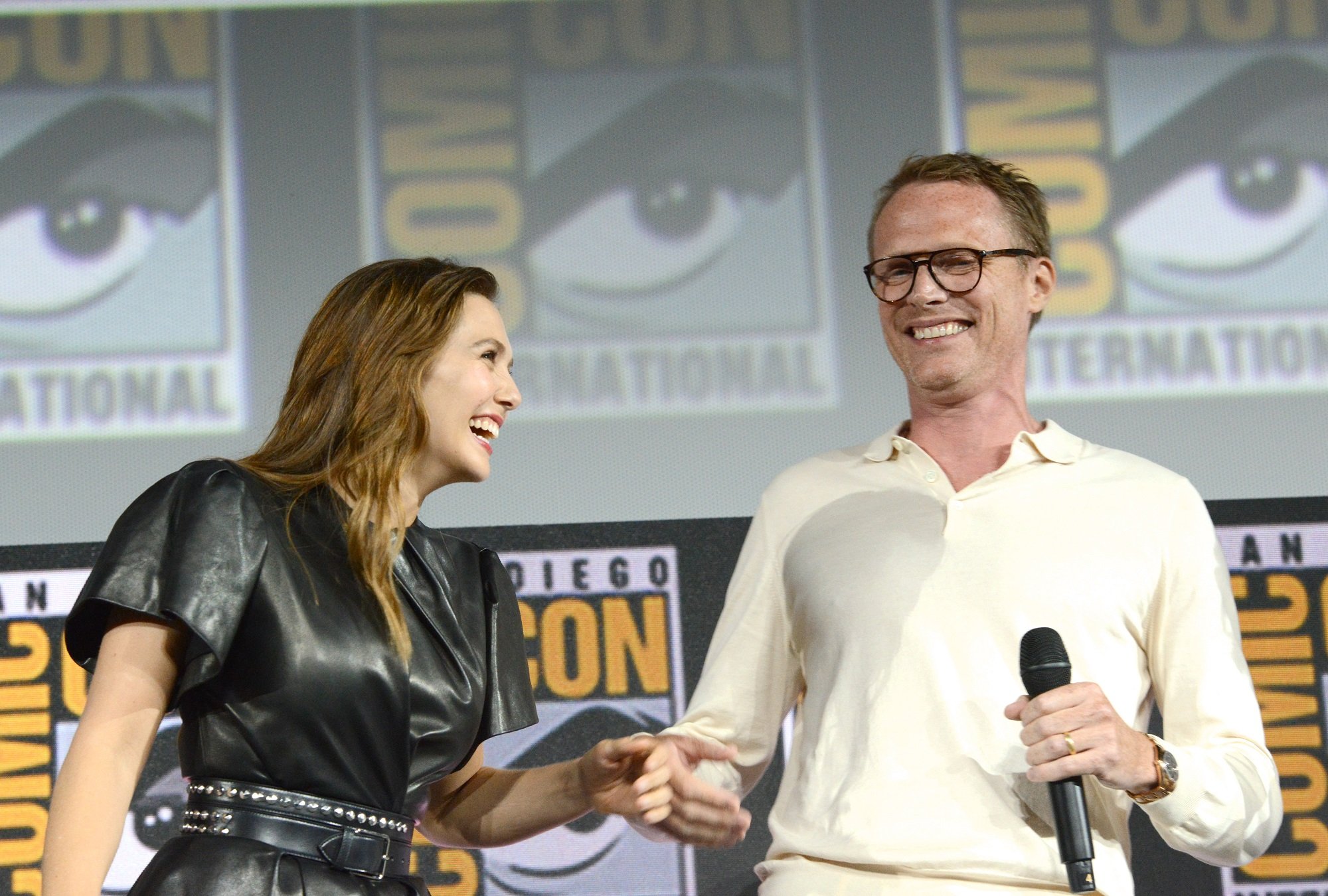 How Elizabeth Olsen and Paul Bettany filmed the 'Avengers: Infinity War' scene
In Avengers: Infinity War, Vision dies twice. The first time, Wanda uses her powers to destroy the Mind Stone so that Thanos (Josh Brolin) cannot obtain it. Thanos then uses the Time Stone to reverse time and take the Mind Stone himself, killing Vision again in the process.
During an interview with MTV in 2018, Bettany described what it was like to film Vision's first heartbreaking death scene with Olsen.
"It was about 100 degrees and we were really, really sweaty, and the Russo brothers ran over to us and went 'OK, so the entire beating heart of the movie is now on your shoulders' and then they went off," Bettany said.
After filming the scene, Olsen and Bettany were told to improvise the next few takes.
"I sort of looked at Lizzie and she looked at me and I thought, 'I'm a robot and you're a witch. How're we gonna do this?'" Bettany told MTV. "So we actually went off and we sort of wrote some stuff together, just figured it out and then we came back in."
Elizabeth Olsen wanted the scene with Wanda and Vision to have meaning
In 2018, Bettany and Olsen were interviewed by Kevin Smith for a panel at ACE Comic-Con. During the interview, the actors were asked about how they handled the emotions of Vision's death scene.
"That was something that we talked about first since before we started shooting," Olsen said. "We talked about what does that moment mean? What does their arc mean? We're really trying to ground it as much as possible."
Bettany added, "Well yeah, and then you do it and they say, the directors come over and say 'Can you just do — now just improvise it.'"
To Bettany, what helped sell the difficult scenes in Avengers: Infinity War was the fact that the actors have worked together for so long.
"Lizzie and I have become friends," he said. "You've become real friends with these people and that's been a real privilege I think… we're really a team."
Marvel actors are often allowed to improvise
Part of what makes MCU movies so great for fans is how well the actors portray their characters. In part, this is because Marvel directors often let the actors improvise certain takes.
Many well-known scenes in Marvel films were improvised, notably, Dave Bautista's "I'll do you one better: Why is Gamora?" line as Drax in Avengers: Infinity War.
"The script only said, 'Where is Gamora?' 'I'll do you even better: Who is Gamora?' And then one day Bautista just goes, 'I'll do you one better: Why is Gamora?'" Christopher Markus, a screenwriter for Avengers: Infinity War, told Yahoo! Entertainment. "It's like, 'OK, you're very good at your job.'"