'The Nanny': Elizabeth Taylor Was Possessive Of Her Iconic Jewelry While Guest Starring
Elizabeth Taylor guarded her jewels while appearing on 'The Nanny.'
When one thinks of the show The Nanny, star Elizabeth Taylor is probably not the first name that comes to mind. However, the legendary actor did guest-star on the show, making what turned out to be one of her last on-camera appearances. 
Taylor had been retired from theatrical movies for several years by the time The Nanny arrived, but Taylor made one of several guest appearances she would make on the small-screen late in her career, with her roles ranging from an infant to her indefatigable self.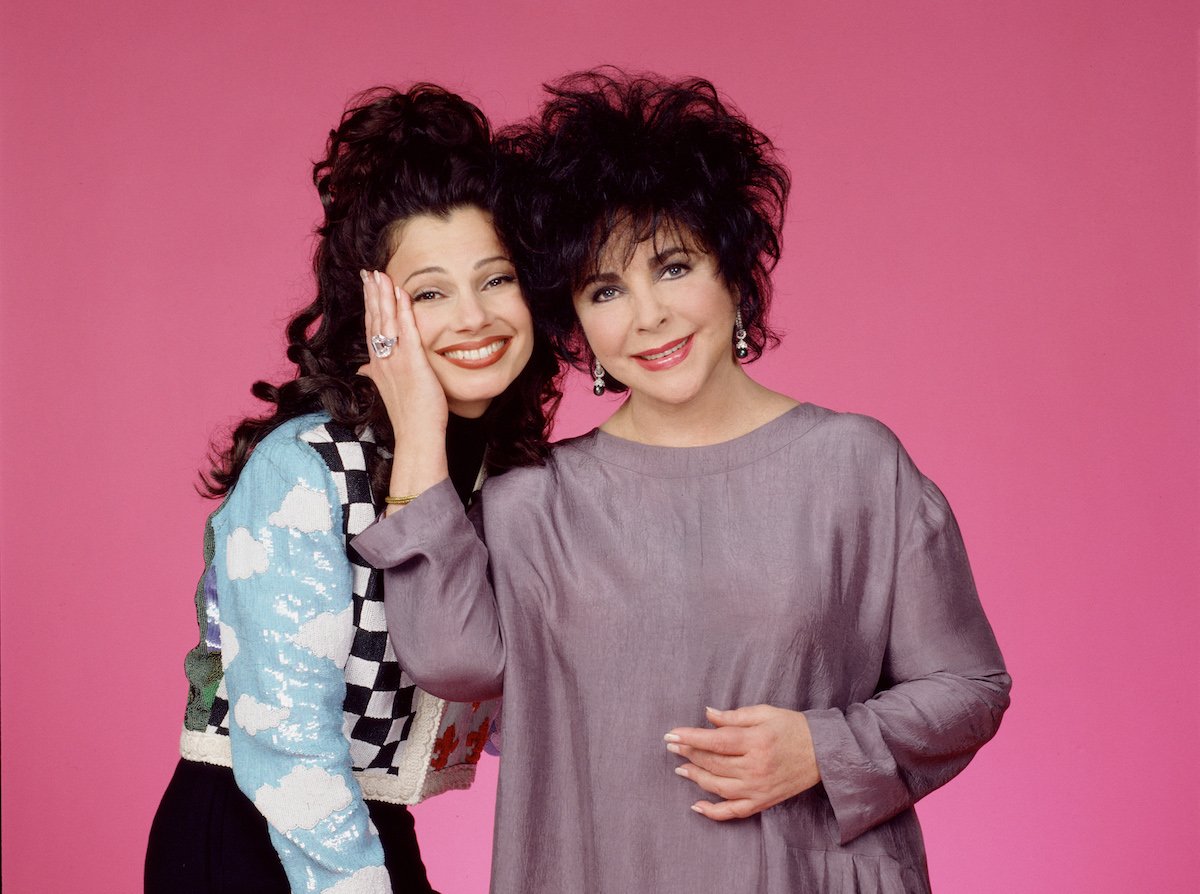 Who was Elizabeth Taylor?
One could argue that Elizabeth Taylor's life spanned the history of movies after the silent era, going all the way from the Golden Age of Hollywood to the ongoing era with Tinseltown's obsession with franchises. She was one of the relatively few actors to successfully transition from a career as a child star to acclaim as an adult actress. 
Per Biography, one of her first major credits came in the 1944 movie National Velvet, a huge hit about a young girl's love for her horse. At the age of 14, she stared into the glare of the celebrity spotlight, which never truly went away from her after that.
She graduated from ingenue roles like the original Father of the Bride in 1950 to more adult roles like Maggie in Cat on a Hot Tin Roof. 
Especially after the 1960s, however, Elizabeth Taylor generated more headlines for her stormy private life than for her screen work. She won Oscars for her performances in Butterfield Eight and Who's Afraid of Virginia Woolf.
But it often seemed that people were more interested in her eight marriages, especially to Richard Burton, whom she married twice. After 1980, she appeared in television more often than she did in the movies.
What happened when Elizabeth Taylor guested on 'The Nanny?" 
According to Mental Floss, The Nanny had been running for two seasons when Elizabeth Taylor made her guest appearance on the show in 1996.
Fran Drescher starred as a woman from Queens who becomes a nanny for three children at a ritzy mansion owned by a Broadway producer. Drescher's character is not exactly a worldly type, so a culture clash ensues. 
There was already a Taylor on the show — Renée Taylor, who played Sylvia Fine, Fran's mother. She told TV Line that her favorite episode was the one Elizabeth Taylor starred in, called "Where's the Pearls?"
"I thought it was the funniest [episode], and it was fun to be with her," she said.
That said, Elizabeth Taylor wasn't going to let her co-stars handle her jewelry. She was wearing a not inconsiderable ring on the set, and Renée Taylor asked if she could try it on, but Elizabeth Taylor reportedly said no, going so far as to slap her hand away. 
What other TV shows did Elizabeth Taylor appear on?
Television became Elizabeth Taylor's primary medium in the 1980s, although as usual, she made more headlines for her offscreen life. She became an outspoken AIDS activist after the disease took the life of her longtime friend, Rock Hudson, and the Academy awarded her with its Jean Hersholt Humanitarian Award in 1993 for that work, among others. 
The Nanny was just one of Elizabeth Taylor's gigs around that time — one of the most prominent was her 1992 appearance on The Simpsons as Maggie where she spoke a single word: "Daddy."
She also made her final film appearance in The Flintstones in 1994, then appeared on Murphy Brown in 1996. She passed away on March 23, 2011 at age 79. 
The Nanny saw other guest stars throughout its run, including Donald Trump and Jon Stewart, before the former was president and the latter was host of the Daily Show. Its run ended in 1999, although episodes can be viewed on HBO Max.