Ellen DeGeneres Joked to Kris Jenner That Kourtney Kardashian Only Filmed 'KUWTK' Again for Money
Keeping Up With the Kardashians is coming to a permanent end, and we're sure most members of the Kardashian/Jenner family will miss the show. It seems Kourtney Kardashian might not, though. She had a complicated relationship with the show and her family.
At one point, Kourtney decided to appear on the show less — but she ultimately came back. And Ellen DeGeneres joked to Kris Jenner that Kourtney only came back on the show for money. Here's what went down on The Ellen DeGeneres Show.
Kourtney Kardashian decided to take a step back from filming 'Keeping Up With the Kardashians'
Kourtney had been featured on KUWTK since 2007, but she certainly had a complex relationship with the show. While it helped launch her family to superstardom, it also showed all the negative aspects of her relationship with Scott Disick and the fights between her and her sisters. Ultimately, she chose to take a step back from reality TV in 2019.
"I've just decided to spend more time as a mom," Kourtney told Entertainment Tonight in November 2019. "And, you know, put more of my energy there."
It seems Kourtney wasn't completely finished with the show, though. "I'm not saying goodbye," she verified to Entertainment Tonight.
Khloé and Kim weren't too concerned about losing Kourtney, either. "We definitely love Kourtney and we will miss Kourtney and whatever she decides to do, but, people come, people go all the time," Khloé said. "Kourtney might leave this week, she'll be back."
Ellen DeGeneres joked to Kris Jenner about Kourtney's return
Jenner has visited The Ellen DeGeneres Show many times in the past, and when she came on the set to speak to DeGeneres in early 2020, Kourtney's involvement in KUWTK was mentioned.
"All right, so, Kourtney is now — she's in the show?" DeGeneres asked Jenner.
"She's 40," Jenner initially stated, which appeared to surprise DeGeneres and the audience.
"She's 40. OK," DeGeneres echoed back.
"Well, she sounds like she's going to talk about my kids, like, 'tell me about little Kourtney,'" Jenner said to the audience.
"Well, I am," DeGeneres stated. "She wasn't in the show. She wasn't going to come back."
"Yeah, she's filming again," Jenner verified.
"OK. Is it because of this?" DeGeneres said while holding up a handful of cash.
"I gave her some of this," Jenner added while also picking up the wads of cash. She then noted that she thinks Kourtney just needed "a little bit of a break" from the show. "You know how we all hit a tipping point. And she hit a wall. She was frustrated. She felt under-appreciated and that her sisters didn't understand her boundaries."
Jenner then noted that Kourtney's now "seen the light." And DeGeneres quickly corrected that statement with, "money."
Jenner told DeGeneres her whole family really enjoyed filming the show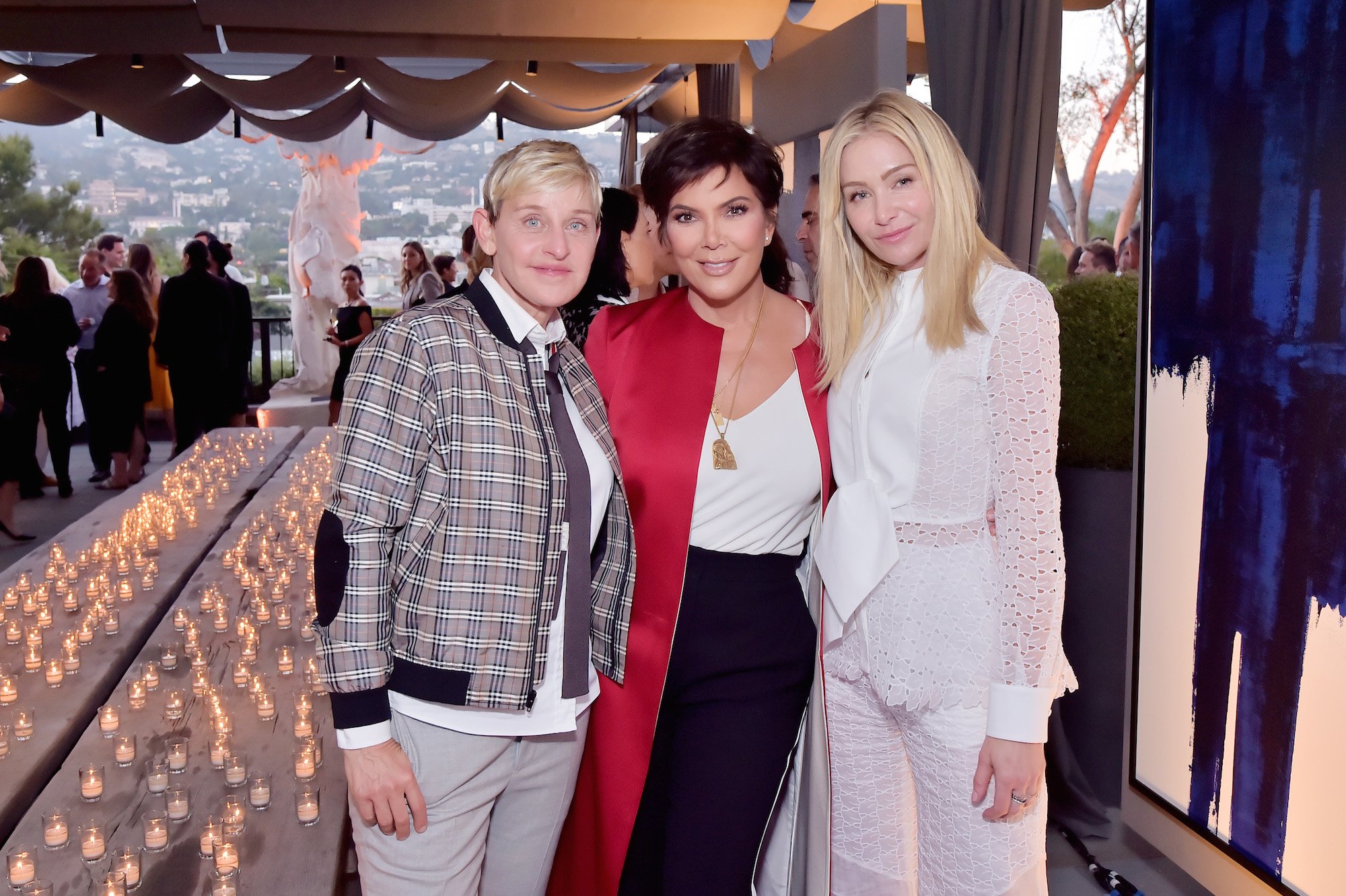 Continuing on with the conversation, Jenner noted to DeGeneres that her entire family loved creating the show, as it brought them together more than it drove them apart.
"I think she just — she would miss us," Jenner added in regards to Kourtney quitting.
DeGeneres then noted that the Kardashian/Jenner family doesn't necessarily need the show at this point for income, as they have plenty of cash flow. "The show is important for business and they both kind of help each other, but ya'll are doing fine without that," DeGeneres added. "So you obviously love it." But the comedian then asked Jenner if she gets worried when her daughters fight aggressively while filming.
Jenner said she rarely sees her daughters get into wild fights, but when she does, it upsets her. "I was like, you guys can't be fighting with each other," she said. "That's ridiculous. Like, you know, grow up."
It looks like once season 19 of KUWTK ends, fans will see a lot less fighting between the Kardashian/Jenner family. And if DeGeneres' jokes about Kourtney are accurate, we'll have to wait and see if she launches any new ideas for more cash flow.
Check out Showbiz Cheat Sheet on Facebook!