How Does Elliot Page Feel About Continuing to Play Vanya in 'Umbrella Academy' Season 3?
The Umbrella Academy cast and crew reunited earlier in 2021 to film a new season of the hit Netflix production. Ahead of season 3's filming, Elliot Page, who plays Vanya Hargreeves on Umbrella Academy, came out as trans and became the first trans person to grace the cover of Time Magazine. Netflix announced that Page would reprise his role as Vanya — but how does the star feel about continuing to play the eerily powerful Hargreeves sibling? Find out here.
Page came out as transgender via social media ahead of filming season 3 of 'Umbrella Academy'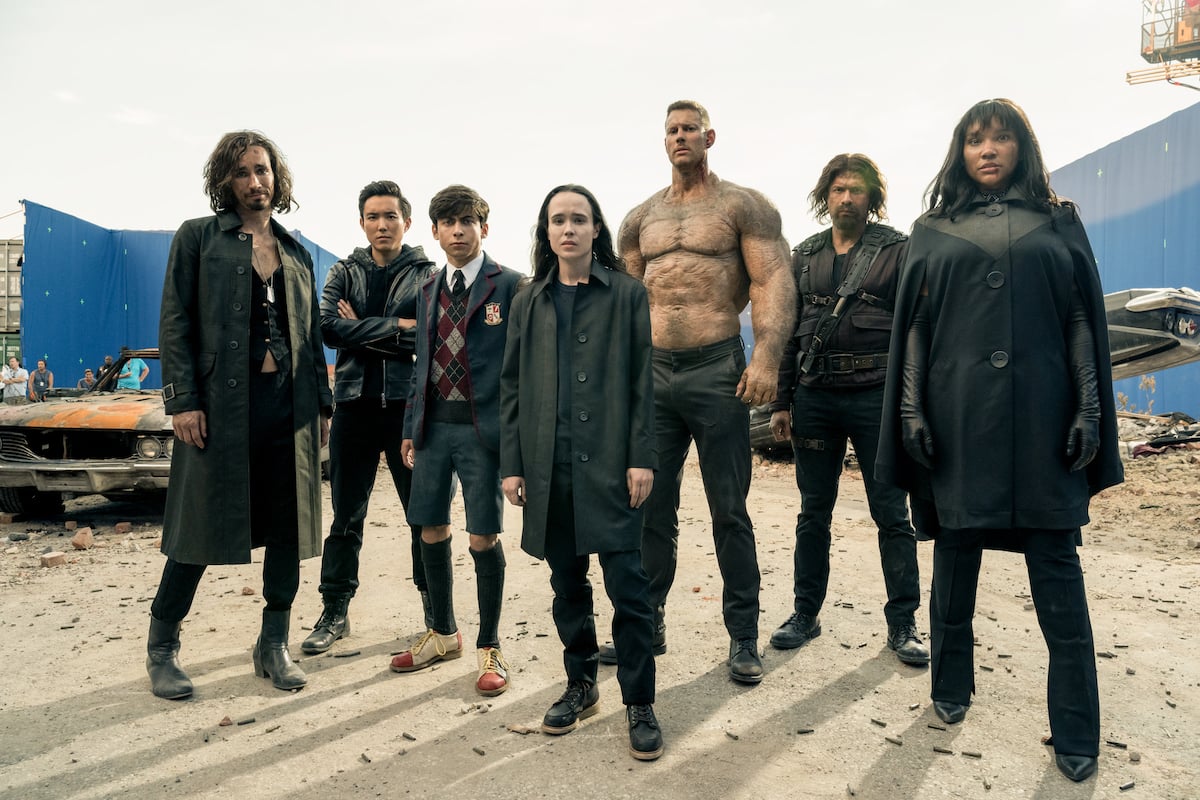 Page concluded 2020 in the most powerful way as he came out to his fans as nonbinary and transgender. The star took to Instagram that December to address his fans in a lengthy post that read in part, "Hi friends. I want to share with you that I am trans. My pronouns are he/they, and my name is Elliot." He added, "I can't begin to address how remarkable it feels to finally love who I am enough to pursue my authentic self."
The star received an outpouring of love and support from several A-listers. Netflix congratulated Page, tweeting, "So proud of our superhero!" The star graced the cover of Time Magazine in March 2021 and spoke to the publication about his journey to embracing his true identity. Page said, "I'm really excited to act, now that I'm fully who I am in this body."
Before coming out as trans, Page was one of the major queer celebrities in Hollywood, having starred in hit projects like Juno, Smart People, Inception, and To Rome with Love. He currently stars as one of the five Hargreeves siblings in the Umbrella Academy.
The star previously played a female character on the Netflix show
Elliot Page's character Vanya on the Umbrella Academy has had a tough ride leading up to season 3. In the first season, Vanya's supposed powers are made evident after being gaslighted into realizing her full potential. The second season focuses on the siblings as they go back in time, but this time, Vanya is more in control of her powers.
In both seasons, Page's role is characterized as female. However, when the star made the news about his transition, Netflix announced that it would be changing his credits immediately, including other projects currently streaming on the platform. Fans were also thrilled with the news that Page will be reprising his role, as his character is one of the most compelling ones, and the writers are yet to explore how Vanya's powers work. As such, fans are heavily relying on the third season to see where Vanya's journey takes them.
According to Screen Rant, Page has been in high spirits while filming the third season. The star said returning to work on the show after coming out was sometimes awkward, but admitted the overall experience is validating as his co-stars "see and acknowledge" him.
What should we expect from season 3 of 'Umbrella Academy'?
Season 2 ended on a major cliffhanger that left fans with more questions than they had answers to. Showrunner Steve Blackman confirmed that the upcoming season would pick up right where the sophomore season left off. As the Hargreeves siblings tampered with the timeline quite frequently, the consequences are evidet by the Sparrow Academy in the alternate timeline.
Season 3 is set to dive into how parallel the Sparrow Academy is to the Umbrella Academy. The details about the release date have been hush-hush, but the show is likely to hit screens in late 2021 as a best-case scenario, or in early 2022.