Elon Musk Tweeted His Baby With Grimes Is Due on May 4, But Also That She's 'Mad' at Him
Celebrity couples are often leaving fans with raised eyebrows, and Elon Musk and Grimes, aka Claire Boucher, are no different. The Tesla CEO and SpaceX founder has been with the electropop musician for years, and while there's quite a large age gap between them, they appear to be the perfect, quirky fit. Their collective intelligence and offbeat nature make them an ideal pairing.
Now, Grimes is nine months pregnant with her first child — and Musk is the father. Musk just gave away when the baby's due in a tweet. And he also stated that Grimes is upset with him currently. Here's what's happening.
Elon Musk and Grimes have been dating since April 2018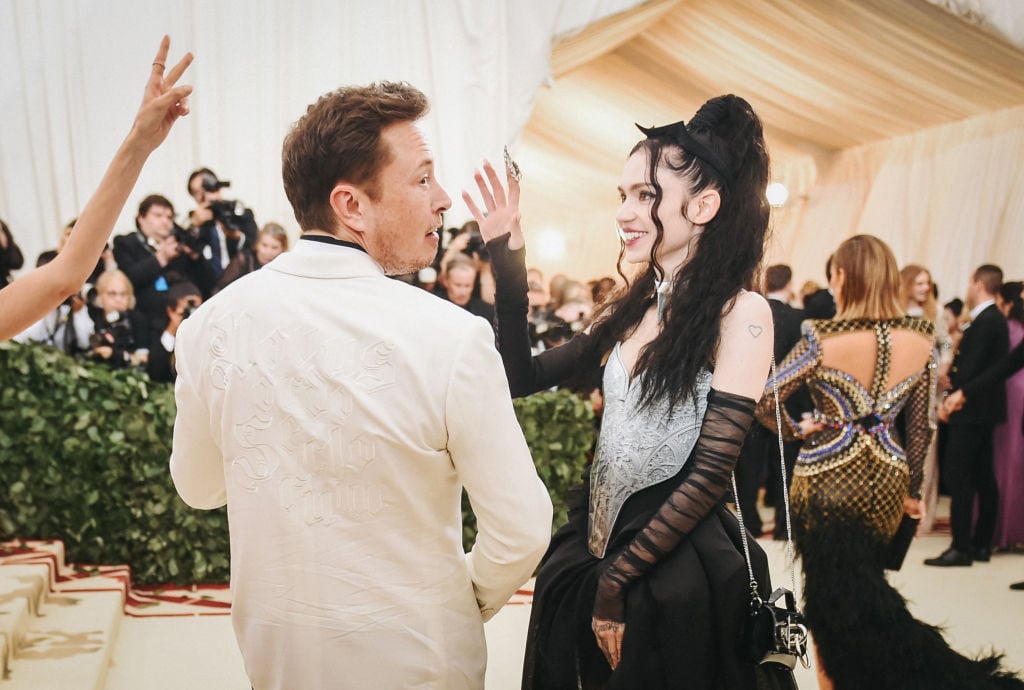 Musk has had a number of famous girlfriends in the past, and he's been married a few times as well. While those marriages didn't seem to work out for him, his relationship with Grimes is working so far. The two have been together since April 2018, and they're still going strong as Grimes' due date approaches.
So, how did they meet? It all started with Twitter. Cosmopolitan notes a source told Page Six, "Elon was researching the idea of joking about Rococo Basilisk, and when he saw Grimes had already joked about it, he reached out to her. Grimes said this was the first time in three years that anyone understood the joke. They were both poking fun at AI." And Grimes has since confirmed this is how they got to talking.
It hasn't been smooth sailing through the whole relationship, though. In August 2018, the duo seemed to unfollow each other on social media — though they quietly resumed following each other in October. And the scandal involving Azealia Banks also provided a ton of unwanted attention.
Grimes posts about her pregnancy on Instagram
When Grimes first posted about her pregnancy, no one knew whether to take it seriously. But it quickly became apparent that she wasn't kidding.
On Jan. 8, 2020, she posted a highly-edited photo of herself showing herself with a child in her belly. And on Jan. 9, she posted yet another photo fully showing off her pregnancy.
Finally, on Jan. 31, Grimes wrote about the pregnancy on Instagram. "Fake or real? Haha. Wow I'm starting to feel bad haha… how do y'all cope with working and having a baby??" she captioned a post of herself. "I'm sorry I haven't been promoting my album properly or on social media more. This whole thing has been a bit of an ordeal."
Grimes then explained that she had some "complications early on" and she felt "woefully ill prepared" going into the pregnancy. "Don't mind my emo energy, but curious what other ppls experience was like," she added. "I didn't even google it, I was just like sure y not hahaha smh."
Musk tweeted about the baby's due date and that Grimes is currently unhappy with him
Musk is no stranger to getting himself into trouble on Twitter. And he recently went on another tweeting rampage after stating, "Tesla stock price is too high imo."
Prior to his statement about Tesla, Musk tweeted, "I am selling almost all physical possessions. Will own no house."
After the Tesla statement, he continued on by posting snippets of The Star-Spangled Banner. Finally, he came to this conclusion: "My gf @Grimezsz is mad at me."
After that, one of Musk's followers commented, "this is the best news I've heard so far. This means you're still together, despite speculation to contrary Maybe that's what this is about. I hope you fair well."
And Musk then added, "Baby due on Monday."
We're not sure exactly what's going on with Musk's Twitter or why Grimes is upset with him (perhaps it's related to the onslaught of tweets). But we're looking forward to hearing more about the baby as the due date approaches.
Check out Showbiz Cheat Sheet on Facebook!