Elton John Blames Drug Use for His Hair Loss
Elton John has spent much of his life in the spotlight, and extravagant fashion and flashy style have been part of his image. 
Life takes a toll on us all, and those of us lucky enough to live into old age will eventually start to show the effects of aging, but celebrities have a particularly harsh lens through which to transition from their youthful glow to a more mature look. Elton John has spent much of his life in the spotlight, and extravagant fashion and flashy style have been part of his image. 
What has also been part of his image — though admittedly much less embraced by the music superstar — is his receding hairline. John has reportedly quietly lamented his hair loss in private, and it's possible prior drug use contributed to the problem.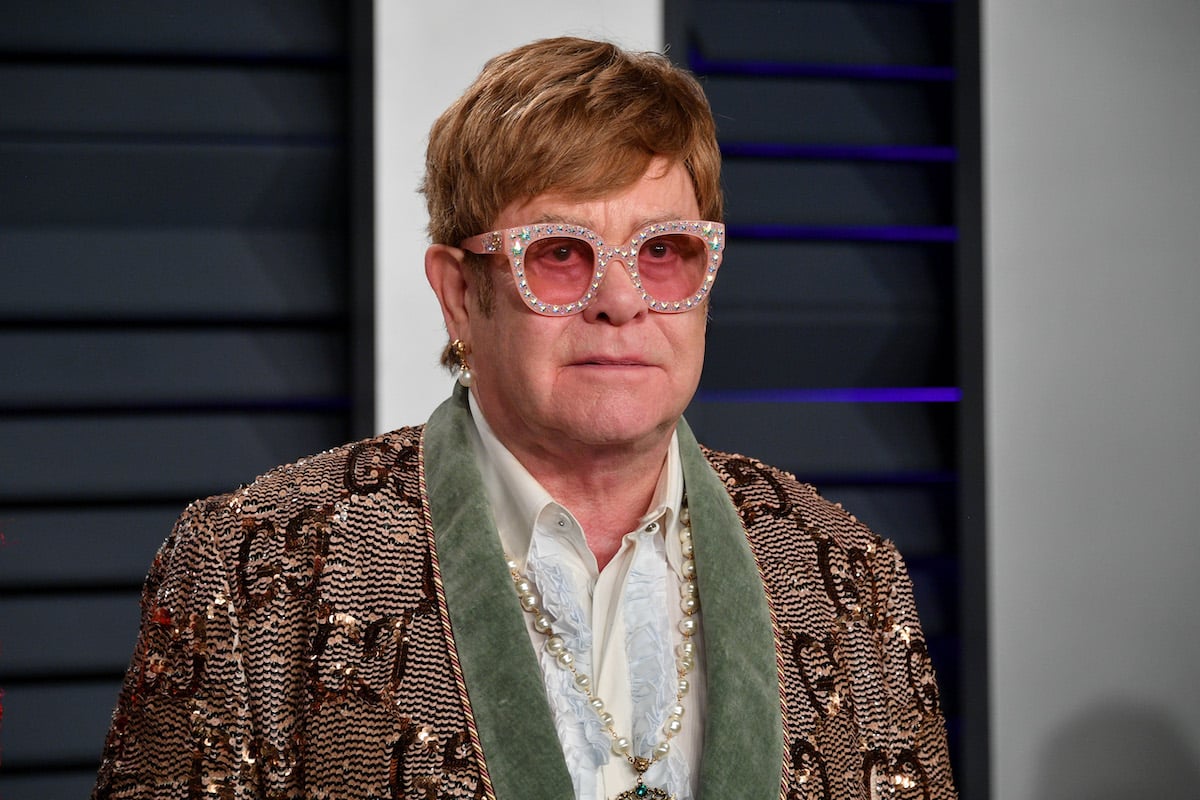 Elton John has one of the most successful musical careers of all time 
As All Music reports, John basically burst onto the music scene in the 1970s and saw his popularity explode. He started playing the piano at four and won a scholarship to the Royal Academy of Music by 11. As a teenager, he left school in pursuit of fame and fortune, and he definitely found both! As he attempted to find his footing in a brutal music business in the 1960s, he built what would become a long collaboration with Bernie Taupin. 
Taupin famously produced lyrics at a rapid-fire pace (reportedly a song an hour!), and John would create music for the words nearly just as quickly. Once John started performing for American audiences in the early 1970s, his future was set. Hit after hit climbed the charts, and he was soon an enormously popular musician with an especially pronounced reputation for putting on amazing concerts. 
Once John — who is now famously an out gay man and champion of the gay rights movement — admitted to bisexuality in the late 1970s, he saw his popularity slide a bit. He was also suffering from exhaustion and facing a lot of stress that he's since admitted was punctuated with drug use and partying that took a toll. He pulled back on the tour schedule and seemed on the verge of burning out. By the 1980s, his cocaine and alcohol abuse had hit a peak, and he underwent throat surgery but did not stop his drug use. 
It wasn't until 1990 that John focused on getting sober and treating his bulimia. At the same time, he underwent hair replacement surgery.
Prior drug use may have impacted Elton John's hair loss
As Ultimate Classic Rock reports, hair loss was a concern for John well before he became famous. In his early days, he admired Elvis Presley, who famously had thick, flowing locks. His mother promptly told him he should enjoy his own flowing hair while he could because family history suggested he'd be "bald as an egg" by age 20. 
Indeed, John's receding hairline was a pronounced part of his appearance. Then, in the mid-1980s, he seemed to have reversed the trend. His hair was notably thicker and more substantial. Even today, at the age of 75, John sports "a healthy off-blond head of hair." 
Part of the bounce back may have been due to his newfound sobriety. John has been drug-free since 1990, but experts like Samuel M. Lam believe that John must use a hairpiece in addition to having undergone surgical procedures because "his hair loss is extensive enough that a hair transplant would not be able to fix the problem with sufficient cosmetic density for him."
What has Elton John said about his hair loss?
The Daily Mail published an excerpt from John's memoirs that tackle the hair loss issue head on. John admits his hair was already thinning when a particularly abrasive dye job left him with little to salvage: "By 1976, there was hardly anything left on top. I hated how I looked."
He explained that he underwent surgery twice, and both times it "hurt like hell." It was all pain no gain, however, because the procedure didn't work.
Why? John speculates: "Perhaps it had something to do with the amount of drugs I was taking. Or perhaps it had something to do with the fact that the one thing they told me I mustn't do in the weeks after the procedure was wear a hat — advice I chose to ignore completely on the grounds that, without a hat, I now looked like something that turns up towards the end of a horror film and starts strip-harvesting teenage campers with an axe."