Why Elton John Didn't Want to Sing 'Rocket Man' in His Dua Lipa Collaboration 'Cold Heart'
Nicki Minaj inspired Elton John's 'The Lockdown Session.' Dua Lipa sang part of "Rocket Man" in the hit song "Cold Heart."
Dua Lipa sings part of "Rocket Man" in her Elton John collaboration "Cold Heart." During an interview, John revealed why he didn't want to sing her part of the song. John also said Nicki Minaj and other rappers influenced his recent songs.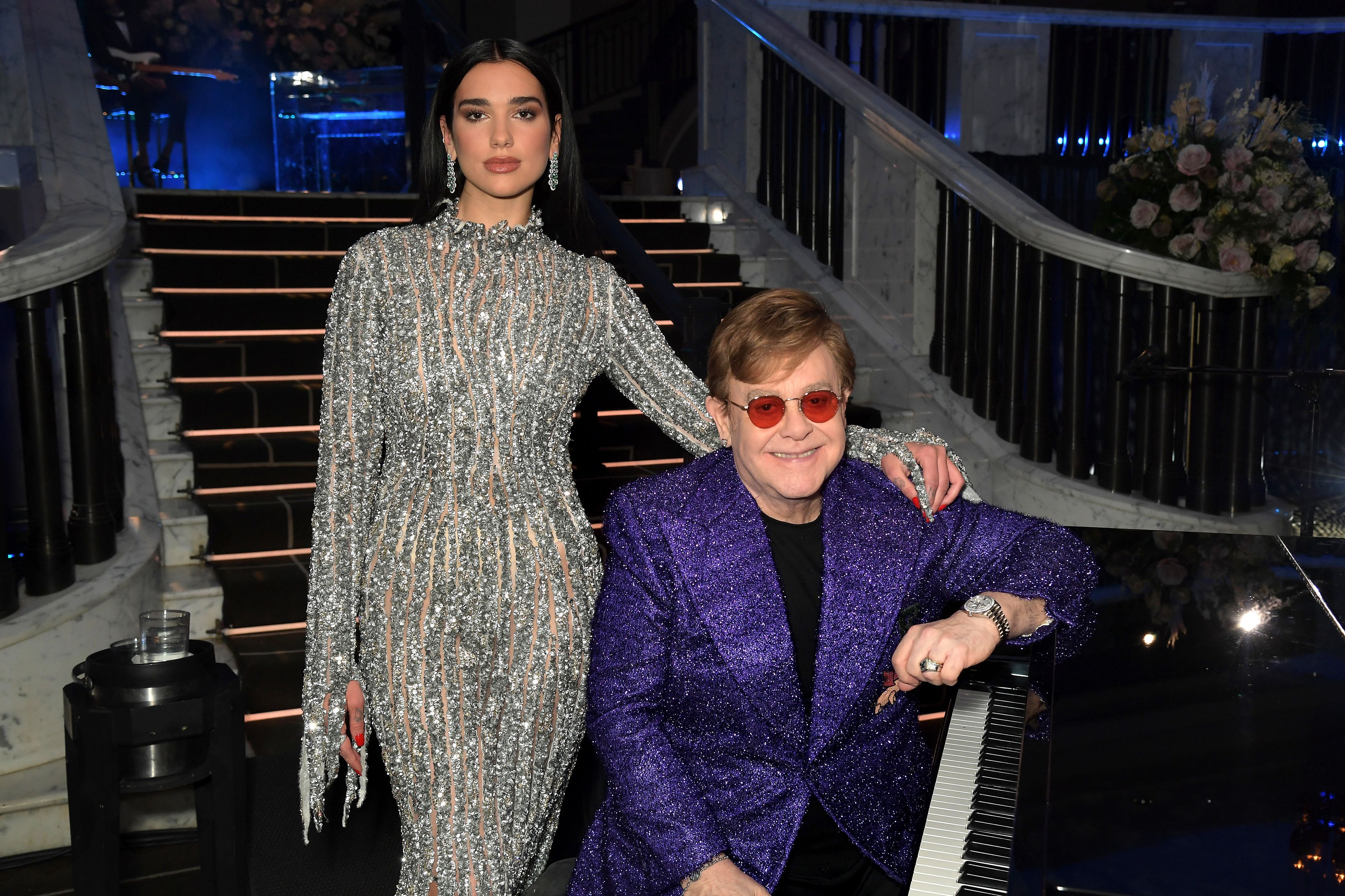 How Nicki Minaj and other rappers inspired Elton John
During an interview with NME, John said Nicki Minaj and other rappers introduced him to a new style of songwriting which he employed on his album The Lockdown Sessions. "[They take] snippets of things and make them into songs," he said, I'm a traditional songwriter but I'm fascinated with the way people write songs now." 
John defended this style of songwriting. "Don't tell me these things aren't valid," he added. "If it's not your cup of tea, don't write it off as rubbish. If you don't understand it, fair enough, but don't knock it. It's fantastic stuff."
Elton John had Dua Lipa sing part of 'Rocket Man' in 'Cold Heart' because he already sang 'Rocket Man' so many times
One of the songs from The Lockdown Sessions, "Cold Heart," includes elements of John's songs "Rocket Man," "Where's the Shoorah?," "Sacrifice," and "Kiss the Bride." Lipa sings part of the chorus of "Rocket Man" in "Cold Heart." "I didn't wanna sing the 'Rocket Man' part, because I've sung it so many times," John revealed. "But I got so lucky with that being the first single off the album. It's a No. 2 single in Britain, which I never in my life thought I would ever have again." The Official Charts Company reports "Cold Heart" eventually hit No. 1 in the United Kingdom.
John said making The Lockdown Sessions was an educational experience. "And so everything's been a bonus with this record," he said. "Whether it sells one copy or a million copies, it doesn't matter to me. I had so much fun and I learnt so much from doing it."
The way the world reacted to 'Rocket Man' and 'Cold Heart'
"Rocket Man" became a major hit. It reached No. 6 on the Billboard Hot 100, staying on the chart for 15 weeks. It appeared on the album Honky Château. Honky Château lasted 61 weeks on the Billboard 200 and topped the chart for five weeks.
In addition, the song had a massive impact on pop culture. William Shatner performed a famous spoken-word version of the track inspired by Frank Sinatra. It also appeared in John's biopic Rocketman.
"Cold Heart" became popular as well. The song reached No. 11 on the Billboard Hot 100, remaining on the chart for 15 weeks. Meanwhile, The Lockdown Sessions reached No. 10 on the Billboard 200 and stayed on the chart for eight weeks. "Rocket Man" is a classic hit but John decided to let Lipa sing some of its lyrics in "Cold Heart."