Elton John is Eminem's Unofficial Sobriety Sponsor
Sobriety isn't an easy journey, especially for celebrities. But Sir Elton John has played a key part in Eminem's sobriety as an unofficial sponsor for the rapper
Rapper Eminem and Sir Elton John share more than just decades of experience in the music industry. They both have been living a sober lifestyle for years — something that often requires a strong support system. Luckily, the Detroit-bred emcee has been able to rely on the "Rocketman" singer for advice.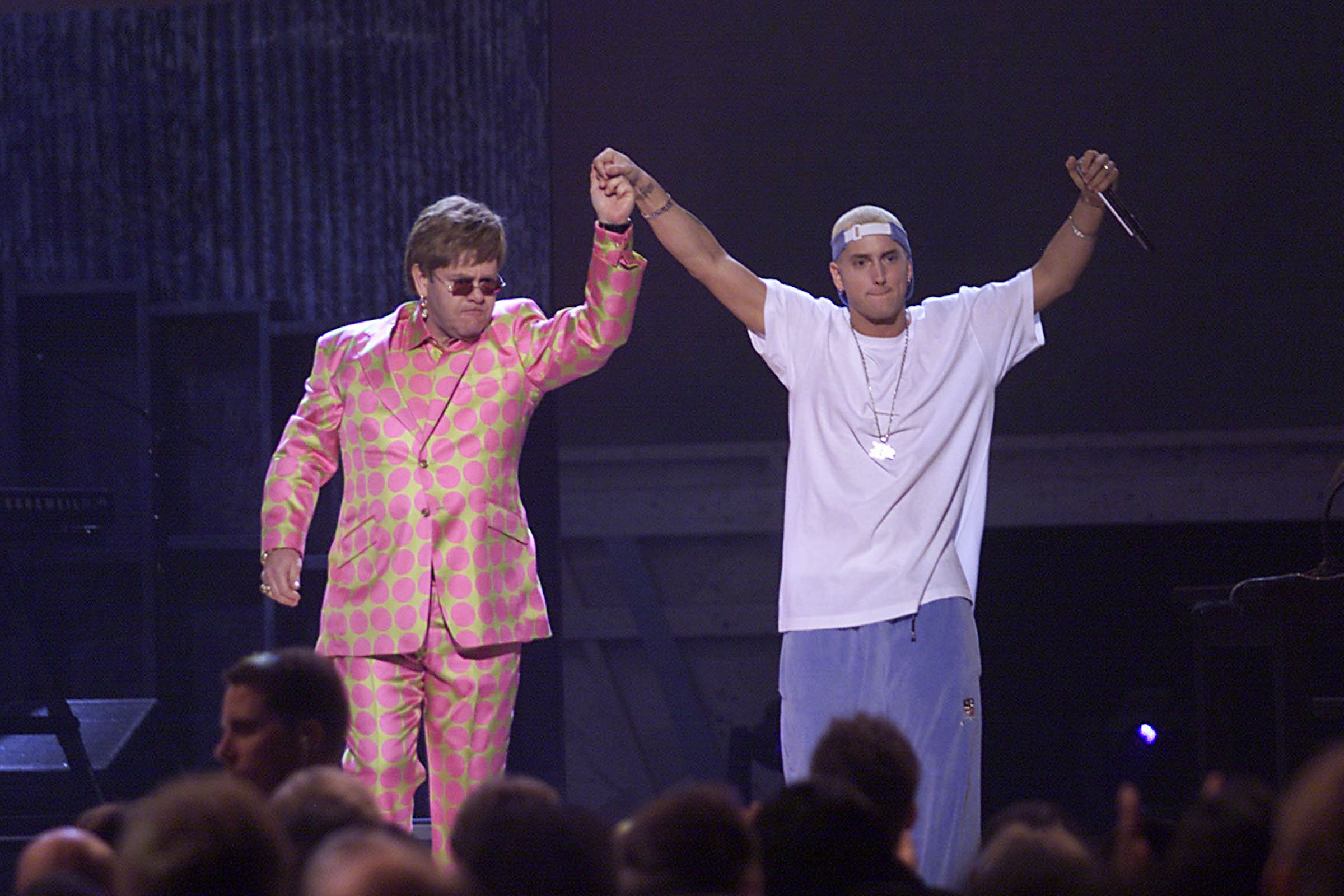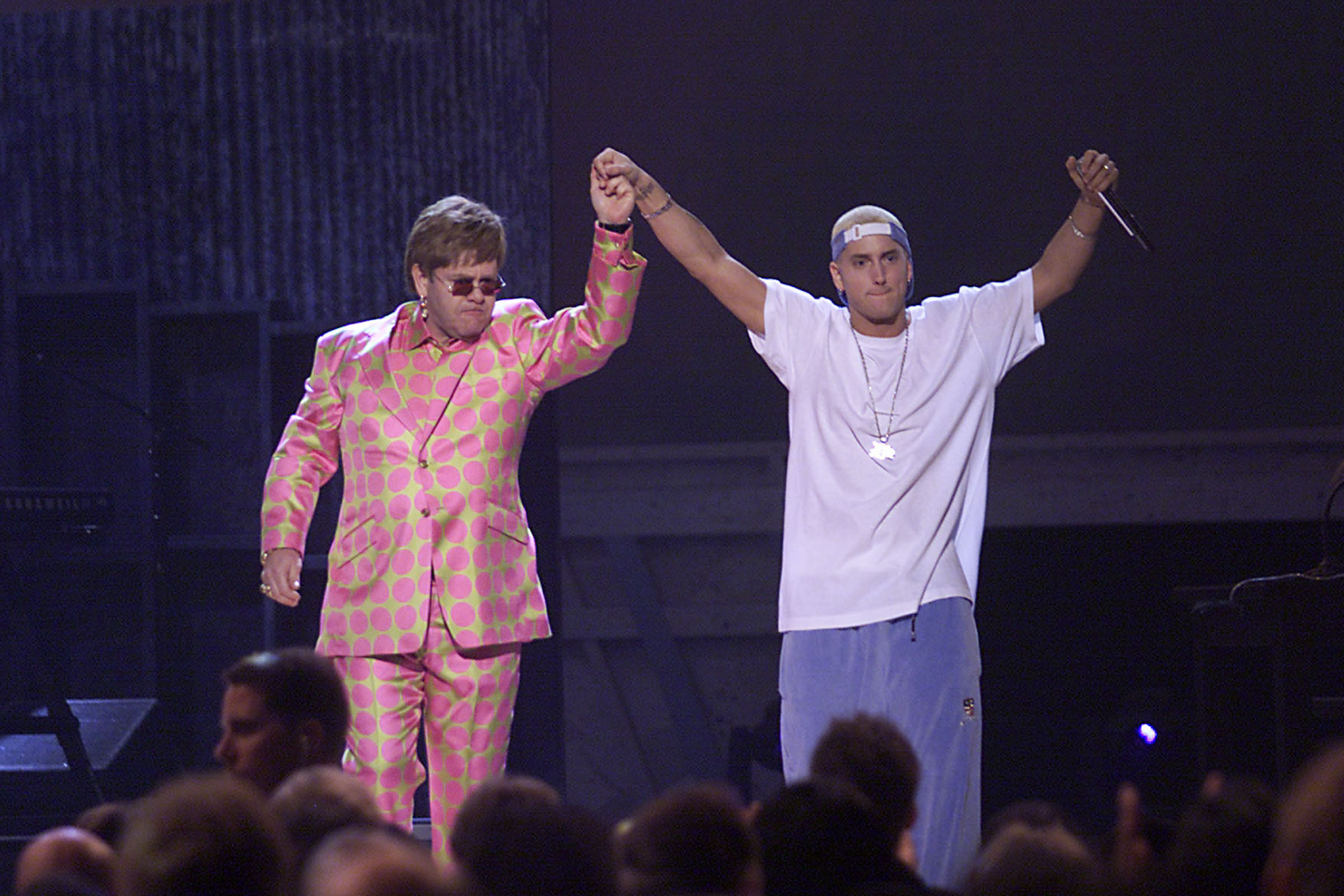 Elton John and Eminem are sober
Elton John has been living sober for over 30 years. And in that time, the Grammy-winning artist has been able to reflect on his life before and after he found his sobriety.
"I am a survivor," John confessed in a 2019 interview with Variety. "I've survived a lot of things. Life is full of pitfalls, even when you're sober. I can deal with them now because I don't have to run away and hide."
"I have a confrontation problem which I don't have anymore because I learned if you don't communicate and you don't talk about things then you're never going to find a solution," he added.
Eminem faced his own demons in the early days of his career: during the filming of his movie 8 Mile (which earned him an Academy Award for Best Original Song), he developed an addiction to prescription drugs. He got sober in 2008 after a near-fatal overdose and has been living a healthy lifestyle since.
Elton John is Eminem's unofficial sponsor
As someone who participated in a 12-step program, Eminem knows the power of having supporters on the road to recovery. The "Lose Yourself" rapper spoke about his relationship with John in a 2011 interview with Rolling Stone.
"I speak to Elton. He's like my sponsor. He usually calls me once a week to check on me, just to make sure I'm on the up-and-up," he revealed.
"He was actually one of the first people I called when I wanted to get clean," he continued. "He was hipping me to things, like, 'You're going to see nature that you never noticed before.' S*** you'd normally think was corny but that you haven't seen in so long that you just go, 'Wow! Look at that f***ing rainbow!' Or even little things — trees, the color of leaves. I f***ing love leaves now, man. I feel like I've been neglecting leaves for a long time."
Eminem and Elton John's sobriety today
In 2020, Eminem celebrated a "clean dozen" years of sobriety by sharing an Instagram photo of his coin commemorating the 12-year milestone. "Clean dozen, in the books! I'm not afraid," the caption read, referencing his 2010 hit single "Not Afraid" from his album fittingly titled Recovery.
John, meanwhile, has been a sobriety mentor of sorts for other stars such as Demi Lovato. In Lovato's 2021 docuseries Dancing With the Devil, Lovato spoke about having John as someone to speak to throughout her process of relapse and recovery.
But John, unlike Lovato, believed in an all-or-nothing approach to sobriety; at the time, Lovato was living a "California sober" lifestyle with exceptions for alcohol and cannabis. "Moderation doesn't work — sorry," he stated plainly. "If you drink, you're going to drink more. If you take a pill, you're going to take another one. You either do it, or you don't."
How to get help: In the U.S., contact the Substance Abuse and Mental Health Services Administration helpline at 1-800-662-4357.