Elton Johns $1.5M Wedding Included Heated Tents, Pink Champagne and Caviar
Elton John has been one of the most iconic musicians in the world for well over four decades. His songs, including hits such as "Your Song," "Someone Saved My Life Tonight," "Rocket Man," and "Bennie and the Jets," are industry standards, and beloved by music fans of all ages.
John has been the subject of media controversy over the years, and for a long time, his personal life was under intense scrutiny. These days, John is happily married to his longtime love, but not until he went through several failed romances, and ultimately, a massive, extravagant wedding. 
Elton John's high-profile personal life
In the sixties, when John was a young man, the LGBTQ community wasn't widely accepted. Therefore, it took John a while to come to terms with his own sexuality.
His first serious relationship was with Linda Woodrow. The two were even engaged, and planned to get married — however, John ended up breaking off the engagement only weeks before the ceremony.
In the seventies, John started having relationships with men and enjoyed a five-year romance with John Reid, a music manager. However, when Elton John got married for the first time in 1984, it was to a woman named Renate Blauel. The marriage only lasted for four years, and in 1988, John and Blauel decided to split — only several years after John came out as bisexual to Rolling Stone magazine. 
When did Elton John first meet his partner?
In 1993, John began dating an advertising executive and filmmaker named David Furnish. John was newly sober after years of alcohol and substance abuse, and he and Furnish hit it off right away.
As John later revealed, Furnish was not intimidated by John's fame and enjoyed accompanying him to red carpet events and awards shows. This was quite a change for John, who had become jaded by those who couldn't handle the pressures of the spotlight.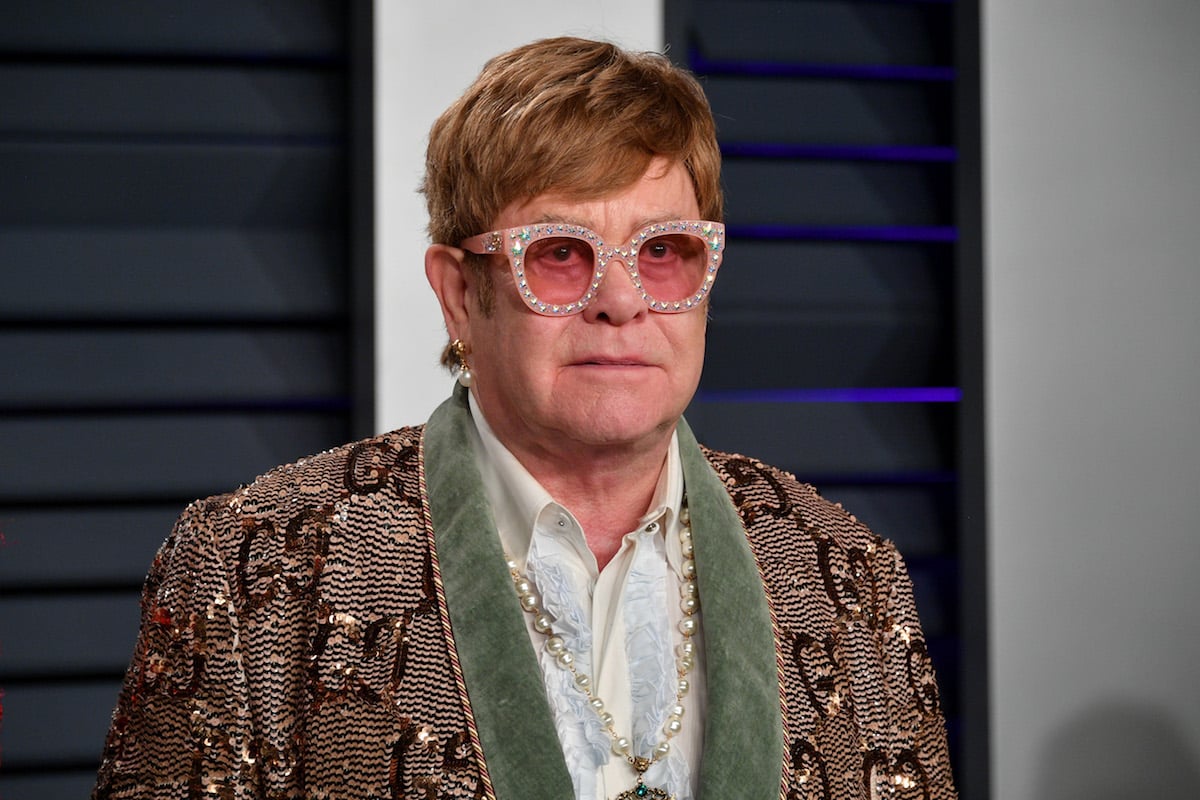 John and Furnish were soon staples at industry events, and it became clear that the two were in it for the long haul. In 2005, Furnish and John became one of the first couples to form a civil partnership in the United Kingdom.
Although the two had proven their commitment to each other, they wanted more. In 2014, after the legalization of gay marriage, John and Furnish decided to have a grand wedding ceremony, unlike anything that the world had ever seen. 
Elton John's luxurious wedding
Furnish and John tied the knot in December 2014, on the ninth anniversary of their civil union. The wedding made headlines as a luxurious, star-studded affair that perfectly suited John's superstar status.
Reportedly, John and Furnish welcomed around 600 guests to their wedding ceremony, including Donatella Versace, Sharon Stone, and models including Claudia Schiffer. The ceremony itself was held at the couple's home and featured incredible food and drink options, such as pink champagne and the finest caviar.
Both John and Furnish wore special designer suits for the occasion, and their guests were also kitted out in their black-tie best. Reportedly, the ceremony set the two back around $1.5 million.
But after so many years together, it seems likely that both John and Furnish were more than willing to shell out the big bucks for a ceremony that was truly as special as their relationship. John and Furnish are still together and have two young sons, Zachary and Elijah.