Elton John's Risqué Wedding Present From Eminem Are 'Like the Crown Jewels' of His Home
Though they may seem like an unlikely pair, Elton John and Eminem are friends. John has helped Eminem through difficult times, and the two often talk on the phone. When John married his longtime partner David Furnish, Eminem sent him a wedding present. Though the gift was slightly off-color, John says it's on display in his home.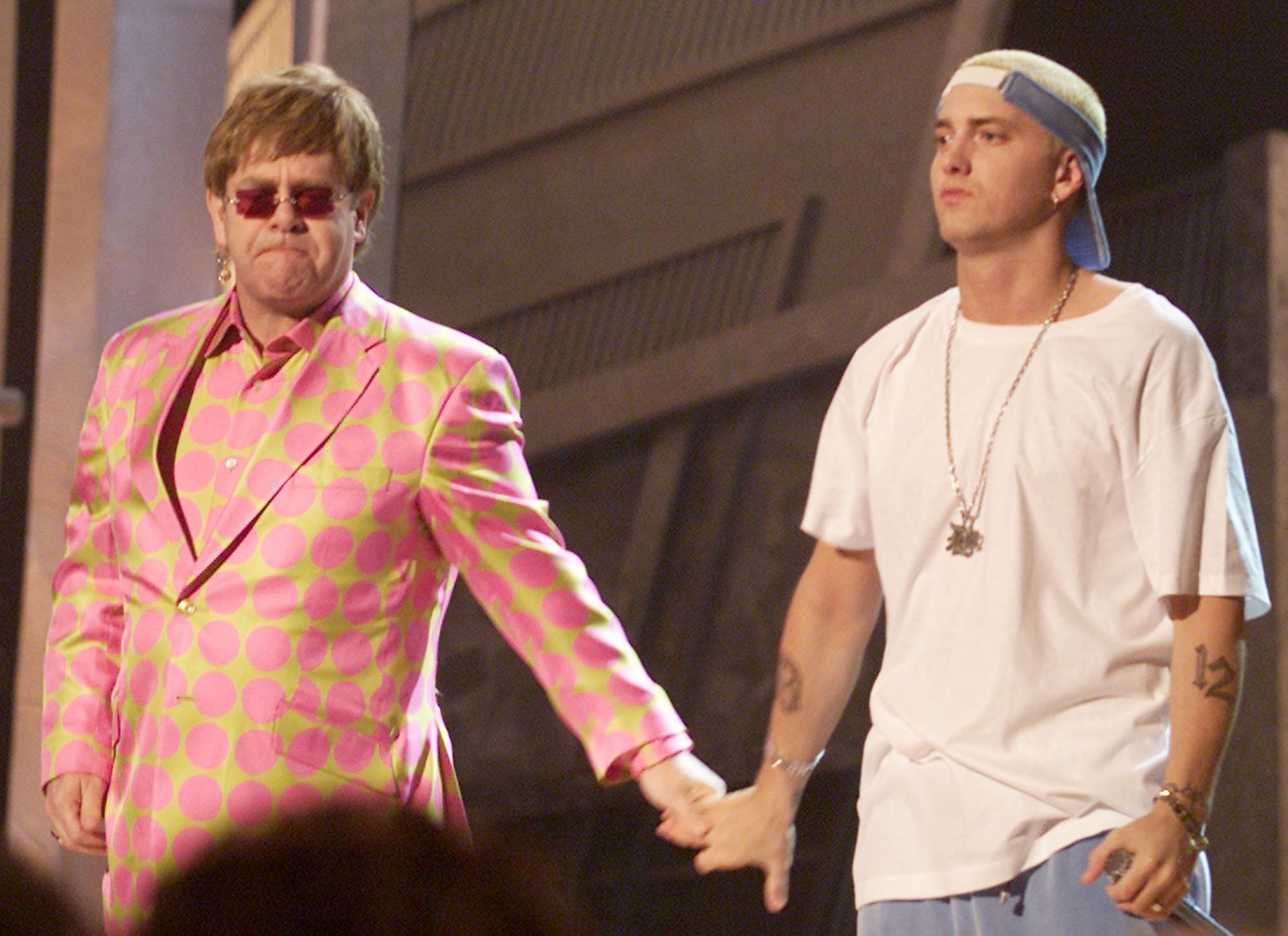 Elton John has a surprising friendship with Eminem
John met Eminem when they performed at the Grammys. The unexpected collaboration was Eminem's idea.
"We were debating on whether I was going to perform the Grammys or not," he told MTV News in 2004. "I was like, 'The only way I'll perform at the Grammys is with Elton John.' And I was saying it in kind of jest, thinking it would never happen."
They found that they enjoyed each other's company and continued their friendship long after the performance. 
"Me and him have had similar lives and stuff," Eminem said, per The Guardian. "We became friends and I talk to him about things, career-wise."
John said that when the two talk, they have "such a laugh."
"I ask him how he's doing and tell him how proud I am of him," John told Rolling Stone. "He's got a great sense of humor."
Eminem's wedding present to John was a tad risqué
When John married Furnish, Eminem sent a wedding present.
"In a case, on velvet cushions, were two diamond c*** rings," he said. 
According to John, the rings have gone unused. Instead, they're on an elegant display in his home.
"They sit there, like the crown jewels, in this beautiful box on satin cushions," he told The Guardian. "They're wonderful to look at. I don't know if any guests we've had have used them. God, I hope not. They're kind of sacrosanct. The fact they came from Eminem makes it even better."
Elton John supported the rapper's sobriety 
Part of the reason why John and Eminem are so close is that John supported the rapper on his path to sobriety. John dealt with addiction himself and gave advice to the younger man.
"When I first wanted to get sober, I called [Elton] and spoke to him about it," Eminem said. "He's somebody who's in the business and can identify and relate to the lifestyle and how hectic things can be. He understands … the pressure and any other reasons that you want to come up with for doing drugs … I reached out to him and told him, 'Look, I'm going through a problem and I need your advice.'"
John shared that he was extremely happy to see the change in Eminem when he stopped using drugs.
"I love him. I don't see much of Marshall, but we speak a lot," he said. "He's really worked very hard at [sobriety], and it's changed him so much. I just saw a picture of him in a mag­azine, and he looks like a 17-year-old boy. I'm so happy for him."
How to get help: In the U.S., contact the Substance Abuse and Mental Health Services Administration helpline at 1-800-662-4357.