Elvira Thought Young Brad Pitt Was Too Cute to Be in Her Movie
Brad Pitt had a memorable face in the late '80s, but Cassandra Peterson — also known as Elvira — just didn't think it had a place in her movie. Why did the Mistress of the Dark think Pitt's striking looks would be too much of a distraction?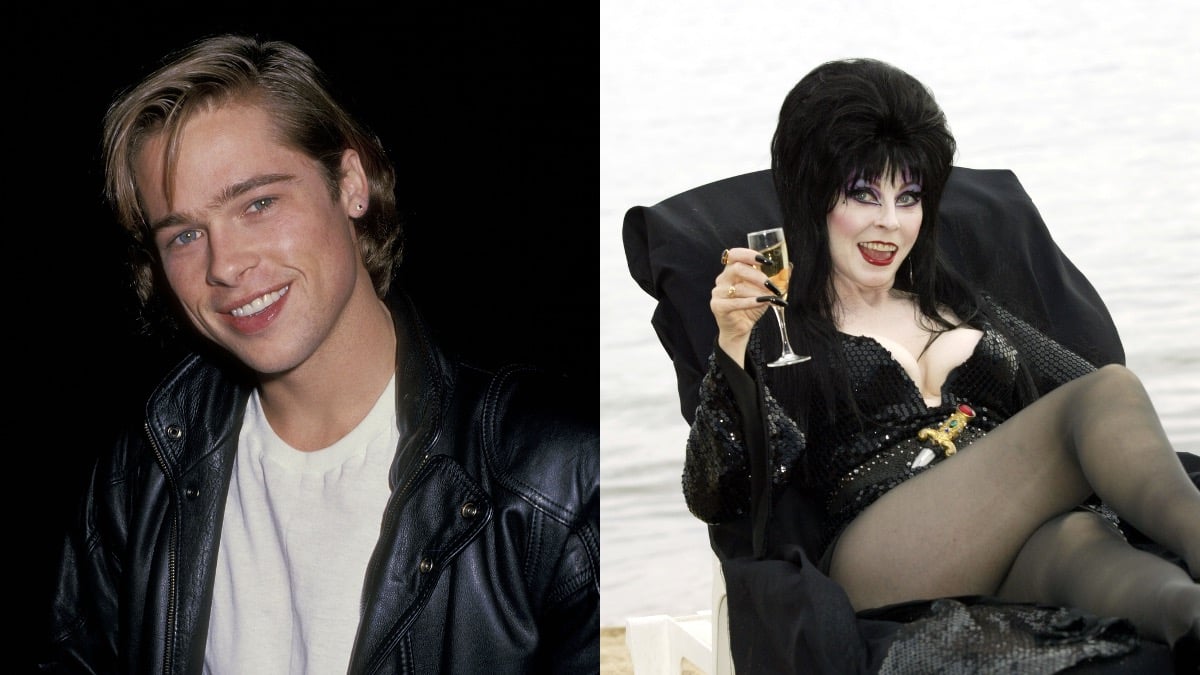 Brad Pitt graduated high school with hopes of being a movie star
Pitt grew up in Missouri and moved to California to pursue an acting career after graduating high school in 1987. Of course, it took a few years for him to start to make an impact. But he eventually captured the public's interest with a role in Thelma & Louise.
Over the subsequent decades, he became one of the biggest stars in the world. But Peterson recalls when he was a young actor looking for a small part for which she didn't think he was exactly suitable.
Brad Pitt auditioned for 'Elvira: Mistress of the Dark'
In an interview with Entertainment Tonight, Peterson revealed a young Pitt auditioned to be in her 1988 film, Elvira: Mistress of the Dark. But she thought his looks were problematic because they would distract her from her love interest.
"He auditioned for it and I was one of the people casting it and we decided, I said that he is just so damn cute that if he was there, there is no way I would like my boyfriend," she explained.
Though Pitt was 20 at the time of the audition, he was auditioning for the role of a minor. That was even more of a problem for the star of the film. Peterson further explained, "I would be after him and he's playing underage so it wouldn't be a good thing …"
However, Peterson did leave a note for Pitt on his audition card. "I did write 'yum yum' in the comments box. That's the only thing that I remember," she shared.
Of course, getting passed over for that film didn't seem to hurt Pitt's career too much in the long run. And it also wasn't the last time Peterson would encounter the actor.
Brad Pitt was Elvira's neighbor before she sold him a haunted house
Peterson told ET that Pitt later moved into her neighborhood, and she would sometimes see him working out without a shirt while walking her dogs. "It was just too much first thing in the morning," she shared. And they crossed paths yet again when the Fight Club actor bought her haunted house.
The Elvira star shared some of her experiences in the home with Marriott Bonvoy Traveler. "Footsteps above my head on the ceiling. Clouds of smoke forming into what looked like a human and then disappearing. A black shadow floating on the bottom of the pool that wouldn't go away," she said.
She concluded, "It would take me an hour to tell you all the things that happened there. I had found out there had been seven tragic deaths in the house. And I ended up selling it to Brad Pitt, and he loved it! [laughing] He loved the idea it was haunted."