'Elvis' Star Austin Butler Compares Working With Director Baz Luhrmann to 'Playing Jazz'
Austin Butler's journey playing Elvis Presley in the aptly-titled Elvis took its toll. It started with an audition tape that had director Baz Luhrmann believing Butler was having a breakdown, and it ended with his body shutting down hours after filming wrapped. The beginning and end of his Elvis journey were unexpected, and so was his process working with director Baz Luhrmann, which Butler compared to "playing jazz."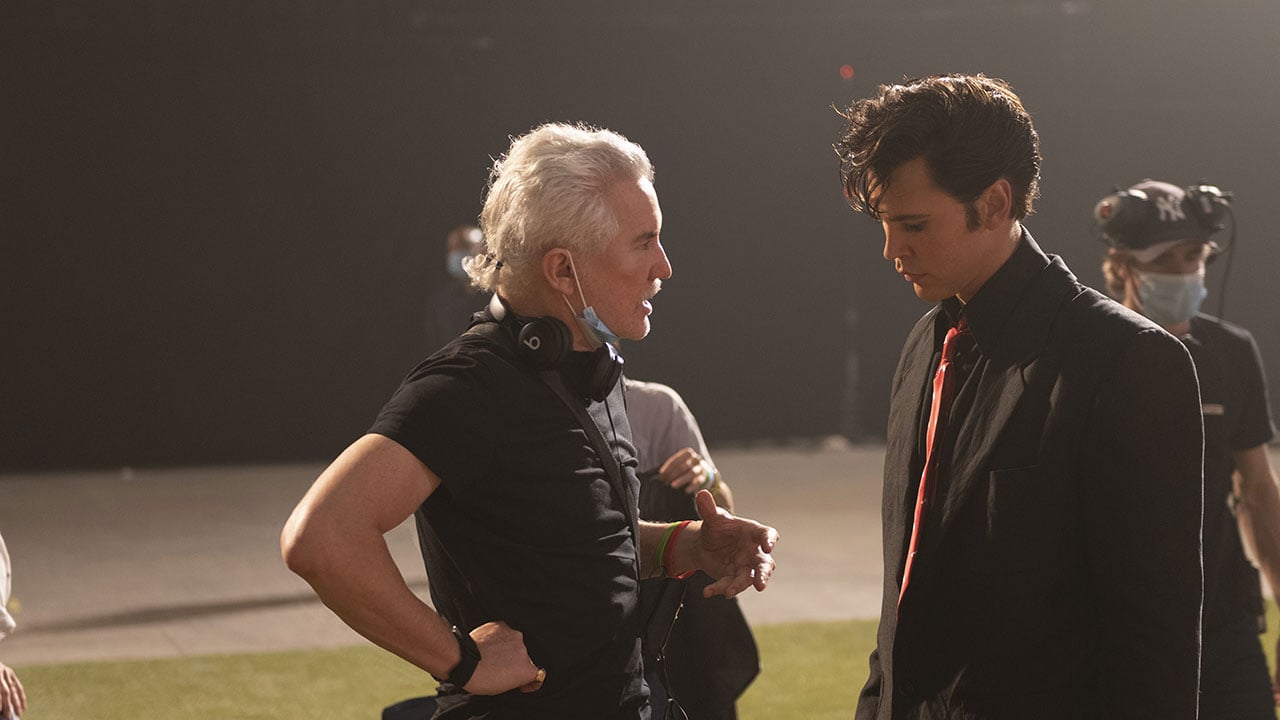 Baz Luhrmann pushed Austin Butler to the edge with his directing style on 'Elvis'
Luhrmann's bright colors, quick cuts, and striking visuals define his movies for audiences. It's a little different for the actors, as Butler found out.
Butler said working with Luhrmann came with stressful moments. The Australian director comes up with new ideas on the fly or does rewrites that differ greatly from what's scripted. However, Butler was better prepared for making Elvis after receiving advice from Leonardo DiCaprio on how the director operates.
Luhrmann's unique style might be divisive for some audiences, but he often draws out larger-than-life performances from his actors. The director's style still caught Butler off guard, even with DiCaprio's warning. The young actor compared working with Luhrmann to playing jazz.
RELATED: Austin Butler Threw 'All My Eggs in One Basket' in Hopes of Winning 'Elvis' Role
Butler compared working with Luhrmann to "playing jazz"
The Elvis script was virtually Gospel for Butler as he prepared to play the role of a lifetime. It was more of a guideline for Luhrmann. As DiCaprio promised, Luhrmann devised several last-minute changes to the script as Butler prepared to shoot scenes. The actor found it uncomfortable, and he realized it was meant to be that way.
"I realized that he would push me right to the edge of what I was capable of," Butler told Entertainment Weekly. "You capture lightning in a bottle in a way — if you had just done the thing that you had prepared, it may have been more stale."
Butler also realized Luhrmann's tendency to change things at the last minute wasn't haphazard. The director could alter things on the fly because he knew the material backward and forward, which Butler said was like playing jazz.
"In order to play jazz, you have to know music theory. You have to know the scales on that guitar inside and out, but at the end of the day, you're improvising. You have all this knowledge and practice that is then going into this present moment and playing off whatever's in front of you. That's how Baz is because he works so hard at preparation. When it comes time to actually film, I'll have been preparing a scene for a year, and suddenly, the day of, the entire scene changes."

Austin Butler on working with Elvis director Baz Luhrmann
Luhrmann kept Butler on his toes shooting Elvis, but the actor's next movie role figures to be more straightforward.
Butler will play a villain in Denis Villeneuve's 'Dune: Part Two'
When he finishes filming the TV series Masters of the Air, Butler will move on to a sci fi blockbuster with his role in Dune: Part Two.
Butler plays Feyd-Rautha Harkonnen in Denis Villeneuve's follow-up to the Oscar-nominated Part One. Where Luhrmann injected plenty of rewrites while filming Elvis, Villeneuve figures to stay close to the source material. The Canadian director grew up wanting to create a version of Dune. He knows and is devoted to the source material (which is why he feels at peace making the epic), so any last-minute changes would likely be minimal.
Unless Villeneuve reimagines the intricately-laced Dune universe, Part Two will climax with Butler's Feyd-Rautha squaring off against Timotheé Chalamet's Paul Atreides.
Austin Butler compared working with Baz Luhrmann to playing jazz. Filing Dune: Part Two with Villeneuve figures to be less improvisational.
For more on the entertainment world and exclusive interviews, subscribe to Showbiz Cheat Sheet's YouTube channel.