After All The Movies & Albums: How Much Is Elvis Presley Worth?
How much was Elvis Presley's net worth when he left the building for the last time? How much is he worth today? It all depends on who you ask.
During his heyday, Presley sold hundreds of millions of records and commanded upwards of $1,000,000 per performance. More than 20 of his albums reached the coveted #1 spot on the Billboard charts, as did 35 of his singles.
In addition to his hugely successful recording career, Presley starred in dozens of movies, including Love Me Tender, Jailhouse Rock, King Creole, and Blue Hawaii.
Popular Presley flicks
In G.I. Blues, Elvis portrays a singing soldier named Tulsa who aspires to open a nightclub. Directed by Norman Taurog, the 1960 movie brought Presley to the silver screen with dancer Juliet Prowse as his leading lady. According to IMDB, the movie earned a healthy $4 million during its theater run.
Wild in the Country gave Presley a chance to show off his acting skills as a troubled young writer in search of a real literary career. Co-starring Tuesday Weld, Millie Perkins, and Hope Lange, the 1961 musical film was directed by Philip Dunne.
Viva Las Vegas paired Elvis with Ann-Marget for a rollicking musical adventure that takes place in Sin City. The 1964 comedy musical was directed by George Sidney and earned more than $5 million box office dollars.
Skyrocket to fame and a moderate fortune
Born Elvis Aron Presley in Tupelo, Mississippi on January 8, 1935, the humble young man with movie star good looks started his ascent to fame in the mid 20th century. His first #1 single, "Heartbreak Hotel," set teenage hearts aflutter in 1955. The very next year, his manager, Colonel Tom Parker, arranged deals on the singer's behalf with Paramount Pictures and RCA Records. Most sources agree that Parker's 50% cut of Elvis' earnings was not in the singer's best interest.
Presley earned enormous bucks for Parker, Paramount, and RCA, but the 42-year old entertainer was worth a relatively paltry $5 million when he died from heart failure at his Memphis home on August 16, 1977.
Where the money went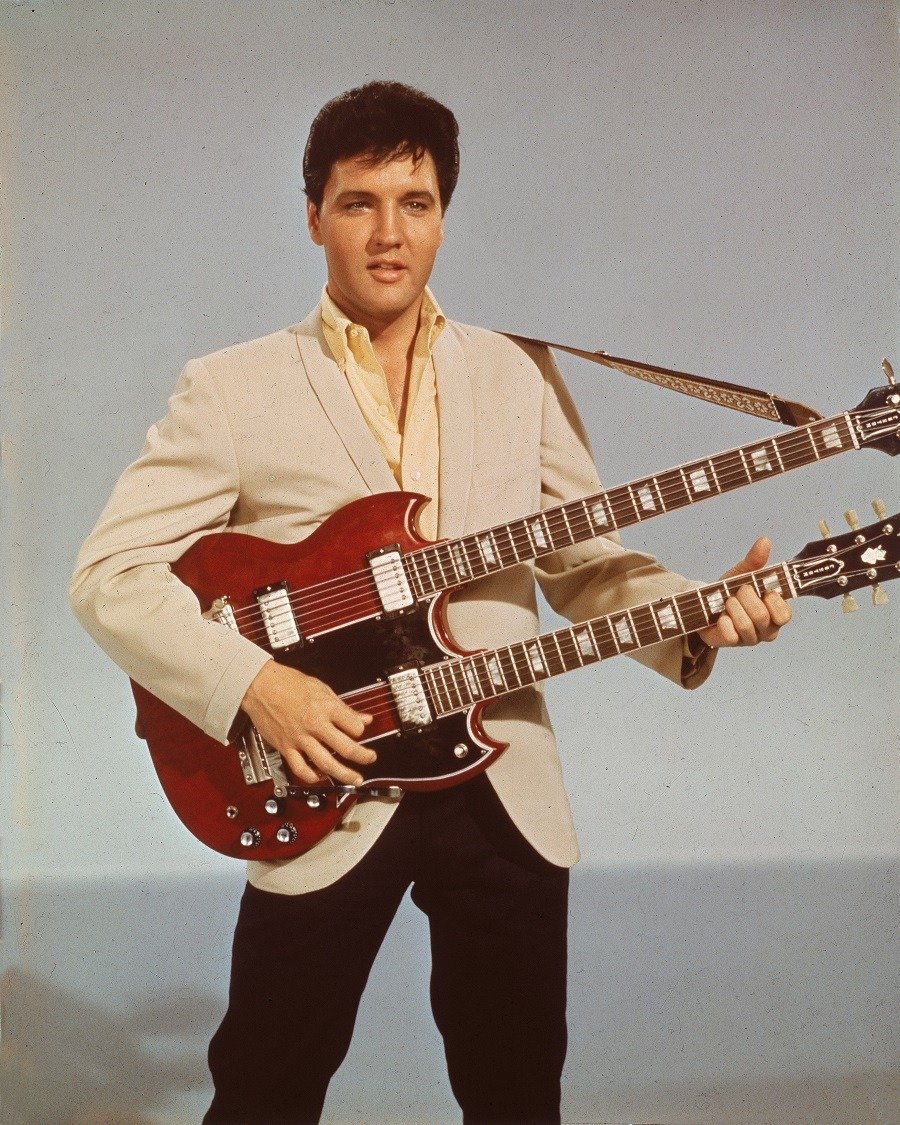 Over the course of his lifetime, Presley spent lavishly. Much of his money, according to Celebrity Net Worth, went toward real estate, drugs, and a massive entourage. His 1973 divorce from Priscilla Beaulieu Presley also cost The King of Rock 'n' Roll a pretty penny.
When Elvis purchased Graceland in 1957, he paid a then-whopping sum of $102,000 in cash for the 23-room Memphis mansion. Over the next few years, Presley shelled out at least half a million dollars on adjacent land and household accouterments.
Many sources say that Elvis' biggest cash outlays were done on the behalf of family members, including his father and a stepmother with whom he did not get along. After Elvis' mother, Gladys, passed away, Vernon Presley remarried and moved his new wife and her kids into the Graceland mansion. The King grew weary of their presence, so he purchased a nearby house for them. At Elvis' expense, his dad and stepmom made significant renovations, including a swimming pool in the master bedroom.
For most of his natural life, Elvis also financially supported the traveling entourage he called the "Memphis Mafia." In his later years, Presley is purported to have spent plenty of money on doctors and prescribed medications.
Elvis Presley's current net worth
Celebrity Net Worth pegs the net worth of the Presley estate at a mere $20 million. Most sources, including GOBankingRates, say the entertainer is worth more dead than he was while alive and estimate the current value of Elvis Presley Enterprises at between $200 and 400 million.