Elvis Presley: The Songs From His Jam Session With Johnny Cash Were Lost for Decades
In the 1950s, Elvis Presley, Carl Perkins, Jerry Lee Lewis, and Johnny Cash made history when they performed songs together during a jam session. These musicians would go on to become some of the most noteworthy classic rock singers of all time. Despite their notoriety, the songs they recorded together wouldn't be released for decades.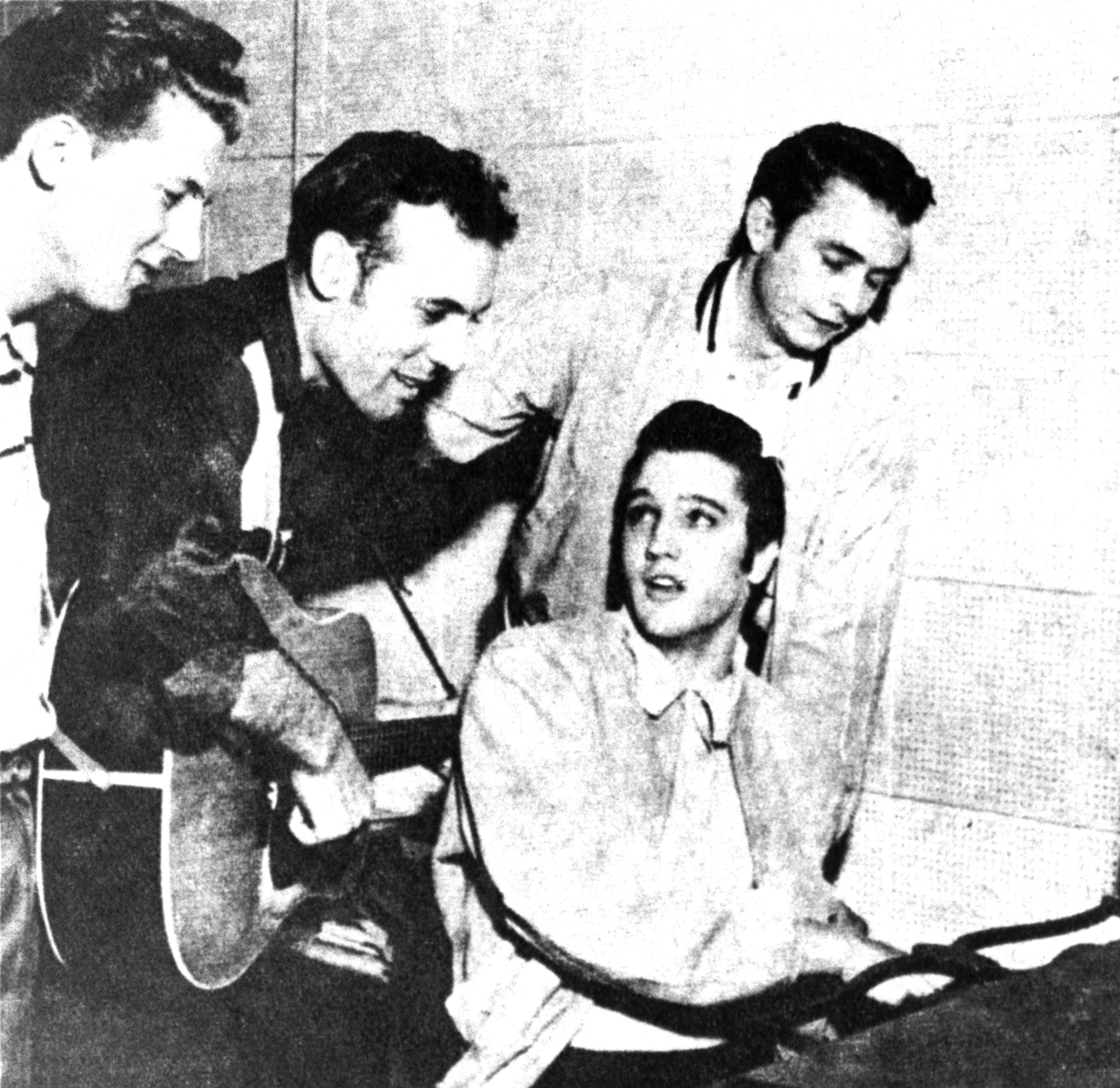 The time Elvis Presley, Carl Perkins, Jerry Lee Lewis, and Johnny Cash recorded songs
According to Graceland.com, on December 4, 1956, Elvis was driving by Union Avenue in Memphis and noticed several Cadillacs parked at Sun Studio. He decided to stop in at his former studio to see what was going on. When he went into Sun, he found Perkins and Lewis there. Later, Cash joined them. The foursome began to jam together. In Cash: The Autobiography, Cash said he was part of the jam session and his voice can be heard on the recording of it — even if people have said things to the contrary.
Graceland.com says Sam Phillips, the founder of Sun, was present, as was Jack Clement, an engineer. Clement recorded the artists during their impromptu session. Phillips called a reporter from the Memphis Press-Scimitar named Bob Johnson to photograph what was happening.
Why Elvis Presley, Carl Perkins, Jerry Lee Lewis, and Johnny Cash were called the 'Million Dollar Quartet'
When Johnson reported on the jam session, he used the headline "Million Dollar Quartet." He gave them that name because he felt they could sell a million records together. Since then, this jam session and the musicians involved have been called the Million Dollar Quartet.
How the songs were lost – and how they were found
The New York Times' Peter Guralnick reports the recordings made by Clement became a relic of sorts. The recordings were part of Sun's catalog. They were not found until after Shelby Singleton bought the catalog. In actuality, Singleton didn't even care to look for the historic tapes until after Elvis died. "It didn't mean a damn thing to me till Presley died," Singleton said. It was because of the Elvis memorabilia craze that Singleton began to search for the lost tapes.
The Berkshire Eagle reports that 17 of the 46 cuts recorded in 1956 were released in Europe in 1981 as an album called The Million Dollar Quartet. In 1987, the entire session was released in Europe. After a deal with Singleton and a British label called Charly Records, RCA issued the jam session for purchase in the United States in 1990.
The legacy of the Million Dollar Quartet's songs
According to milliondollarquartet.net, Floyd Mutrux and Colin Escott co-created a musical entitled Million Dollar Quartet that dramatizes the jam session. Broadway World said Million Dollar Quartet was nominated for the Tony Awards for Best Musical, Best Featured Actor, and Best Book of a Musical. Levi Kreis won Best Featured Actor for his portrayal of Lewis. Elvis, Cash, Perkins, and Lewis were just casually playing songs together but their collaboration became legendary.